Top 10 Most Beautiful Roads Around The World To Travel
5. California State Route 1, California in the United States of America
This is a coastline road which is between Los Angeles and San Francisco and it is sometimes referred to as the Coast Highway as it is more than just a road. It is a big tourist attraction.
4. Queen Charlotte Drive in New Zealand
This is one of the world's beautiful roads and it is located between Nelson and Picton in New Zealand's south island. With its blue and green landscape, it offers a breathtaking sight.
3. Stelvio Pass, Italy
This is a mountain pass which is located in northern Italy and it is the highest paved mountain pass in the Eastern Alps. It has an altitude of 9,045 feet. The scenery produced by the curved road will leave a long lasting impression long after you have left.
2. Furka Pass, Switzerland
This is another breathtaking pass in Switzerland, which is an elevation of 7,969 feet. Some great movies and films have been shot on this pass like the Goldfinger.
1. The Atlantic Ocean, Road in Norway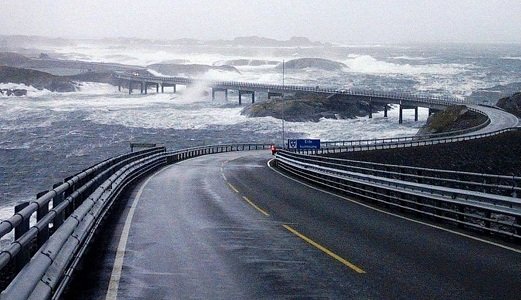 Atlantic ocean Road in Norway is one of the most beautiful roads in the world. It stretches on aa8.3 kilometer which goes through the Archipelago, which is on County Road 64 in Norway. Though it is a short drive, it has earned itself a name in the most famous and beautiful roads in the world due to its beauty and uniqueness.
Though our world has so many roads to travel on, there are just some which will always leave a lasting impression due to their uniqueness and beauty. Am sure after checking on the above, you will agree with me that they are some of the world's most beautiful roads in terms of pure experience, beauty and navigation. Have a pleasant viewing.