Sarees happen to be one of the most elegant attire a woman could wear. While this outfit is traditional to India, women all over the world are opting in for the saree these days. Initially sarees were available only in cotton and silk, but with the increase in demand for the saree, there are a number of other trends that you can pick from. If you're planning to wear a saree for a special occasion, here are some of the latest trends that you can experiment with.
10. Saree Gowns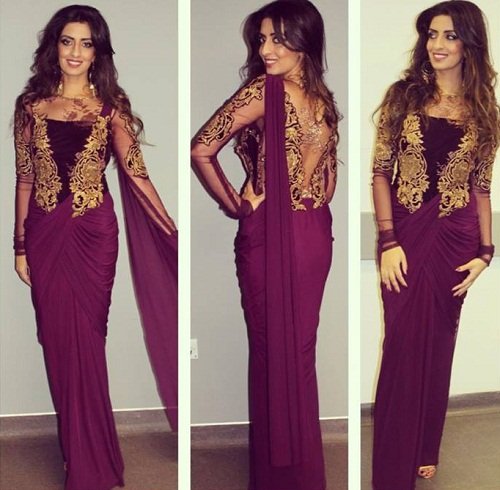 Saree gowns have gained a lot of popularity over the years. While some women love to go the traditional way with a conventional saree, there are women who experiment with the modern saree gown. These are gowns that look just like sarees however look extra classy and stylish. Imagine combining a saree and a gown. These are two stylish dresses that look classy on any woman.
9. Lehenga Sarees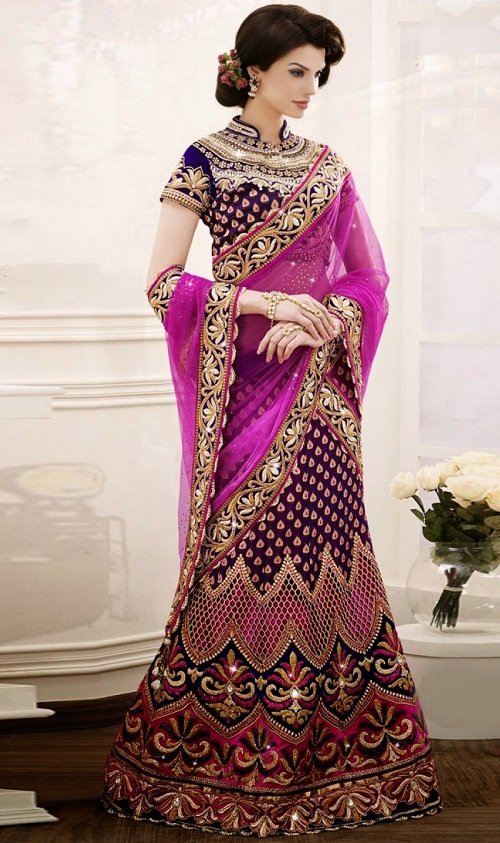 Lehenga Sarees are best worn for grand occasions such as weddings. They are very stylish and more common with the younger generation. These sarees are easier to wear in comparison to the traditional sarees which need to be draped the right way. Lehenga Sarees look very trendy and you can buy them in various fabrics. They are available in delicate lace as well as heavy silk and they look very beautiful either ways. They are very comfortable to wear for long hours and you will leave people guessing whether you've worn a lehenga or a saree.
8. Dhoti Sarees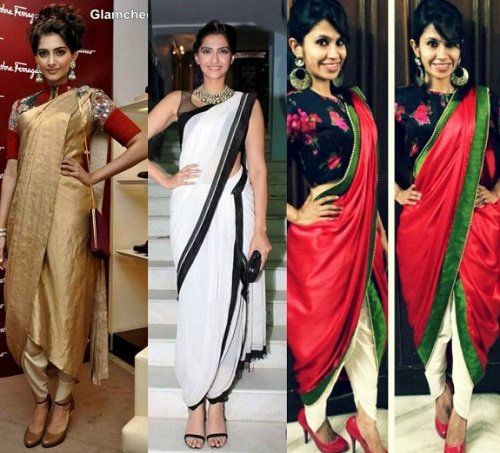 Dhoti sarees raised a lot of eyebrows when they were first introduced. This is one of the most off beat saree styles that women can flaunt. Dhotis are known for their simplicity and sarees are known for their style. When you combine the two, you get the best of Indian style. With dhoti sarees gaining popularity these days, women are now becoming a lot more comfortable sporting this amazing new trend of sarees.
7. Chiffon Sarees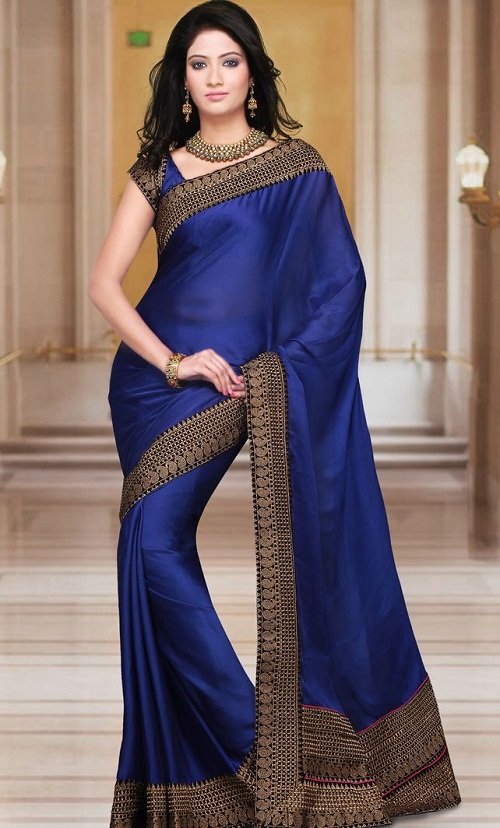 Chiffon Sarees are delicate and very easy to drape around. They are delicate and easy to handle and very popular these days. Women of all ages are opting in for Chiffon Sarees since they fall very well and look elegant. Chiffon Sarees are available in very simple as well as intricate designs and are perfect for all occasions. Women who prefer to wear sarees on a regular basis love these sarees since they are light and comfortable to wear.
6. Mirror Work Sarees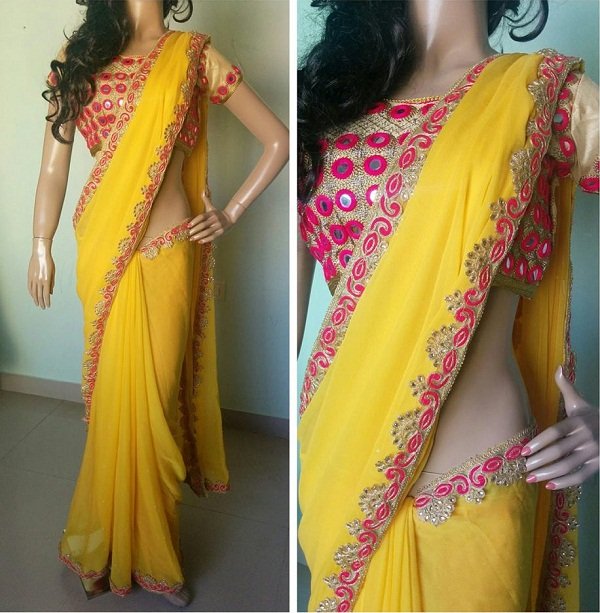 Sarees with mirror work has always been popular in rural India. However contemporary and modern sarees have also accepted the trend of mirror work on sarees. Similar to sarees, the mirror work can also be featured on vests, blouses and kurtis. Sarees have also started featuring mirror work like never before and started making sarees look a lot more stylish and classier. Mirror work sarees are definitely here to stay and designers will get a lot more innovative with time.
5. Lace Sarees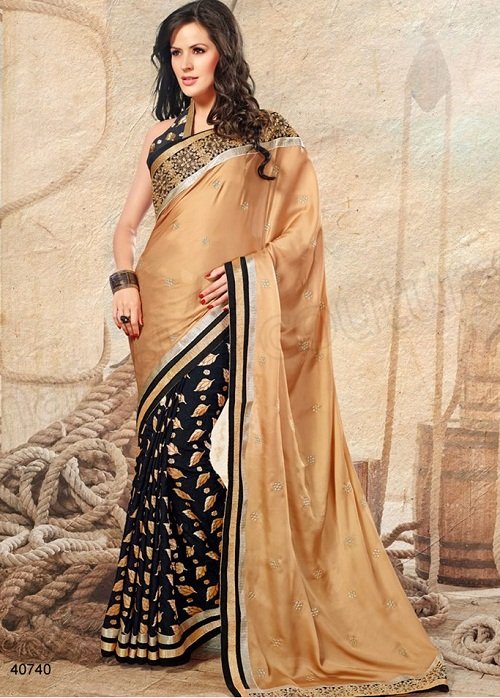 Lace is one of the few fabrics that look rich, stylish, delicate and fashionable. These sarees are not heavy, but they look rich and classy in every way. A lace saree stands out like no other and they are the best kind to pick when you don't want to over dress, but still want to look good. They are perfect for every occasion and when paired with a stylish blouse, a lace saree looks grand.
4. Printed Sarees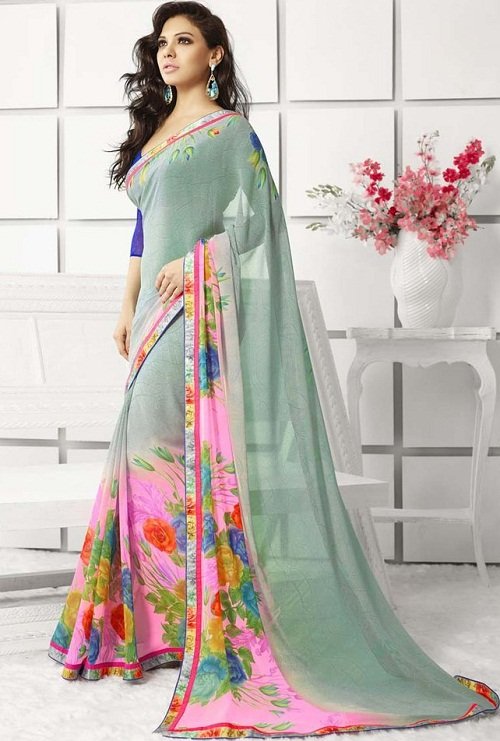 Printed Sarees have been in style for a while now. These sarees stand out like no other and they are available in a number of fabrics. The prints vary from florals to loud animal prints as well as random designs that stand out. They are often combined with self colored blouses in different patterns. These digital printed sarees are in high demand and since these sarees are easy to handle, they have become very popular among women all over India.
3. Silk Sarees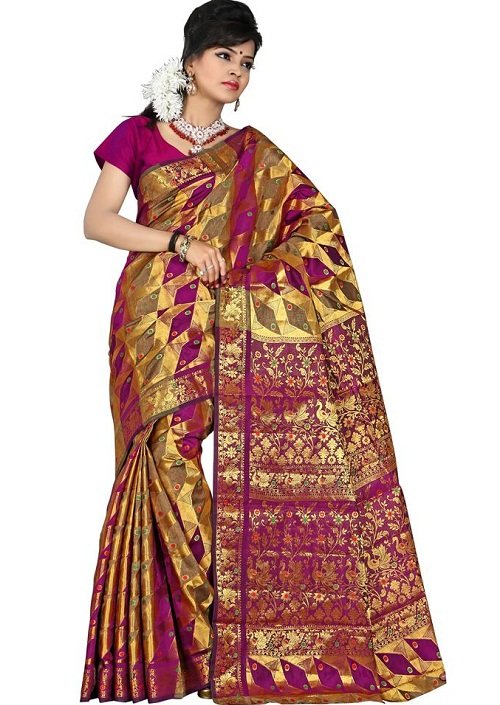 Silk sarees have been the trademark of Indian women for decades now. However with the advent of more stylish and light weight sarees the silk saree had lost its charm. However the silk saree has made its comeback in the fashion world. While elderly women would sport the silk saree in the olden days, younger women can also be seen sporting the traditional silk saree for various social occasions. With a variety of colors and designs, the silk saree is no longer boring and dull.
2. Half and Half Sarees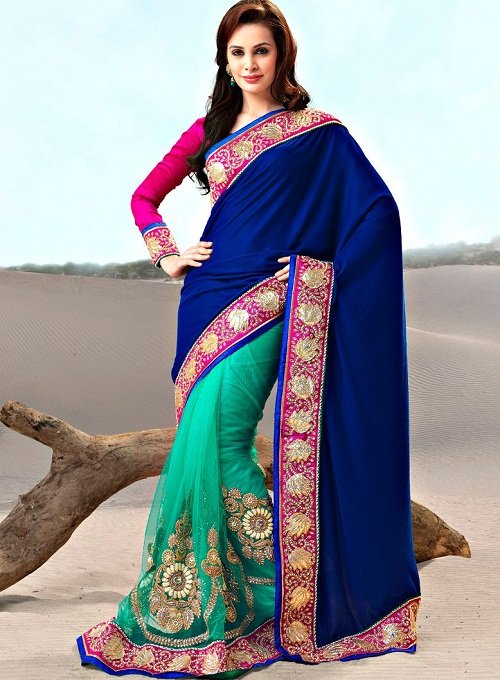 Half and Half Sarees are very popular these days. These sarees are basically a combination of two colors which stand out on their own as well individually. They look very pretty and unique and one of the best sarees to pick when you want to get noticed.
1. Net Sarees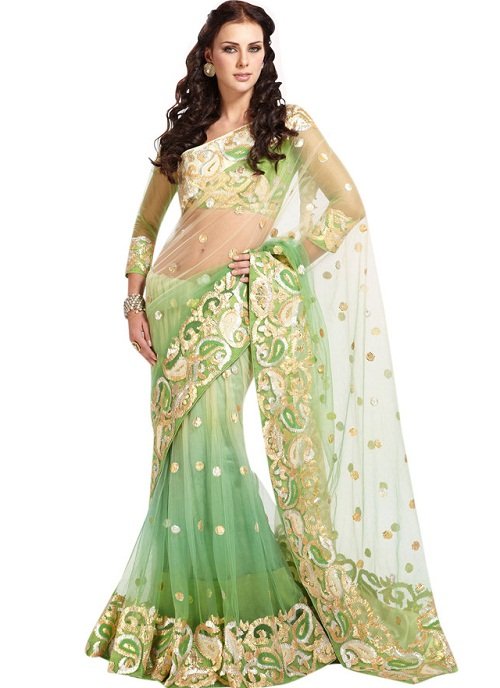 Similar to lace sarees net sarees also look extremely stylish and classy. Net sarees have slowly gained popularity and is becoming one of the biggest and hottest trends in town. Net sarees make women look extremely chic and classy without making them look overdressed. There are various designs that are also available with net sarees that make women look stunning.
Save
Save