Nothing is more exasperating than missing an episode of your favourite TV serial. What say? A daily soap opera nowadays is far more than a story or a drama, especially to the Indian viewers.
In India, for a vast majority of the households, these television shows are their daily cup of tea. They relate more to these actors than their relatives and friends.
If you too share your everyday meals with these small screen household dramas, browse in our list of '10 Latest Hindi TV Serials 2017' right down below.
10. Peshwa Bajirao
Aired On: Sony TV
Co-produced by Nilanjana Purkayasstha and Sunjoy Wadhwa, Peshwa Bajirao is set to air on Sony TV in December 2016.
The show focuses mainly on the life journey of Peshwa, his birth, struggles, achievements, love and so on.
The show features vintage sets along with many senior actors, with Manish Wadhwa playing the father of Peshwa. The Marathi actress Anuja Sathe plays Radhabai in the show.
9. Ek Shringar Swabhiman
Aired On: Colors
The drama is on! With a simple yet engaging plot, Ek Shringar Swabhiman is sure shot to make the eye motes of Indian viewers go click with emotion and awe.
The storyline runs on a background of parallelism that strikes between the traditional values and modern outlook in the life of an Indian woman.
The plot traces through the life of two sisters, Meghna and Naina, with their mother Sharda, playing the role of a Mathematics teacher.
8. Pardes Mein Hai Mera Dil
Aired On: STAR Plus
It's only when you stop seeking for love that true love steps at your door. This precisely concludes the plot of this show produced by Ekta Kapoor.
Based on the story line similar to Shah Rukh Khan's 1997 movie Pardes, the show is shot across Mumbai and Austria
Featuring in PMHMD, many popular actors including Arjun Bijlani and Drashti Dhami have once again moved away the audience with their stupendous performances.
7. Kuch Rang Pyar Ke Aise Bhi
Aired On: Sony TV, Sony TV Asia, Polimer TV, ANTV and ARY Zindagi
KRPKAB portrays the stereotypical image of a single Indian mother in attachment to his son. The plot shows a regular conflict on part of the lead Dev whose mind is intermingled between his mother Ishwari's love and his new found bond with Sonakshi. The lead roles are played by Shaheer Sheikh, Erica Fernandes and Supriya Pilgakokar.
Though a regular script, the show entails curiosity and interest with its characters displaying realism with their acting. Also, the background music, befitted with a number of soundtracks is what makes the script even more interesting.
The show has won the Asia Viewers Television Award for 'Soap of the Year 2016' award and has been dubbed in other languages as well including Tamil and Bahasa.
6. Ek Rishta Saajhedari Ka
Aired On: Sony TV & Sony TV Asia
The moment your curiosity has just cooled down, there arises yet another twist that keeps you hooked to this soap opera. Ek RIshta Saajhedari Ka takes in both sides of relationships, the tradition and the entanglements as well.
Set amidst the pink city, the show features artistic sets and costumes that will take you to the true Indian ethnicity once again in today's modern era.
The plot mainly dances around the love story of Aryan and Saanchi played by Kinshuk Vaidya and Shivya Pathania respectively.
5. Devanshi
Aired on: Colors
Not many shows are there that feature in them the painful realities of Indian society. Devanshi is one such show that depicts the pox of superstitions that has infected the people in believing a child, Devanshi into a divinely goddess.
The serial is shot across Haryana and features Kashvi Kothari as the lead actress.
With as close to real life dramas, this stigma breaking story is a must watch for the Indian audience.
4. Naagin Season 2
Aired On: Colors
Just like its first season, Naagin Season 2 has also won a big audience in a span of merely few months.
Though featuring Mouni Roy as the lead, the show is said to have guest appearances of Bollywood actors Emran Hashmi, Prachi Desai, Lara Dutta, Gauhar Khan, Aftab Shivdasani and Tusshar Kapoor.
With an entertaining plot, which is crisp and intimate at the same time, Ekta Kapoor has once again elevated the banner of Balaji Telefilms upto the sky.
3. Chandra Nandni
Aired On: STAR Plus
We as human beings have an in built tendency to discover and explore our history. Therefore, a sprinkle of historical drama adds interest to even the monotonous of routines. And this show, Chandra Nandni leaves no stone unturned to offer you a historical fiction set atop with lots of drama based on the life of late Indian Emperor, Chandragupta Maurya.
Grand sets, breathtaking costumes and high on Indian drama playing on the small screen is obvious to captivate your minds in a way.
Furthermore, what to say when the leads are played by award winning actors Rajat Tokas and Shweta Prasad Basu, the Makdee actress who makes a comeback with this show.
2. Naamkarann
Aired On: STAR Plus
The emotional crisis rolling in the life of Ayesha nearly takes the heart out as the plot takes a turn. The tight yet compelling storyline of Naamkarann has been praised by the audience and critics as well.
The romantic drama series rolls every Monday to Saturday at 9pm IST.
1. Beyhadh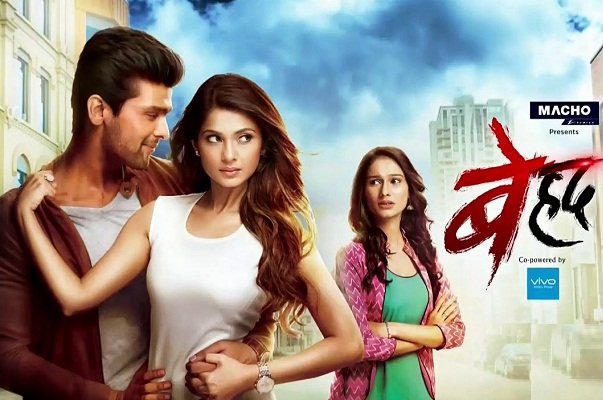 Aired On: Sony TV, Sony TV Asia
Love and its obsessions! Ah, Beyhad takes you into the life of three people, Arjun, who is a photographer, Saanjh who is his childhood friend and lover and Maya, a business tycoon in fashion industry.
The story mainly revolves around the relationships between these three characters which is different and even more complicated than a regular love triangle.
Within a span of few months, the romantic thriller has already gained a high TRP rating nationwide and seems to climb the TRP charts even more.
So, pick in the ones that give your daily life a little spun and have a life full of fun!