Top 10 Best Indian Chefs Ever – Famous & Successful
India is a land of diversity and it therefore, engulfs a wide variety of regional and traditional foods. The cuisine of each state in India varies significantly based on the locally available vegetables, spices and herbs and the tradition and culture.
Let us take a look at the list of Top Chefs in India who have popularized Indian cuisine worldwide:
10. Chef Sudhakar Rao
He started off his career as an apprentice at Ritz-Hyderabad and joined a catering course later because he felt that professional qualification is essential, that was why he was instrumental in setting up a culinary institute in India in affiliation with Osmania University. Now this institute is ranked as the 8th best culinary institute in India. He has been accepted as a member of the American Culinary Federation way back in 1993 which is a rare distinction for an Indian culinary specialist.
9. Chef Harpal Singh Sokhi
He started his career as a professional cook at The Oberoi Hotel in Bhubaneshwar and is also called the Energy Chef of India and now he has become the Dancing Chef of India as he is participating in the season 9 of reality dance show Jhalak Dikhla Jaa. He is also known for his ability to make fusion food such as Black currant Kulfi. He presents his TV cookery show Turban Tadka with humour and has gained the attention of a wide spectrum of audience.
8. Chef Nita Mehta
Nita Mehta is noted for a number of cookbooks written by her. She is a Celebrity Chef and runs a culinary school called Nita Mehta Culinary Academy since 2001 and also allows franchises to set up Academy in various areas. In 2012, she launched her own restaurant called Kelong at Ludhiana. Nita owns a publishing house, for which she authors books. She won the award for Best Asian Cookbook at the World Cookbook Fair in Paris way back in 1999 for the book Flavours of Indian Cooking. She has been a judge in Television, Cooking Contests.
7. Chef Hari Nayak 
He is a famous chef, author and a restaurateur. He hails from Udupi and did his Hotel Management course in Manipal. In 2013 he was presented the ITC Chairman's Award for Outstanding contributions in Food service. He lives in the United States and is one of the most sought after Chefs for his unique style and delicious food.
6. Chef Anjum Anand
Anjum Anand grew up in London and has worked in restaurants abroad and in New Delhi. She is known for creating and writing health-conscious Indian recipes. She has presented a show called Indian Food Made Easy in BBC. Though she lives in London, she travels to India regularly and she has written about 4 books all of which are all best sellers.
5. Chef Madhur Jaffrey
She is an actress born in India, who later became a food and travel writer. She is noted for popularizing Indian cooking to the Westerners through her debut cookbook An Invitation to Indian Cooking as early as 1983. She is a Food Consultant at Dawat and is also a famous TV Personality. Some of her cookbooks have won the James Beard Foundation Awards.
4. Chef Ranveer Brar
He was the judge of season 4 of Master Chef India and hosts shows such as Breakfast Xpress, Snack Attack, Thank God It's Fryday, The Great Indian Rasoi, Ranveer's Café and Homemade. He was born in Lucknow. This year he has launched his book titled Come Into My Kitchen and is hosting Global Menu on Living Foodz Channel currently.
3. Chef Kunal Kapoor
Kunal Kapoor famous Chef who is one of the top most chefs of the country. He hosted the shows like Master Chef Season 1, 2 and 3 which is considered the most dignitary show of the Food industry. He is the winner of various culinary awards and no one can compete with his knowledge about Northern India Food. He is a proud owner of a restaurant which is in Dubai. He booked a record in Limca Book of Records for creating largest Chocolate Tower.
2. Chef Vikas Khanna
Vikas Khanna was the judge of Master Chef season 2,3 and 4 and Master Chef junior.He was born in Amritsar and is now based in New York. He is a Restaurateur, film maker, cookbook writer and above all an Indian Chef. He is supposed to have been inspired by his Grandmother who loved to cook.
1. Chef Sanjeev Kapoor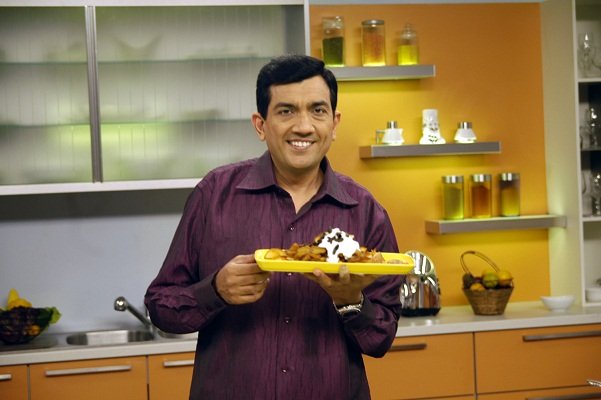 He was the star of the longest running TV show Khana Khazana which has had more than 500 million viewers. He was born in Haryana. He has introduced the culinary art course at SIMS Pune this year and is the brand ambassador for sleek kitchen appliances.  The Yellow Chilli is the restaurant he runs and he has launched ready- to- cook meals under the name Sanjeev Kapoor's Khana Khazana.
Cooking or being a chef is the least preferred job in India. It is difficult to gain mastery in this art, but it is not impossible, if you put your mind and soul into the act. Many Indian Chefs have worked hard and established a place for themselves in this field. The list of Chefs who have popularized Indian cuisine is exhaustive, we have just seen a handful.
Save
Save
Save