Top 10 Best Eyebrow Hair Dyes Available In India
Threading is one of the most common habit among girls and eye brows are normally kept thin as it looks more good. But, sometimes you don't find time to go for threading. And sometimes due to excess threading, your eye brows might have become thin than is expected.
If you want to get the latest hair brow styles and colour, then you should definitely take a look at this article as it will provide you with all the information related to eyebrow dyes :
10. Mommy Makeup Brow Tint
This eye brow dye is very easy to apply and just with some simple strokes, you will get great eye brows. This brow tint is very reasonable and can be purchased easily. This dye lasts for a longer time and all the greyness in the eye brows are covered to a great extent with this dye. Basically, 4 shades are available in this dye and you can select the one that suits you the most.
9. Tintocil Cream Dye Brow Tint
The texture of this dye is very creamy and smooth and it feels very light on your eyes. The tube provided with this dye makes it easy to apply the dye. Normally this lasts up to 5 weeks. This is water resistant and a good cosmetic product. Black, blue, brown, etc. are some of the shades present in this dye.
8. Lip Ink Miracle Brow Tint
Girls use eye brow dyes to hide the gray hairs that keep coming back from time to time. This is a semi permanent eye brow dye which easily hides all the gray hairs. You can choose the shade according to your choice and they provide you with darker shades of colour.
7. New Kiss Tinted Brow Gel
The best thing about this dye is that it is present in the form of tinted gel and gel gets attached to your eye brows easily and it dries off. This dye also comes with a pencil so that you can draw your eye brows according to your liking. A little amount of shine is added to your eye brows and even after much rubbing of your eye brows, the colour does not go away easily.
6. Anastasia Tinted Brow Gel
This is also one of the very best tinted gel eye brow dye that is available in the market. This brow gel does not provide you with a pencil but the mascara style is provided which is very light and soft and the strands of hair can be coloured with ease. You will not feel any kind of weight after using this dye.
5. Refectocil Eyelash Eyebrow Tint
Due to frequent threading, when your eye brows become too thin, then this dye will help to make your eye brows look fuller and increase the volume of your eye brows. The colours of this dye are very bright and vibrant and you can choose the one that will suit you. The best thing is that the dye comes in a tube which makes it easy to apply on your eye brows.
4. Laura Geller Brow Tint 
This dye is a bit expensive but it is always worth the cost. The arrangement of this dye is great and it comes with a gel tamer which helps to draw your eye brows in an easy manner. Your eye brows will become more fuller and become fluffy. The dye contains some tiny fibres in it. The colours are very natural and it can suit with every occasion.
3. Roux Lash And Brow Tint
This dye helps to make your brows fluffy and it easily helps to hide all your gray hairs. There are 2 steps which you need to follow to apply this dye. First you need to cover eye brows in silver tint and then apply the solution. When both the application collide with each other, then the colour becomes totally visible. But, you should be careful when you apply this dye.
2. Eylure Dylash Eyelash & Brow Dye
With just one application in a year, you will get soft and voluminous eye brows. One activating solution and cream colour should be mixed together to get the best effect. To mix both the application, a small palette is also provided in the  pack.
1. Godefroy Instant Eyebrow Tint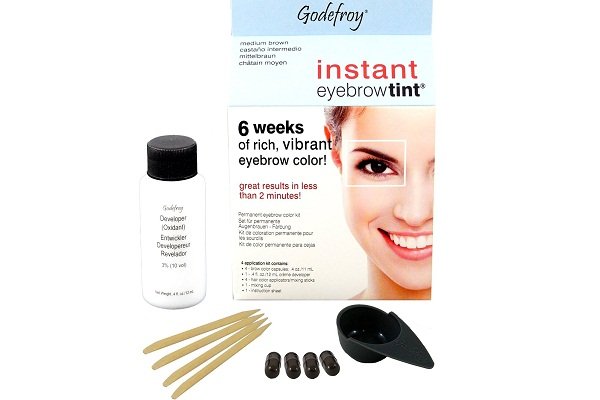 When it comes to eye brow dyes, this is the best and popular choice. This dye helps to retain the natural colours of your eye brows. It is very simple to use and lasts for long.
These are some of the best eye brow dyes that you will find.
Save