Is there anything more relaxing than a cup of tea after a tiring work session? This is such a refreshing beverage. Especially, in India it is hugely popular among people of all groups. In fact, India is one of the largest tea producers over the globe. The passion for tea has generated some brands those are really exemplary on their way.
List of Top Tea (Chai Patti) Brands in India
Lets come to the point here we have the compilation of the best tea brands in India. Have a look!
10. Marvel Tea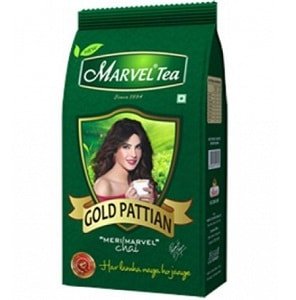 Marvel tea is another popular brand in India and this brand was founded in the year 1994. The tea is manufactured after a lot of testing so as to ensure the best taste and quality for the customers.  The company uses the tea leaves from Assam and Darjeeling for the production of tea and there are many variants available for the Marvel tea as well. One of the highest selling products from this brand includes Marvel Premium Tea and Marvel Gold Pattian.
9. Society Tea
This is one of the most antique tea brands of the nation that was established in the year 1933. However, the brand is too popular or appreciated by those who give importance to taste. Its fragrance is too refreshing to release all your stress within seconds. There are various variants of the product available like Society Masala Tea, Society Premium Darjeeling Tea, all those are quite popular.
8. Tetley tea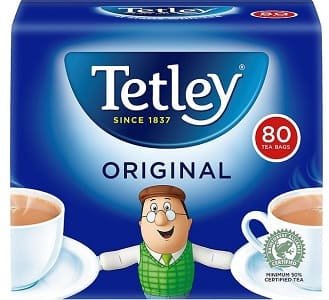 Tetley tea is next popular brand on our list and you might be surprised to know that this brand belongs to England. In addition to this, the brand was founded almost 181 years ago in 1837. Today, Tata Global Beverages is the parent company of the brand and Tetley Tea sells its products across forty countries. The brand has many variants in teas.  It is also the second largest manufacturer of the tea globally.
7. Wagh Bakri
The brand is as interesting as of its name. This growing tea brand of the nation holds a great experience under its belt being established in the year 1892. Whole nation is a fan of the brand; however, in certain parts like Delhi, Gujarat, and Rajasthan it is immensely popular.
6 Brooke Bond Taj Mahal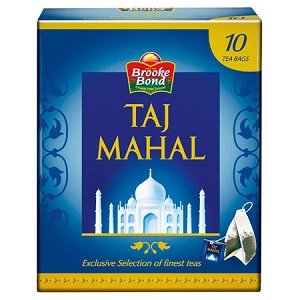 Brooke Bond Taj Mahal is another very famous brand for tea in India. It is another most antique tea brand of the nation after Taj Mahal. They are too selective in terms of tea leaves that results in heavenly taste and freshness. However, we have seen many big names associated with the brand like those of Zakir Hussain, Saif Ali Khan, Madhuri Dixit, etc.
5. Pataka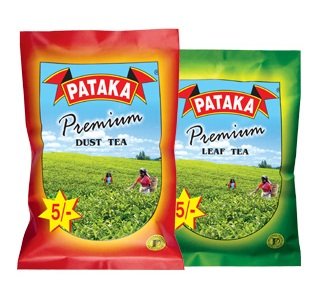 Pataka is one of the well known brands. Though the group has hands on with other sectors like food, beverages, etc, they are mostly known for the finest tea quality. Within a very short while, they have gathered huge success.
4. Lipton Green Tea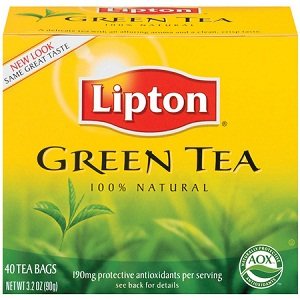 Lipton is another favourite name among tea passionate. They are known for their purity in quality. The best part here is to mention that the tea is absolutely natural and no preservation methodologies are applied for it. However, its fragrance and taste are just mind-blowing as well. All the flavours like lemon ginseng green tea, cranberry pomegranate green tea, etc are quite popular among Indians.
3. Brooke Bond Red Label
Brooke Bond Red Label holds all attributes to be there in the line-up of most preferred tea brands of the nation. The hugely popular name is a successful brand of Unilever. Brooke Bond Red Label holds an attention dragging share of tea segment over the nation. The fragrance and taste is simply outstanding.
2. Brooke Bond Taaza
Brooke Bond Taza is our recommendation if you like the teas those are really strong. It has a great taste and flavour that makes you a fan of it. They never compromise in terms of quality and always pick the best tea leaves. The brand has been giving priorities over minimal usage of preservatives.
1. TATA TEA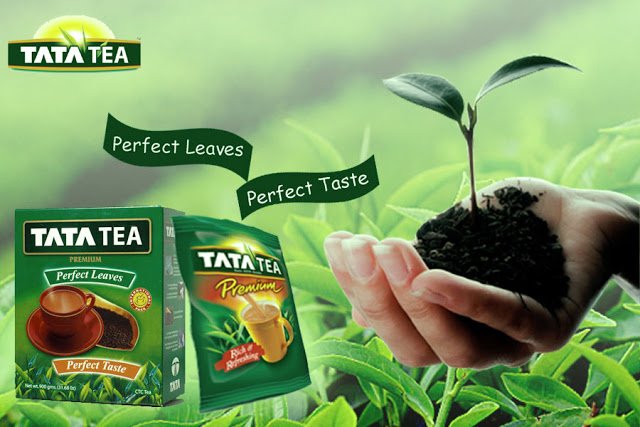 Tea means Tata Tea in India. The brand is too proud in terms of having maximum share in concerned sectors. The brand is an auxiliary of hugely popular Tata group that has set milestones in terms of producing beverages. The brand is still going great since establishment in the year 1964. All the versions like Tata Tea Gold, Tata Tea Premium, etc are quite popular in the nation.
How to choose the Best Tea Brands in India
Tea is an integral part of Indian culture and has been an important beverage for centuries. With a vast variety of tea brands available in India, it can be challenging to choose the best tea brand that suits your taste and preferences. Here are some factors to consider while selecting the best tea brands in India.
1. Types of tea: India produces a wide range of tea varieties, including black, green, white, oolong, and herbal tea. Each type of tea has a different flavor, aroma, and health benefits. Therefore, it is essential to choose a tea brand that offers a variety of tea types to cater to your preference.
2. Quality of tea: The quality of tea leaves plays a crucial role in determining the taste and aroma of the tea. Therefore, it is essential to choose a tea brand that offers high-quality tea leaves sourced from the best tea gardens in India.
3. Brand reputation: A tea brand's reputation is a reflection of its quality, consistency, and customer satisfaction. Therefore, it is essential to choose a tea brand with a good reputation in the market.
4. Price: Tea prices can vary significantly, depending on the brand and quality of tea. Therefore, it is essential to choose a tea brand that offers good quality tea at a reasonable price.
5. Packaging: Tea packaging plays a vital role in preserving the quality and freshness of the tea. Therefore, it is essential to choose a tea brand that offers high-quality packaging that keeps the tea fresh for a long time.
6. Availability: It is essential to choose a tea brand that is easily available in your area. Choosing a tea brand that is not readily available can be challenging, and you may have to compromise on the quality of the tea.
How to Make a Tea Perfectly – Beginner Guide
Making tea is extremely easy these days no matter what kind of tea; it just follows the steps if you want to use milk to make a cup of coffee.
Step 1: place a bowl in the stove and pour one glass of milk and then stir it continuously until it gets boiled. It takes 5 minutes to boil the milk.
Step 2: once it is boiled, you have to mix a spoon of tea powder. If you want to drink different types of tea, you can add a piece of ginger and some spices according to your needs.
Step 3: Make sure that the powder is dissolved in the milk completely. You can also add half a cup of water again. Last but not least, take the tea off, filter it and add sugar.
If you are using loose tea packet, the process will change a bit.
Step 1:    Run the tap to get the water aerated. Just boil the water to keep the oxygen level up.
Step 2:   Ensuring that the water is hot, pop the tea bag over it and stir slowly. It needs time to get boiled. You have to wait for at least 5 minutes. Stir it again so that the tea bag gets absorbed in the water completely.
Step 3: After a couple of minutes, just remove the tea bag. Then, take the tea bag off the mug. Add a teaspoon of sugar and serve hot.
Conclusion: All the above mentioned brands have served the whole nation in keeping refreshed in a great way. We hope the fine job will be continuing like this in coming days as well.
Tea Frequently Asked Questions
Here are some frequently asked questions about tea:
Q1. What are the different types of tea?
There are several types of tea, including black tea, green tea, white tea, oolong tea, and herbal tea.
Q2. What is the difference between black tea and green tea?
Black tea and green tea come from the same plant, but the difference lies in the way they are processed. Black tea is fully oxidized, while green tea is not oxidized at all.
Q3. What are the health benefits of drinking tea?
Tea has several health benefits, including improving heart health, reducing the risk of certain cancers, improving brain function, and aiding in weight loss.
Q4. How much caffeine is in tea?
The amount of caffeine in tea can vary, but on average, a cup of black tea contains 30-60 milligrams of caffeine, while a cup of green tea contains 25-50 milligrams.
Q5. How should I store my tea?
Tea should be stored in an airtight container in a cool, dark place away from sunlight and moisture.
Q6. How long does tea stay fresh?
Tea can stay fresh for up to six months to a year if stored properly.
Q7. How should I brew my tea?
The brewing time and temperature can vary depending on the type of tea. Generally, black tea should be brewed for 3-5 minutes at 95°C, while green tea should be brewed for 1-3 minutes at 80°C.
Q8. Can I add milk and sugar to my tea?
Yes, you can add milk and sugar to your tea, but it is a matter of personal preference. Black tea is commonly consumed with milk and sugar, while green tea is usually consumed without milk and sugar.
Save