Kitchen lover women like Mixer grinder as an essential part of their kitchen. Mixer grinders serve several vital purposes and by using this product housewives make their life more comfortable. A good quality Miser grinder helps to prepare many dishes within a minute using less labor. In Indian market you will find many brands with different prices and distinctive features. If you don't have any idea about this product, roll your eyes through this article.
How to Choose the Best Mixer Grinder for Home in India
If you live in a typical Indian household where homemade things are best preferred, then you will know that an Indian household is incomplete without a mixer grinder. Each one of us has been having grown up alongside the noises of a mixer grinder, grinding macula or making a banana shake. Just like anything else, these mixer grinders are also upgrading it to be a better version of their precious self. I for one cannot forget the memories of waking up to the noisy mixer grinder or listening to the continuous complaints of my mother that the mixer grinder has broken down. Well, none of this would have happened if they knew what the best kind of mixer grinder was. Here is a buying guide for you to buy a perfect mixer grinder. This buying guide will be greatly helpful on your way to purchase the best mixer grinder.
Design of the mixer grinder is the most important criteria while choosing a mixer grinder now that we live in the world of decor and design. But don't get too carried away in the design for its performance is a must. You need to be extremely careful in choosing the design because an attractive design may not always come with an excellent quality grinder.
The next part is to make sure that you buy a mixer grinder only if you are happy with its capacity. A small sized mixer grinder could be a cause of great chaos in your kitchen.
Quality, as we all know, should not be compromised with. Look for a mixer grinder which has a sturdy body and sharp blades. These two are a must in any and every mixer grinder.
Next point is to be able to stick within your budget fragment.
We hope that you buy an excellent mixer grinder!
List of Top Mixer Grinder Brands in India

10. Philips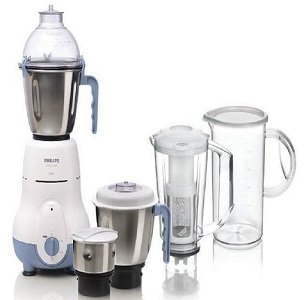 One of the leading and trusted brands of mixer grinder is Philips. In Indian mixer grinder market Philips hold maximum market share. Indians prefer Philips because of its auto cutoff, powerful motor, excellent quality blade etc. A wide range of top-throw design mixer grinders are available only from Philips. Many regular models with various range and capacity are available in Indian market.
9. Bajaj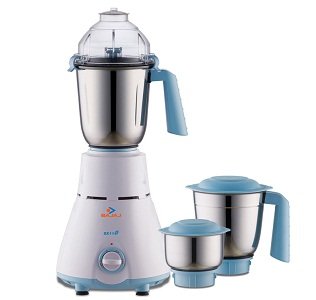 In India Bajaj is a trusted business group dealing business with different domains, one of such domain is its mixer grinder. Models like Bajaj Tornado, Bajaj Helix, Bajaj Hurricane are quite different models with high quality and optimum prices. Main features are-1. Powerful Motor, 2. Motor Overload Protection, 3. Stainless Steel Jars, 4. Multifunctional Blade System etc.
8. Prestige
Prestige is a famous name kitchen appliance from TTK group and is a much known name for mixer grinder in Indian market. Models like Tulip, Stylo, Mist are some of its common discuss models in Indian market that are available at a competitive rate. Basic features are- 1. Overload Protector, 2.Stainless Steel Jars, 3.Fail Safe Coupler etc.
7. Preethi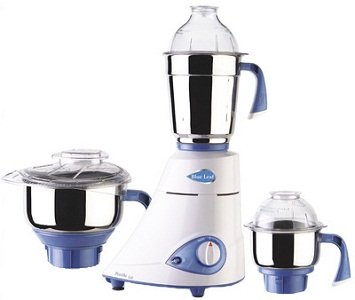 Main features of this model are-1. High Torque, 2. 100% Stainless Steel jar, 3. Faster Grinding, 4. Noiseless D series Motor, 5. polished Steel Blades etc. Models like Power One and Daisy, Magic, Royale, Steele bear such features. Preethi Kitchen Appliances Pvt Ltd was founded in 1978 and at present it exports its mixer grinder in Canada, Indonasia, USA and many other countries.
6. Kenstar
Kenstar occupies 6th position in Indian market by producing quality mixer grinders and its product is available at reasonable rate. Models like 1. Fabio, 2. Slender, 3. Stallion, 4. Senator etc. are popular to Indian housewives. Some of its bright features are 1.Powerful Motor, 2.Stainless Steel Jars, 3.Super Silent 4.Smart Sensor Technology etc.
5. Crompton Greaves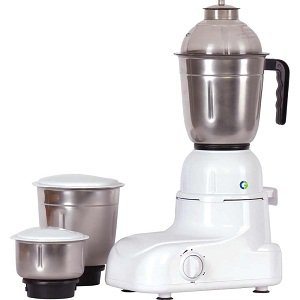 This brand is very popular for quality 1.Juicer mixer grinder and 2.Mixer grinders. Main features are- 1. Heavy duty universal motor, 2.Tower type space saving design, 3.Exclusive whipping function, 4.Shcok proof body etc. models like CG – RJ, CG-EX, CG – HJ1, CG – DJ DLX are very popular in Indian market.
4. Panasonic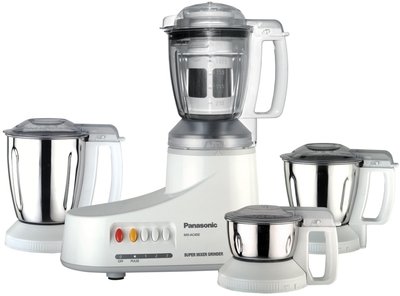 To make your labor more comfortable in kitchen Panasonic produces a quality range of mixer grinders as well as juicer mixer grinders. Mixer grinder from Panasonic is extremely safe for use because of its unique interlocking safety system, safety lid locking system, unbreakable polycarbonate juicer jar, samurai edge blades, flow breaker jars etc.
3. Havells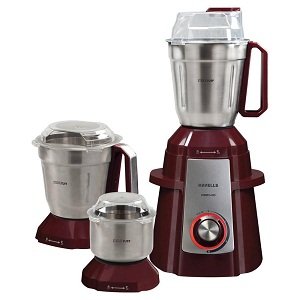 Based on popularity Havells mixer grinder occupies it place in top 10 best lists. Housewives prefer this model because of its unique features like easy locking and powerful motor, LED Indicator etc. Models like Marathon, Sprint, Premio, Supermix etc are housewives' choice.
2. Morphy Richards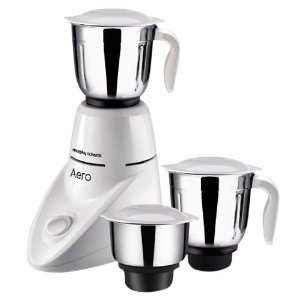 Morphy Richards is famous for worldwide high quality mixer grinder products. It is a global leader home appliances producing company that export its product in the USA, UK, Canada and also in many other countries. This brand offers excellent quality mixer grinder at competitive price. Most popular models are Elite, Icon, Champ, Ritz etc.
1. Usha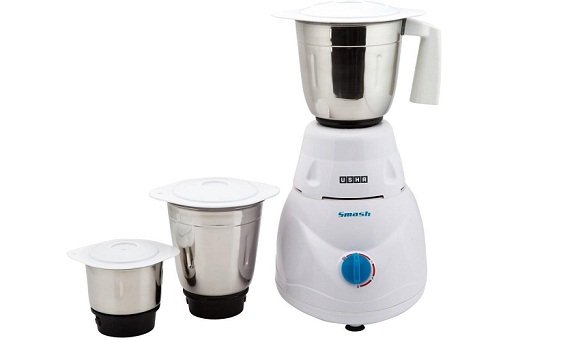 It is also a trusted name in home appliance family and the best models from Usha are Optima Classic, Colt, Smash etc. Some of its bright features are 1. Powerful Motor, 2. Stainless Steel Jars, 3. Super Silent 4.Smart Sensor Technology etc.
Finally, Always choose a mixer grinder that suits to your kitchen need. Follow Mixer Grinder Guru for the best mixer grinders in India.
Mix Grinder Common Problem and Their Fix
Here are some common problems that can occur with a mixer grinder along with their possible fixes:
1. Motor not starting: Check if the power cord is properly connected and the power switch is turned on. If there is still no power, it could be a problem with the motor or the electrical circuit. Consider contacting a professional technician to diagnose and repair the motor.
2. Jar not fitting properly: Ensure that the jar is aligned correctly with the base and securely locked in place. Sometimes, improper alignment or a faulty locking mechanism can cause this issue. Adjust or replace the jar if needed.
3. Blades not rotating: If the motor is running but the blades are not rotating, it could be due to a worn-out or broken drive coupling. This component connects the motor shaft to the blade assembly. Replace the drive coupling if it is damaged.
4. Overheating: Overloading the mixer grinder or running it continuously for an extended period can cause overheating. Allow the appliance to cool down for a while and avoid overloading it in the future. If the problem persists, it could be a sign of a faulty motor or wiring, requiring professional repair.
5. Excessive noise or vibration: Loose or worn-out components can cause excessive noise or vibration during operation. Check for loose screws or bolts and tighten them if necessary. If the problem persists, it might be an issue with the motor bearings or other internal components, which should be inspected and repaired by a professional.
Remember, it is always recommended to refer to the user manual or contact the manufacturer's customer support for specific troubleshooting instructions or to seek professional assistance when dealing with complex issues.
Mixer Grinder Frequently Asked Questions
Why is a mixer grinder important nowadays?
The use of mixer grinders has increased due to the variety of cooking methods and the increase in the choice of food. They are one of the effective devices in a modern kitchen as they save time to allow faster cooking & reduce manual working while cooking. A mixer grinder is a versatile tool used to perform multiple tasks such as grinding, mincing, chopping, mixing, and pureeing. It has different jars for dry grinding and wet grinding; some pieces also come with a separate jar for preparing sauces, chutney, etc. Hence, grinders are efforts as well as time savers.
Which is the best brand for Mixer Grinder?
Today, you'll find numerous models of a different brands with countless features. There are a few brands that have been in the market for years, including Philips, Usha, and Prestige. A lot of new more come to compete with these leading brands in India. Some of the top-notch among all includes Havells, Crompton, Morphy Richards, etc.
Which is the Best Mixer Grinder for all kinds of blending and mixing needs?
To fulfil your versatile cooking needs, there are some top-notch mixers grinders are given below:
Wonderchef Nutri-Blend Mixer Grinder.
Butterfly Jet Elite Mixer Grinder, 750W, 4 Jars
Cookwell Bullet Mixer Grinder, 600W, Push + Knob Modes
Sujata mixer grinder.
Bajaj mixer grinder, 500 watts.
Preethi Mixer Grinder with 5 jars, etc.
How do I clean and maintain my Mixer Grinder?
To keep your grinder clean, first, you need to do is removing the mixing blades, rubbing paddles and other attachments. Next, you need to remove the mixing bowl from the machines. Then, take a wet cloth to clean the surface of the electric mixer. Turn the mixer over and clean below and underneath the base of the mixer.
Don't use a wet damp cloth to remove the remains of dust over the electrical part. Lastly, dry all the attachments as soon as possible after every wash. Apart from cleaning, take care a mixer grinder is a must as Mixer grinder jars or containers are delicate so store them in a safe place.
How to buy an effective mixer grinder in India?
Although, choosing a mixer grinder sounds difficult, actually knowing about the right factors can help you make the right decision. These aspects include wattage, speed, number of jars, number of blades, warranty, price, visual appearance, so on.