Top 10 Best Highlighters For Skin Tone In India
Make up is used to enhance the physical attributes of a person. The Highlighter is one such make up product. Highlighter provides a sheen or radiance and is used to highlight the cheekbones, bridge of nose, eyebrow bones, chin, inner corner of eyes and collar bones. Highlighting needs a little practice, but once mastered, you will get a youthful radiance that others will envy. There are hordes of powder and liquid highlighters currently available in the market. Here we bring to you top 10 highlighters in India, which will make you glow(positively).
10. Faces ultimate pro Illuminating powder
This Face product is a must have for your beauty. It is a powder highlighter in pressed form. It has only one shade and has a compact package. The color is champagne gold with intense shimmer and hence compliments the warm Indian skin tones perfectly. The shimmer is not too gaudy and blends well with the skin making it a good product for this price.
Price: Rs.650 for 9g.
9. Coloressence shimmer highlighter
The Color essence shimmer highlighter is a budget highlighter. It is available in 3 shades: Silver, Gold and Bronze. It has fine particles with shimmer effect which can be used with lipstick, eye-shadow, blusher to give you the shine you need. It comes in a jar with a hole for dispersal. It is really shimmery and can be used on occasions like wedding. Can also be used as body shimmer. Go for it if you are looking for a really shimmery product, not dewy.
Price: Rs.320 for 3 gms.
8. Street wear crystal shine skin brightener with SPF 15
Street wear crystal shine skin brightener is perfect for young girls who don't want to shell out too much money and are new to highlighters. Packaged in a mauve colored tube with pump top, net vol. is 22ml. There are 2 shades: Peach shine and Ivory shine. It has a nice fragrance and does provide a brightness instantly and gives a medium to light coverage. Although street wear promises it to be oil free, it is not suitable for oily skin. It can't be called cheap exactly as it gives mere 22 ml for Rs.360
Price: Rs.360
7. Lakme Absolute Moon lit Highlighter
The packaging is a round compact and the highlighter has 2 sides, the lighter side and darker side for highlighting different areas of the face so that the face becomes well contoured. Its enriched with vitamin E. It provides a sun kissed bronze glow and can be used in broad daylight as well as at night.
Price: Rs.725
6. Revlon photo ready skinlight
Revlon photo ready skin lights Face illuminator is a must have Revlon product. If you don't like the shimmer in powder highlighters, this is a perfect liquid highlighter option for day and night. Revlon skin lights has runny lotion consistency and hence blends in easily. It is not overtly shimmery and has a cool tube packaging with SPF 15 and mild fragrance. Available in 3 shades: Pink light, bare light and peach, light for different skin tones. If you decide to go for it, scour the net for the best price.
Price: Rs.680-Rs.900(Varies according to shades on different sites)
5. Chambor light & sheer skin highlighter
The Chambor light & sheer skin highlighter have a good plastic bottle packaging with a pump dispenser. A very small amount of product is required. It has a nice fragrance and consistency. The color will suit Indian skin as it is champagne with golden shimmer and shimmer particles are not too large. Blends well and lasts for a long time and is easily available in India. Do apply minimally or you will glow, literally.
Price: Rs.1295 for 20 ml pack.
4. Inglot AMC Face and body illuminator
This highlighter is available in 7 shades so each skin tone has a lot of options to choose from. This is non sticky and blends into skin beautiful. It is a little runny, which makes it perfect for use on legs and other parts. This gives a high shine look to face and is one of the best highlighters for face and body.
Price: Rs.1350 for 15 ml.
3. Benefit Watt's up soft focus highlighter
Benefit Watt's up soft focus highlighter is a cream / powder highlighter which provides a champagne glow. The soft powder highlighter comes in a lipstick twist packaging with applicator sponge at the other end. Luminous champagne is the only shade available. It looks golden peachy, but blends in well. It's perfect for dry and combination skin, but oily skin can be a little problematic. You can apply it both as a face and brow highlighter.
Price: Around Rs.2000
2. The Balm Mary- Lou Manizer Highlighter
This is a beautiful product which has a buttery texture and is perfect for warm skin tones. It has a compact round packaging. It gives good coverage on one stroke and blends in giving a fresh, young look. The formula is long lasting and you can apply it on your eye shadow as well.
Price: Rs.2000for 5g
1. MAC Mineralize skin finish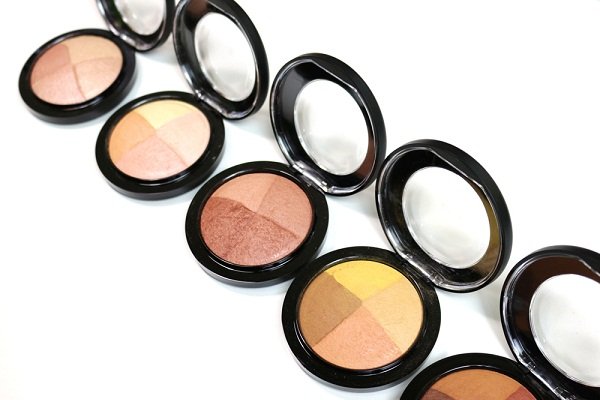 It is a compact powder highlighter from one of the best make up brand MAC.MAC says that this product contains 77 minerals and Vitamin E. This highlighter gives a soft shimmering radiance even in one swipe. Soft and gentle and warm are various shades. It is one of the bestselling products of MAC.
Price: Rs.2400
We hope this article made you shine in a beautiful way. Here we listed top 10 highlighters in India. Choose according to the occasion and your skin tone and go shine!
Save