Wearing a helmet, while riding a bike, is as important as learning how to ride a bike. The helmet ensures the safety from any brain injury caused by accidents while biking. Helmets have three main parts, the shell, liner and interior. Shell prevents neck injuries and bounces the objects, which can penetrate, the liner is the hard foam part of the helmet that takes most of the force and the interior part is the soft padded part that gives utmost comfort. Even, not only ensuring the safety, helmets ensures guard against cold air, penetration of antibodies and dust. Based on color, size, price, purpose, comfort, and style, there are some popular brands that people long for the most.
Let's check the list of top ten best helmet brands in India :-
10. HJC
Being a leading manufacturer of motorcycle helmets since 1971, HJC delivers CS-14 Paso, R-Pha, CS-R2, etc. are a few popular models of helmets. Reasonable pricing and Innovative mechanism are the main reasons of achieving strong market base. This brand and provide high quality, comfortable helmets in India to the bikers.
9. SHOEI
Being founded in 1958, Japanese company Shoei produces Motorsport helmets. Shoei helmets are designed and manufactured in Japan and Shoei has its global distribution and sales. Products that cover various styles and aspect are open faced, full-faced or open-faced, all come with new helmet technology. Hornet x-2, GT 1100, X-Twelve, etc. – all are famous models come under Shoei brand. SHOEI is counted as 9th in the list of top 10 Helmet brands.
8. THH
Taiwanese brand THH (Thong Ho Hsing) were established in 1974. This brand monthly produces almost 60,000 helmets those come with great comfort and style. THH has gained ISO certification from various nations in giving competency and quality. Products designed and manufactured by THH, make use of 3D modeling, Analyses of finite element and use CNC equipment. Even carbon fiber, Kevlar is also used in the materials made at THH. Besides all these, all the products under this brand go through severe testing phase before their market launch. THH is counted as 8th in the list of top 10 Helmet brands.
7. AEROSTAR
Being located near the Delhi's airport, HJC has been doing its business since 1971. Conveyorized assembly shop here, produces 8000 Helmets daily. As an ISI and ISO certified organization, Aerostar gained a huge popularity, where reliability is concerned. While motorcycle boxes are produced in a large amount here, it has got the immense popularity for offering a range of helmets across the nation.
6. WRANGLER
While looking for leading brands for helmets, Wrangler offers a quite amazing range of helmets and that of various prices, colors, and designs. Whether it is a moped helmet, Motorcycle helmets, Designer helmet, full faced helmet or safety helmet, all are accepted and chosen nationwide. Even, this brand is popular manufacturer, trader, and supplier of helmets across the nation. After gaining a strong customer base, while proving itself in India's competitive market
5.VEGA
Vega is the brand, who pioneers the uniqueness and diversity in its products and manufactures world class helmets for its customers across the globe. Since its inauguration in 1994, Vega has promised to offer quality products at affordable prices. During the manufacturing process, all the products are tested and confirmed by internationally recognized bodies. Cliff, Cruiser, Formula HP Moto Craft are few most demanded products under this model. Vega is now ruling the Indian market being ranked 5 among top 10 Helmet Brands in India.
4. STUDDS
While manufacturing and exporting helmets and two-wheeler accessories, Studds Accessories Ltd. is ruling the helmet and bike accessories filed in India. Studds serves its products across 35 countries across the globe. Even, the testing library of Studds is approved by BIS INDIA and IDIADA SPAIN. Some of the products under this brand are Professional Full face, Studds Chrome Elite, Motocross, and Entire Ninja Series; all are high in demand across the Indian market. Due to its style and comfort, Studds stood at  4th position in the list of top 10 helmet brands in India.
3. LS2
LS2 Helmets are specialized with a better implementation of external shell, EPS liner that absorbs shock and other various accessories those make products under this brand unique than other helmet brands. Arthur Liao established this company in 1990, which produces Helmets that come with 5 years of warranty. While winning more customer confidence regarding excellence and precision, LS2 is dedicated to serve products, like FF 350 Atoms, of569.1 Scape, FF 356-L. LS2 stood 3rd in the list of top 10 helmet brands in India.
2. STEELBIRD
SBHT or the Steelbird Hi-Tech India Ltd. is one of the leading helmet manufacturer since its foundation it has made it presence challenging to other companies across the Indian as well as global market. SBHT belongs to Steelbird Group of Industries. Helmets those come under this brand include helmet locking devices, Pannier Boxes, Sweal Resistant Interiors and all manufactured by Avant-garde technology. Steelbird Helmets ensure anti-glare, Anti-fog and anti-scratch vision. In order to reach potential customers across the nation, Steelbird has introduced Riderz Shoppe, which offers helmets in various segments, for example, Flip-Up Helmets, Flip-off Helmet, Full Face, Open Face, Motocross Helmets, Carbon Fiber etc. Due to such unstoppable and desirable products, Steelbird is counted at 2nd position in the list of top 10 helmet brands in India.
1. ROYAL ENFIELD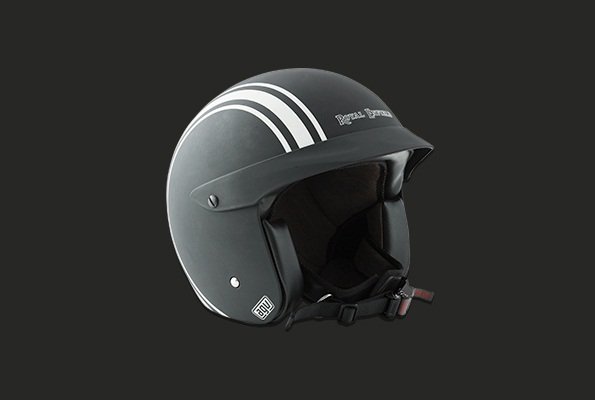 Since its inception, it has been 115 years; Royal Enfield commits to serve the nation and the entire world with pride and elegance. Classy bikes and also a range of unique helmets that complements a bike riding experience are the best of the productions launched in the market till date.
Being world's oldest motorcycle company, Royal Enfield offers a range of simple, strong machines that rides various landscapes across the world. Besides bike and bike equipment, Royal Enfield offers beautifully designed leisurewear, riding wear which lionizes the biking experience.
For providing such a worthy experience to the bikers since decades, it is considered as 1st among top 10 Helmet Brands in India.
Save