Top 10 Best Hair Dye Shampoos Available In India
Creating a new look can help in giving a different personality to anyone and increase confidence in one self. Different hairstyles and looks is one of the many ways in creating a different you. Hair dye in various colours such as pink, purple, red, etc. looks good on every girl and you need to know which colour will suit you the most. Hair dyes are good to an extent but too much usage of it can damage your hair. Along with hair dye , it is essential that you choose a good shampoo that can keep your hair intact and give you enough volume so that the style suits you perfectly.
Some of the best hair dye shampoos are listed as under:
10. Matrix Biolage Delicate Care Shampoos
Use of natural ingredients in your hair can help protect your hair from pollution and damage and also keep your dye for a long period of time. The Delicate care shampoo is a very good one for colour protection. It consists of Argan oil and Acai berry and it nourishes coloured hair very smoothly and efficiently. Sulphate is not present in this shampoo which provides that extra shine to your hair.
9. Wella System Professional Colour Save Shampoo:
This shampoo is known for the 3D effect that it uses to protect colour of your hair and keeps your locks intact. Colour Protecting 3D technology helps in enriching your hair from tips to the roots. This shampoo is a good conditioner and keeps hair smooth. Hair colour gets retained without much effort.
8. Schwarzkopf Bonacure Color Freeze Sulfate-Free Shampoo
One of the best shampoos when it comes to protecting your hair colour as it is sulphate free and Amino Cell Build formula which makes your hair strong. It helps in arranging the hair pigments in place so that the colour does not fade away. The elasticity of hair is increased and makes hair fibre strong.
7. Kerastase Reflection Bain Chroma Riche Shampoo
It is the best dry shampoo you will find in the market for highlighted hair. The hair fibres work perfectly between themselves and in this way, it helps in keeping the hair colour intact. The ingredients present in the shampoo helps in adding moisture to your hair strands and you will find your hair soft and supple.
6. L'Oreal Paris Elvive Colour Protect Caring Shampoo
Loreal Shampoos are just the best and even in this case, you can trust their shampoos. From protection of hair to adding shine, it helps in all phases. Colour Seal Elixir is present in this shampoo which seals hair fibre and maintains the colour. UV filters are also present which saves hair from the harmful UV rays. Hair looks hydrated and soft.
5. Dove Hair Therapy Color Rescue Shampoo
The hair fibre present in this shampoo can go deep into the roots and lock the colour easily. Hair becomes more bright and the colour seems to shine in your hair. Micro moisture serum inbuilt in the shampoo repairs the damage in your hair from pollution or from any other source. Hair colour becomes long lasting.
4. The Body Shop Rainforest Radiance Shampoo For Colored Hair
You will not find any use of chemical in Body Shop Hair Dye shampoo. It washes your hair very gently and makes it glossy so that the hair colour looks great on you. The moisture content present in the shampoo protects your hair from the harmful UV rays. It also comes at a reasonable price so that every class of people can use it.
3. Matrix Biolage Color Care Shampoo
This is the perfect shampoo for every kind of dyed hair and it protects your hair in an amazing way. Your hair can be protected from the harmful UV rays because of presence of Superior Fade guard technology. Sunflower oil, hibiscus oil ,etc. are some of the natural ingredients present in it. Your hair will start looking bright and great.
2. TRESemmé Color Revitalize Shampoo
The advanced colour lock technology locks the hair fibre and colour in it and even with continuous washes, the colour does not fade away soon. Rosemary, Aloe Vera, green tea are some of the expert ingredients present in the shampoo. The frizz of  hair disappears and it becomes soft.
1. L'Oreal Paris Professionnel Série Expert Vitamino Colour Shampoo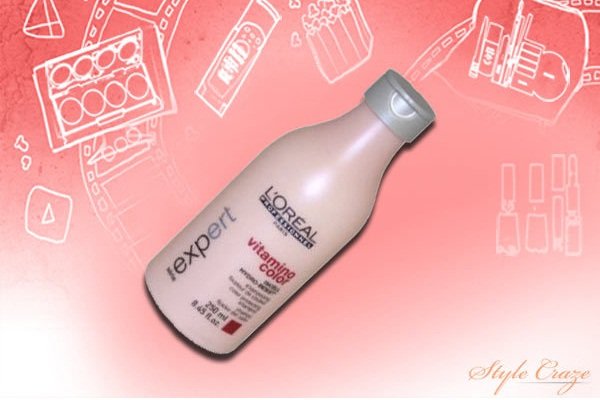 The best shampoo that has been introduced for dyed hair. The Hydro resist technology helps to protect your hair and keeps your locks intact. Vitamin E and magnesium adds shine and volume to your hair.
These are the best colour dye shampoos that you will find in the market.
Save