Desi ghee or clarified butter is one of the most famous cooking medium in India, which is loved for its best taste and pure health value. Though consuming too much of it is considered detrimental to health, it is essential for good health to some extent, and the taste it adds to food is absolutely heavenly.

What Are The Benefits of Ghee?
Ghee, also known as clarified butter should be called as power defined food. In this age of refined oil, people have almost forgotten about the benefits of ghee. Even the scientists have now approved what the Ayurvedic researchers have been saying for thousand years. Read the benefits given below to know that ghee is really safe for use and benefit, even.
One does not have to refrigerate ghee in order to preserve it; it can last longer than hundred years and still be usable.
Anyone who is lactose intolerant can consume ghee without any worry.
Ghee is very rich in Vitamin A and E. It is also rich in antioxidants such as K2 and CLA.
Ghee is nutritionally even richer than coconut oil. The abundance of fatty acids is all absorbed by the liver and produces energy instantly.
Besides what most people think, ghee can actually help you in weight loss for it burns the excess fat in the body.
Ghee consuming people will hardly ever suffer from digestive tract disorders.
Ghee helps in the production of butyric acid in the body which is useful to keep the immune system healthy.
So, why use refined oil or other substituent's when ghee can be much more beneficial for our body? This is why it remains a top choice among households in India, with some trusted brands having their stronghold in the market.
Here are top 10 best ghee brands in India:
10. Gowardhan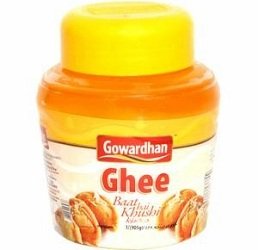 Gowardhan is a leading Pune based dairy brand, which specializes in cow's milk based dairy products including ghee, cheese, and butter. The use of cow's milk promise unique taste and good health, and is lighter and calcium rice. The price per liter of this brand is Rs 425.
9. Anik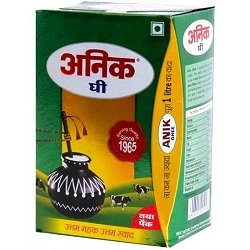 One of the oldest ghee brands in India is Anik Ghee, which uses traditional and hygienic methods to produce products which are great in taste and guarantee good health too. The price of 1 liter pack of Anik ghee is Rs 390.
8. Milkfood
Next on the list of top 10 ghee brands in India is Milkfood, a Patiala based manufacturer, which is reputed to use the finest quality butter as the raw material for producing pure ghee which excels in taste, texture and health value. Price per liter is Rs 380.
7. Healthaid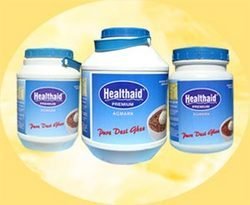 Another Punjab based brand of desi ghee which is acclaimed all over India is Healthaid, which supplies products like skimmed milk, fruit ice cream, cottage cheese and cheddar cheese, in addition to high quality desi ghee. The product is priced at Rs 370 per liter.
6. Madhusudan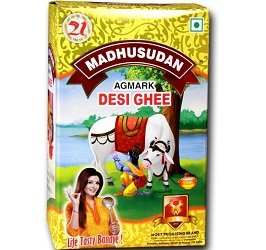 Madhusudan Ghee is an acclaimed brand in the food industry, which supplies top grade pure desi ghee, which boasts of excellent taste and health profile, coming at affordable price. The price of 1 liter pack is Rs 327.
5. Verka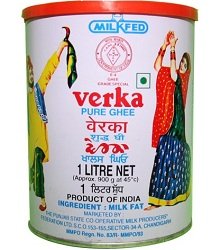 Verka, a brand of MILKFED Punjab, is among the oldest and most preferred desi ghee brands in India, which is regarded highly for its taste, quality, purity and freshness. Price per liter of Verka Ghee is Rs 380.
4. Gopaljee Ananda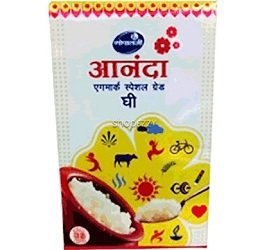 Featuring next on the list of best desi ghee brands in India is the Delhi based Gopaljee Ghee, which has its distribution network all over the country and is appreciated for its taste and purity. The price of 1 liter pack is Rs 330.
3. Nestle Everyday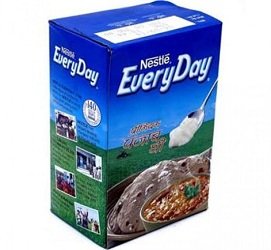 Nestle is a leading player in the desi ghee market, which supplies desi ghee under the brand name of Nestle Everyday. It has a trust attached with it. A 1 liter pack of Nestle Everyday can be bought for Rs 330.
2. Britannia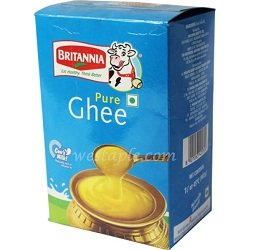 Britannia is another well known ghee brand, which showcases four variants in desi ghee, its cow's ghee being the hottest selling item. The price of 1 liter pack of this brand is Rs 415.
1. Amul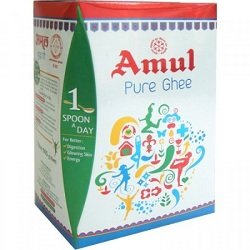 Topping the list of best ghee brands in India is Amul, which has the tag line of "The Taste of India" and lives up to this name with its amazing taste, texture and quality. It is priced at Rs 340 per liter.
Some other reputed ghee brands in India are Patanjali, Organic India, Nova, Shakti Bhog, Himalaya and Kohinoor. Each of these brands has an ardent set of customers in the country.
How to check and test the purity of Ghee?
Even though you are buying ghee from a reputed manufacturer, the doubt regarding the purity of ghee might come to mind. To eradicate such doubts and serving your family the pure and non-adulterated ghee, you can do a couple of tests instead of opting for a lab test. Here are the ways to ensure the purity of ghee –
Method 1 – Heating the Ghee
The simple method to ensure that you bought the pure ghee is by taking a tablespoon of ghee and putting it into the pan. Now, heat the pan on medium flame. If the ghee heats up and melts within a couple of seconds then it might be pure ghee. But you can check the colour of ghee. If the colour is light brown, then the ghee is pure. In case, the ghee isn't pure, it will take time to heat and melt. As the ghee melts, the colour is yellowish. It is a clear sign that your ghee is impure and adulterated.
Method 2 – Using HCL To Test
The second easy but the slightly scientific method of checking the purity of ghee is by using HCL Follow the steps –
Take a test tube and put one tablespoon of ghee inside it.
Now, heat the tube to melt ghee.
Take concentrated HCL in a similar amount and put it into ghee.
Add a pinch of sugar inside the mixed solution.
Shake the entire solution to mix well.
After completing the test, you will find that the colour will change. If the appearance of the mixed solution is slightly pink or reddish at the bottom layer, then the ghee is adulterated. It means that there is rancid ghee mixed in the same otherwise the colour won't change.
Method 3 – Using Coconut Oil
In the third method, we are using a tablespoon of coconut oil to test the purity of ghee. To begin, follow the steps –
Take a glass jar and melt one to two tablespoons of ghee using the double-boiler method.
While the ghee is melted, mix a similar amount of coconut oil in the mixture. When the mixture is melted, let it cool down.
Put this solution in the fridge. If the coconut oil turns solid and makes a separate layer then ghee is adulterated.
If the ghee mixes properly and the solution doesn't form a separate layer after freezing then the ghee is pure.
Figuring out the separate layer is easy and the test can be done in any home without the need for any equipment.
Method 4 – Melting the Ghee
The simple but slightly unreliable way to check the purity of ghee is by putting a tablespoon of ghee in your hand and letting it melt. If the ghee melts on its own then it is pure. But if the ghee requires an additional source for heating, then it is adulterated.
However, this test isn't the best one to check the purity of ghee. The result might fluctuate based on the region, room temperature and other aspects. However, this method will help you take a quick guess of whether the ghee is pure or adulterated.