We are living in a fast paced world today. Life looks more of a running race and all of us are becoming deprived of time. Mornings become so hectic in most households that we feel exhausted as soon as our day starts. In particular, women feel like ending their day right while the day begin due to high fatigue levels that the multitasking working style they practice in the kitchen. Be it chopping the vegetables, or grating coconut or making sauces or preparing for soups, the running around the kitchen in search of knives and scissors is a never ending headache for women. The advent of food processors is a boon for women who toil around to cook perfect dishes.
We present here the Top 10 Food Processor brands in India with their price.
10. Jaipan Food Processor
Jaipan Food Processor is another successful user friendly kitchen appliance from the famous Jaipan business group who are in Kitchen Appliances business or more than five decades now. With 32 years of rich experience and product engineering expertise, Jaipan Food Processor is one of the favorite kitchen appliances among the other similar models available in the market today.
Cost – Rs. 5500/-
9. Usha Food Processor
Usha Food Processor is an aesthetically designed product from the famous Usha business group which specializes in kitchen appliances. Usha Food Processor is highly sleek by looks. It does multiple activities like beating, whisking, mixing, chopping and blending with ease. The many numbers of attachments that comes with this model food processor adds a lot of value to the same.
Cost – Rs. 5500/-
8. Prestige Food Processor
Prestige Food Processor is another high quality kitchen appliance from the world famous TTK group. It has retained its top position in the kitchen appliances business for decades now. The multiple attachments that are supplied with this product are made of high quality plastic that are durable in nature. Prestige Food Processors come in different colors for the customers to choose from.
Cost – Rs. 5000/-
7. Maharaja Whiteline Food Processor
Maharaja Whiteline Food Processor is from the house of Maharaja, a business group that has been in existence since 1857. It comes in an elegant color combination and is highly from a power savings and cost angle. The product is highly long lasting owing to the high grade material used in the same.
Cost – Rs. 4000/-
6. Kenstar Food Processor
Kenstar Food Processor is an internal quality food processor that has been surviving stiff combination in India for many decades now. Kenstar Food processor brings in style and grandeur to every Indian kitchen. The many models available to choose from is one its specialties. Kenstar Food Processors undoubtedly provide world class performance.
Cost – Rs. 4500/-
5. Glen Food Processor
Glen Food Processor is one of those few food processor models that come with a 5 years Motor warranty. Its unique overload protector mechanism makes it stand out among the many other similar products available in the market place. It is designed in a way to last long withstanding all the customer expectations from a typical food processor.
Cost – Rs. 7000/-
4. Morphy Richard Food Processor
Morphy Richard Food Processor is considered as the pioneer in the Kitchen Appliances industry. It has a 75 year long success story to be shared with its peers in the market. The amazing features and innovative working mechanism make it a world class product undoubtedly. Morphy Richards is considered as a dependable brand in the Kitchen Appliances segment.
Cost – Rs. 7500/-
3. Inalsa Food Processor
Inalsa Food Processor cannot be distanced away when we talk about the high end technology used in food processor. Inalsa is one of the pioneering brands in the Food Processor industry and has remained in the top position owing to its stylish looks and effective performance. Inalsa Food Processor comes with a two year warranty making this product a preferred one.
Cost – Rs. 6500/-
2. Bajaj Food Processor
Bajaj Food Processor has been yet another high quality product from the prestigious business house Bajaj. Bajaj which dates back to inception during 1981 has manufactured Food processor with sturdy materials to last longer. The many numbers of high quality accessories that are offered with this food processor enables multitasking in a quick and easy manner.
Cost – Rs. 7000/-
1. Philips Food Processor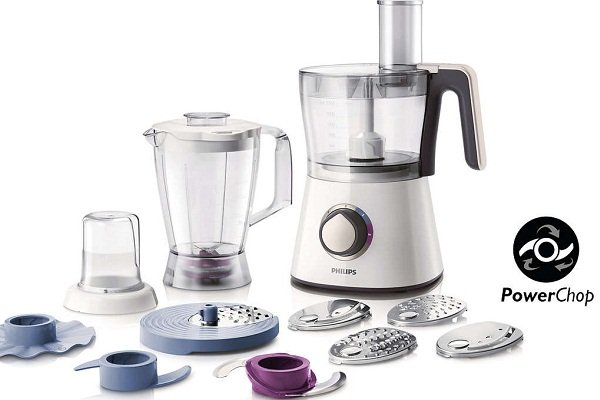 Philips Food Processor makes cooking a fun activity shedding away the tough parts through its superior performance. The different types of unique accessories provided by Philips Food Processor help cook new food items with ease. Philips Food Processor comes with a Power Chop Technology which is not found in any other brand food processors in India. Hailing from the famous business brand for Kitchen Appliances, these food processors are designed in an exquisite manner complementing its high class performance.
Cost – Rs. 8000/-
Save
Save