The Indian skin has its own characteristic qualities and has to face quite a lot of problems during the harsh winters, which cause dryness and roughness of skin. This is the time when you need a winter cold cream the most. There are numerous brands of cold creams in the Indian market, each having its own qualities and features.
Does Cold Cream Really Work?
There are various views with regards to the application of cold cream on different parts of the body and the ensuing effect of the same. The following are some of the views regarding the same:
Cold creams are generally composed of water, oil, emulsifier, as well as a thickening agent. When you apply it on your skin, there is a sudden moisturizing effect. Also, your skin does feel soft and supple.
What worries most of the people about cold creams is the fact that there is also a certain amount of mineral oil that goes into its making. Mineral oil is considered to be harmful for the skin. However, research has confirmed that the mineral oils that go into the making of these creams are not harmful at all
In case you are someone who had a very Sensitive skin and is prone to acne, you will end up not benefiting from any type of cold creams. Hence, for these people cold creams might not work at all.
If you are using the right type of cold cream, your skin shall be allowed to breathe the right amount as well.
Another reason why people might prefer using cold cream is the fact that these creams act as very good moisturizing agents, which. In turn, helps you remove the extra make up
Hence, to conclude cold creams are very much useful for all those who suffer from the problem of dry skin. You only have to use the right brand for that.
Listed below are the top 10 best cold creams for winter season in India:-
10. Fabindia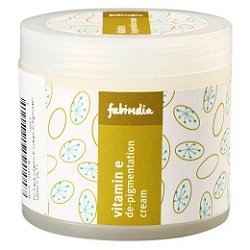 Fabindia is a brand known to bring 100% natural and chemical free beauty products for its customers. The Vitamin E rich hydrating cold cream from this brand contains ale vera, jojoba oil, vitamin E and grape seed extract. It is very light and keeps skin moisturized for the whole day long. It is priced at Rs 225 for 120 ml.
9. Ayur
Ayur Cold Cream features next in the list of top 10 cold creams for winter. This cold cream keeps the skin radiant and moisturized in tough winter conditions and is suitable for all ages and skin types. The price is Rs 50 for 80 g.
8. Dabur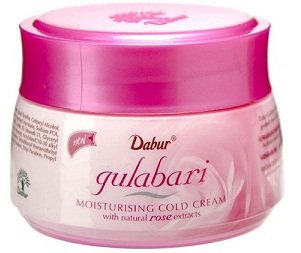 Dabur Gulabari is another popular winter care cold cream, which contains natural ingredients like rose oil, glycerine, turmeric and saffron (kesar), making it suitable for all skin types. Its 55 g packing comes for Rs 55.
7. VLCC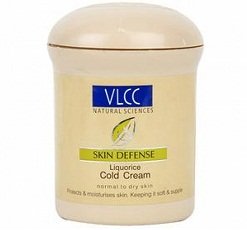 VLCC is one of the most popular cosmetic brands in the country, which offers the top quality product called VLCC Skin Defence Liquorice Cold Cream, which is priced at Rs 110 for 50 ml. the cream is enriched with rose petals and liquorice extract to prevent roughness of skin.
6. Emami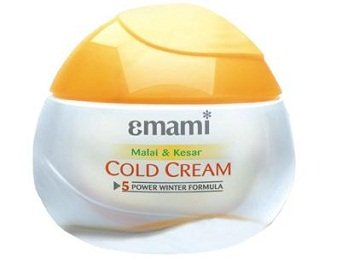 Emami Kesar Malai cold cream is another popular cold cream for winters in India, which contains the goodness of saffron (kesar) and aloe vera to combat winter dryness. The price of this cream is Rs 90 for 100 ml.
Read Also: 10 Best Lip Care Balms in India
5. Lakme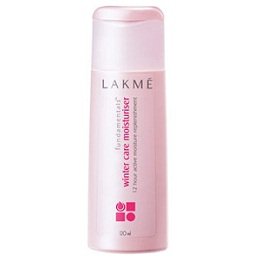 Featuring next on the list of 10 best cold cream brands is Lakme, which has a product called Lakme Fruit Moisture, containing both cold cream and moisturizer for soft and radiant skin in winter. The cream also acts like a sun screen with SPF 9. It comes at a price of Rs 70 for 50 g.
4. Himalaya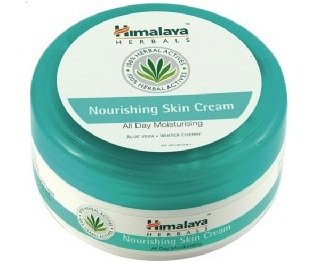 The Himalaya Nourishing Skin Cream is a safe and natural skin cream which uses natural ingredients like aloe vera, winter cherry and ashwagandha, making it ideal for even the most delicate skin types. This fragrant cold cream keeps the skin hydrating and prevents cracking of skin in dry winters. The price for 50 ml pack is Rs 75.
3. Charmis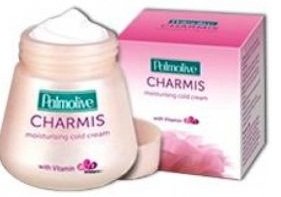 Charmis has been a popular brand in the country for years now. This wonderful skin cream gives best results when you use it at night. You can also apply it on your hands and feet. The product is safe and reliable to be used by the whole family. The price is Rs 270 for 175 g.
2. Ponds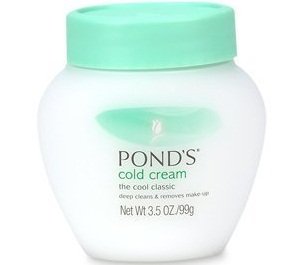 Another trusted cold cream brand in the Indian market is Ponds, which provides protection from the dry winter weather and keeps your skin moisturized and soft, without making it sticky and oily. The price is Rs 65 for 55 g.
Read Also: 10 Best Fairness Face Wash in India
1. Nivea
One of the oldest and most popular cold cream brands in India is Nivea, which makes your skin soft and supple in the harsh weather conditions too. This cold cream gives your skin a youthful glow and can be used by the whole family. It comes at a price of Rs 95 for a 100 ml pack.
All these cold creams are highly recommended to protect your skin hydrated and radiant this winter.