Top 10 Best Boiler Manufacturers in India
Boilers provide heating that a facility needs to warm it up. A commercial boiler can be run on natural gas, liquid petroleum gas or oil. Increasingly, they are being combined with low carbon technologies, such as solar panels and heat pumps.There are many boiler manufacturers in India; some are completely Indian manufacturers, whereas some are in Joint Ventures with other international players. BHEL is the major Indian market leader with over 60% share in the Indian boiler market. China is the leading boiler destination of the nation with a market share of almost 45%, whereas USA is the major  boiler export destination.
Below is the list of Top 10 Best Boiler manufacturing companies in India.
10. Energy pack boilers private limited 
This is an ISO 9001:2008 certified company. They have been in business for about 25 years. Energy pack has in house team of engineers who could handle crucial functions like Design, Supply, Erection and Commissioning of the projects on turnkey  basis. They are leading manufacturers of gas, oil and all kinds of solid fuel boilers, it is also designed Eco friendly renewable waste boilers. The Chairman is having 40 years of experience of running "Boiler Industry". The Vision of the company is to design and offer across globe, eco-friendly and energy efficient products that are maintenance free .
They strive for enhanced customer satisfaction which has got them repetitive orders from the valued clients.
9. Sitson India Pvt Ltd 
This is a company incorporated in 1978 to provide specialised engineering services for the energy sector. They specialize in manufacturing water tube multi fuel boilers suitable for fuels like coal, bagasse, oil, biomass and biogas, waste heat recovery, etc., they have got the technology and capacity to manufacture boilers upto 250 TPH, 130 Kg/cm², 540 ºC capacity with AFBC, CFBC, Pulverized Coal, Traveling grate boilers. They have about 90 boiler installations up to capacity 150 TPH 125 Kg/ cm², 540°C temperature.Besides Boiler manufacturing SITSON is the pioneer in boiler revamping to increase steam generation capacity.
8. MultiTech Boilers Pvt Ltd 
They are one of the popular boilers present in the Eastern region with its office set up in Jadavpur. It is established in 1998 , with a massive product range that includes Fluidised Bed Boilers, Fluidised Bed Retrofitting Systems, and Pressure Hot Water Boilers etc. They have numerous clients from Agro, rubber, leather and paper industries.
7. Aero therm systems:
This company is in boiler manufacture business for over 42 years, they believe in quality  and provide the customers with innovative products. It is established in 1964 and also received an Award from NATIONAL RESEARCH AND DEVELOPMENT CORPORATION OF INDIA, NEW DELHI in the year 1974 for designing of Vacuum Pump. In the year 1978, the company started manufacturing boilers. The products are designed  by highly qualified technical staff and computer aided engineering department.Their mission is to design and manufacture products of only the finest quality with long lasting solutions.
6. Veesons Energy Systems Pvt Ltd 
Veesons is a leading manufacturer and supplier of boilers. They have a very high brand name in India and in some countries in Asia and Africa having supplied more than 5000 boilers. Quick delivery,excellent performance,competitive price, reliable commercial transactions are the key drivers for its consistent growth. They started as a vendor for manufacturing Non- Pressure Parts  for BHE, Trichy. After gaining valuable experience, Veesons upgraded itself as manufacturer of process boilers and Small/Medium Industrial Power and Process Boilers.
5. Southern Boilers & Equipments Pvt. Ltd
Southern Boilers and equipments Pvt Ltd, is a multi product company in the process heating and power generation sectors. They also assist in selecting the correct size of boilers, boiler house layout and erection of a complete boiler house, they also are suppliers of spares as well as commissioning and advising on the maintenance and operation of the boiler.  A fully trained and competent team of engineers are available at their branches.
4. Cheema Boilers
Cheema Boilers is one of India's premier boiler manufacturers. They have been manufacturing boilers and allied products for last two decades. The company has a customer centric approach that aided in their multifold growth. Cheema Boilers build high capacity boilers for steam generation and process heating and provides turnkey power plant solutions. In addition, they also offer support services for existing boilers. Their experienced professionals help in delivering efficient services in quickest possible time, thus minimizing downtime thus earning the top 4th position.
3. Industrial Boilers Ltd
It is an ISO 9001:2000 certified company and part of eminent IBL group. It has huge experience in manufacturing boilers and installed 6000 boilers.it has a huge product line that includes Wood Fired Boilers, Steam Turbines, Fluidised Bed Combustion Boilers etc.Their research is 5 to 10 years ahead of time so that they could foresee developments and provide the latest technology for its customers. The company is privately owned that is established in the year 1974. It earned the name of the biggest steam manufacturers in India.
2. Thermax India Limited
The The rmax group is an INR 5516 crore company, providing a range of engineering solutions to the energy and environment sectors. They are headquartered in Pune, India and has presence over 75 countries.  Thermax business portfolio includes products for heating,cooling water and waste management. The company also designs, builds and commissions large boilers for steam and power generation. Thermax also harnesses solar energy to support its clients heating, cooling and power generation requirements.
1. Forbes Marshall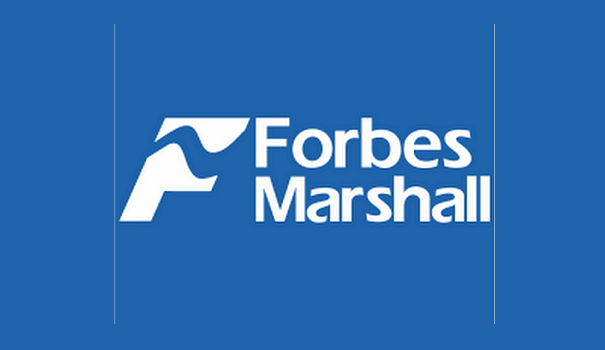 Topping our list of Boiler manufacturers in the Forbes Marshall. This is a leader in process efficiency and energy conservation. They constantly bring new and innovative products to the market.The minimax modular boiler, Thermocompressor, and the Electronic Compound Regulation Burner Operation and Control System, Stack Analysers, Vortex Flowmeter, the MAC (Master Air Controller) and Biosens, a revolutionary new analyser for instant BOD analysis, are examples of our cutting edge research and development. They are listed several times among the Top 5 "Best Workplaces in India" and the first in the manufacturing industry surveys conducted by the Great Place to Work Institute. They own the world's finest manufacturing facilities and state of the art  technology labs which enables to give superior customer satisfaction.
The boiler market size in India till 2022, will be governed by the planned capacity addition. The indigenous manufacturers are facing a tough competition from the Chinese players.