12 Tips To Freshen Up Your Website
People constantly talk about things like "working on the site is a serious matter", "the overall impression of the site depends on many nuances", and "creating a really cool website is a long and expensive process"…
But no one talks about affordable, fast and easy ways to freshen up the website in order to increase the loyalty of existing customers and attract the new visitors!
Well, there are many methods like that, and now we will talk about the 12 best simple and effective ways to freshen up your site!
These tips will fit any type of website! By the way, check out the different types of websites with guides and examples.
What advantages does it give you?
Updating the site design will attract attention of visitors and search engines and will give you numerous advantages:
increasing loyalty of the existing audience and new visitors;
an increase in conversion rate;
an increase in the overall level of sales of goods or services;
the reduction in bounce rate and improvement of behavioral factors;
compliance with modern layout technologies and design trends;
optimization of the project structure, etc.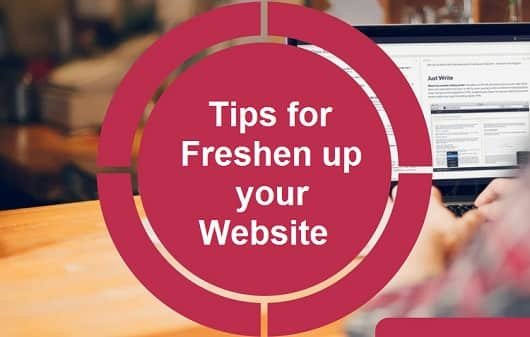 12 Ways to Refresh Your Site
1. The image in the header of the site. Add a cool illustration or high-quality photo of your product/service to the website's header and make a pleasant first impression!
2. Icons for the holidays. If the holidays are coming soon, you can decorate the site with some icons – it is a very easy way to attract your visitors' attention and show them that the website is up to date.
3. Anchor menu is a very convenient and useful thing that will help your visitors not get lost on your website. The anchor menu will always be just in front of their eyes, and they won't need to start from the beginning.
4. Welcome message. You can add a greeting message in the first semantic block. Also, it is a good idea to place a suitable picture here.
5. Photo design and decoration. Attention to detail distinguishes a cool site from the usual one. So, you can simply upload photos, or you can «place» them in a cute frame – this will create a sense of completeness and make your gallery unique.
6. Sections for registered users. You can add sections to the site that are available only to registered users, and then you will have something like a private club. Sounds intriguing!
7. Hover effect. This is a visual effect that appears at the moment when the site visitor hovers the mouse over the image. Just add it, and even the most ordinary website will attract the attention.
8. Music via Spotify. Everyone's favorite music service can be used to play music on the site! If you have a music website of your band, you can display your own tracks, or you just can add some lounge playlists to create a cool background.
9. Spectacular transitions between pages. You can make the transition from page to page, accompanied by some nice visual effect.
10. Customizable image thumbnails. Typically, thumbnails are created automatically, but you can select their proportions and position manually — then your image gallery will be more expressive!
11. Strips with images. If you decided to add large and wide images on your website, then the «strips» with images will come in handy! Just keep in mind that the image should be rectangular and of good quality, then it will look amazing.
12. Animation effects. There a lot of cool animation effects in the website builder editors that are compatible with almost any element – a button, a text, an icon, etc. Choose the ones you like and don't be afraid to experiment, but do not forget about the sense of proportion.
Wanna get the perfect website that will meet all your expectations in no time? Create your website with Weblium!