Nowadays, it is not easy to survive the heat wave and soaring temperatures of summer months. During summer, the rising mercury levels make it increasingly difficult to switch off the air conditioners and coolers at home and office.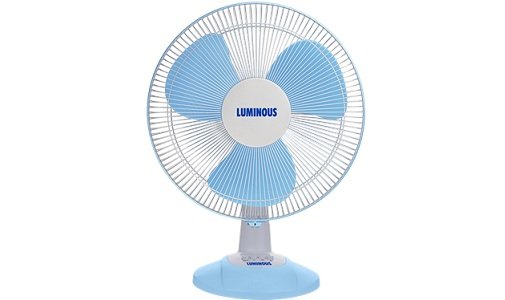 Image Courtesy: Luminous
To help you beat the summer heatwave and get through this season without much discomfort, we've put together a few simple table fan hacks that you can try:
1. Build a DIY Air Conditioner
There are a few ways to pull this off, but if you have a table fan and a freezer, you should be good to go. The easiest method to get a DIY air conditioner is to place a table fan with a bowl of ice in front of it. As the ice melts, you can expect a gentle, fine mist blowing your way – keeping you cool.
Another option is to spray ice cold water on an old sheet and hang it up on an open window. If your house is breezy, you will get a cooling effect.
2. Get Old-Fashioned
During summers, the good old table fan can make your life a lot easier.You can conveniently place a table fan on your study table or any other place where it won't take up much room. Ensure that the table fan is placed in a room that has plenty of ventilation.This way,while you are working, the table fan will provide not only ample cooling but also ensure steady airflow in and around the room.
3. Set up the Table Fan/Personal Fan in the Right Position
The primary function of table fans is to ensure continuous air circulation in a room instead of actively cooling it. Thus, it is far better to set up your table fan near an open window or hallway, from where it can help facilitate a cross breeze – pulling in cooler air from outside (or a cooler part of the house) into the warmer areas.
Popular table/personal fan designs from a reputable brand like Luminous come with a high air delivery metric. For example, Luminous Buddy is one premium personal fan that provides top-notch personal cooling around the clock. Luminous Buddy offers Unique Front Guard for Superior Air Flow Distribution and superior performance with a high-speed of 2800 RPM & a Superior Air Delivery of 38 CMM.
At the same time, Luminous Buddy comes in different colour variants like Cherry Red, Aqua Blue, Olive and Royal Orange, which helps amp up the décor of the room in which it is placed.
4. Other table fan hacks
A table fan is a fast and efficient way to cool your room. Table fans can also help blast hot air out of your room when you use them facing an open window outwards. Once a substantial amount of hot air has been pushed outside the window, you can turn the table fan towards yourself and place a wet sheet in front of it to get a calming breeze effect.
Surviving the summer months is something that we have learned to do year after year. Although many people prefer to remain cocooned in air-conditioned spaces to escape the heat, others who are unable to afford the soaring air-conditioning bills have found a few summer hacks to stay calm and beat the heat!