Sudeep is a well known Indian actor. He is mostly featured in Kannada movies. Apart from this, he is also a well-known filmmaker. He has also hosted many versions of Bigg Boss Kanada.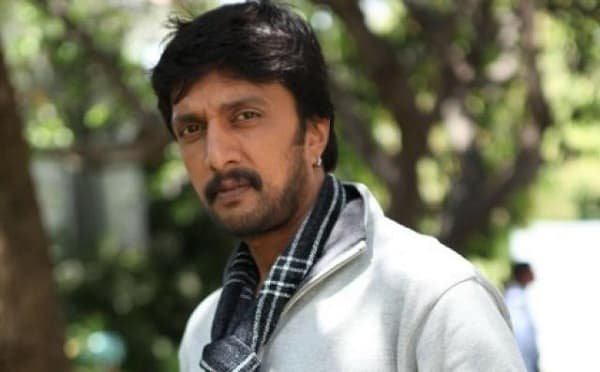 Net Worth
The net worth of Sudeep Sanjeev is not known.
Income Source
The major source of income for Sudeep Sanjeev is the fee that he receives for acting in the movies. In addition to this, he also earns because of the film making business.
Real Name
The real name of this talented actor is Sudeep Sanjeev but he is also known by the name of Kichcha Sudeepa and Deepu
Date of Birth: 2nd September 1973
Age: 45 years
Height/Weight
Sudeep Sanjeev has a tall height and he is 6 feet and 1 inches tall. In addition to this, he weighs about 80 Kgs.
Marital Status
Sudeep Sanjeev is divorced. He got his divorce in the year 2015.
Personal Background
As per the information available, Sudeep was born in Shimoga District in Karnataka, India. The name of his father is Sanjeev Manjappa and the name of his mother is Saroja. Most of his childhood was spent in Bangalore as he completed his schooling from Bangalore and he later went to Dayananda Sagar College of Engineering in Bengaluru. From this college, he completed his Bachelor of Technology in Mechanical Engineering. Sudeep had always been passionate about cricket and he also played for his college team in under 17 and under 19 category. After completing his college, he went to Roshan Taneja School of Acting in Mumbai where he polished his acting skills further. Talking about his personal life, it is known that he got married to Priya Sudeep in 2001 but unfortunately, their marriage didn't last till eternity. The couple filed for divorce in 2015 and in the same year, they got a divorce. The couple also has a daughter whose name is Saanvi.
Career
Talking about the career of Sudeep, it is known that he started his career in 1997 with Thayavva and later in that year, he also got an offer to work in Prathyartha. In the coming year, he worked in many movies and most of them had been a hit. He is known to be the best actor in Kannada cinema and he has a huge audience base. He worked in movies like Bachchan, Varadanayaka, Mirchi, and Ranna. Apart from this, he also worked in movies like Vaale, Chandu, Nalla and Mandya to Mumbai. In the later years of his career, he decided to be a filmmaker and the first movie that he directed was My Autograph. He also directed movies like Veera Madakari and Maanikya. It is also known that Sudeep has a production company and they have produced several movies. His career is not limited to the big screen, he has also worked on small screen TV shows and the first show that he worked in was Premada Kadambari. Owing to his popularity, he also got a chance to host the season 1, season 2 and season 4 of Bigg Boss Kannada. As per an estimate, he charges about Rs 6 crore for each and every movie.
Properties and Cars
The details about Sudeep Sanjeev's cars and properties are not listed.