Siddaramaiah is the present Chief Minister of Karnataka and he is associated with Indian National Congress since last 11 years. He is one of the prominent faces in the politics of Karnataka and he has certainly helped the state in following the path of development.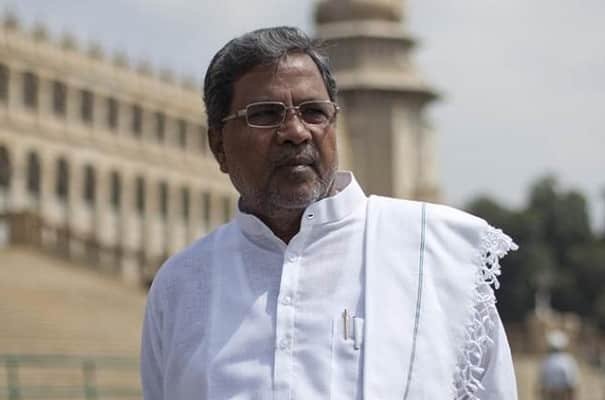 Net Worth
The net worth of Siddaramaiah is not known.
Income Source
The main source of income for Siddaramaiah is the salary he receives from the government of India.
Real Name
The real name of this politician is Siddaramaiah.
Date of Birth: 12 August 1948
Age: 69 Years
Height/Weight
The information about height and weight of Siddaramaiah is not available.
Marital Status
Siddaramaia his presently married to Parvathi and he has two children.
Personal Background
Talking about the personal background of Siddaramaiah, it is known that he was born in Mysore District in Karnataka. The name of his father was Siddarame Gowda and the name of Siddaramaiah's mother was Boramma. It is known that his parents were farmers and they didn't have a strong economic background. Apart from this, he also has four siblings. Talking about the education, Siddaramaiah never received a formal education till he was 10 years old but later he was enrolled in a school. He went to Yuvaraha College and he received his bachelor's degree. In the later years he also pursued LL.B. Later, Siddaramaiah got married to Parvathi and the couple raised two children together. Unfortunately, one of his sons, Rakesh passed away in 2016. His second son is a doctor
Career
Talking about the career of Siddaramaiah, it is known that he started his career as a junior lawyer and he even taught law for a certain period of time. Later in 1978, Siddaramaiah joined politics when Nanjuda Swamy asked Siddaramaiah to contest elections. Luckily, he won from the seat he represented. Soon after this, Siddaramaiah joined Janta Dal and he was a part of this political part until 2006. After a break-up with Janata Dal, Siddaramaiah decided to join Indian National Congress. He is soon going to complete 12 years of association with Indian National Congress. He was appointed as the Deputy Chief Minister of Karnataka twice and later in 2013, he was appointed as the chief minister of Karnataka. It is known that Indian National Congress went through a secret balloting process so as to finalize the name of the chief minister. Siddaramaiah was victorious in the same and hence he was given the command of the state in 2013. Apart from this, Siddaramaiah also held a position of Minister for Finance, Minister for Transport, Minister for Higher Education and Minister for Animal Husbandry and Veterinary Services. His hard work helped him in winning hearts and that is the reason why he is one of the mosts popular chief minister in the history of Karnataka. Since assuming office, he has contributed massively to the success of the state.
Properties and Cars
The details about Siddaramaiah's cars and properties are not listed on the web.