Roll No 21, is the most popular Indian animated television show across the country. It is written by Avinash Anand, Kaushik Chawls, Alok Sharma, Richa Deo and Swapnil Narendra, produced by Cosmos Entertainment Pte, Directed by Ah Loong and Uttam Pal Singh, released by Cartoon Network. It was premiered on November 27, 2010, and also known as the Kris show.
About Roll No 21:
 Roll No 21 series is available in four different language – English, Hindi, Telugu and Tamil. A boy whose name is Kris is an intelligent and naughty boy who lives with his friends, Pinky and Bablu at an Orphanage School. He wants to stop the evil demon king, Kanishka Principal. He gets a superpower (Magical Peacock Feather and Flute) from Lord Krishna to save his friends.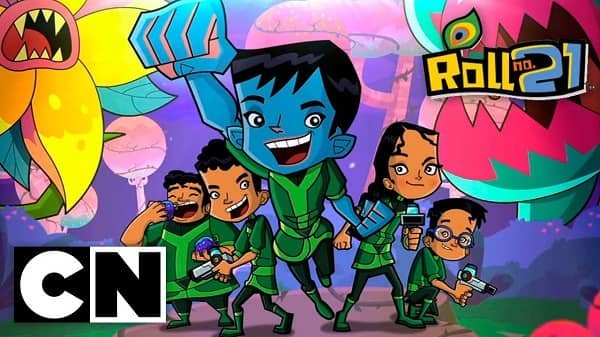 Characters Name:
Kris: Kris Voiced by Pooja Punjabi
Kris is also known as Blue Balloon because his skin colour is blue and blessed by Lord Krishna. He stays in Mathura Anath Asharam to stop Kanishk evil's plans. He is an incarnation of Lord Krishna but secretly lives like an ordinary boy.  He converts into Krishna whenever it is needed. He usually shows childish qualities just like a normal kid. He loves to play and enjoy with friends; he dislikes studies and homework. He loves to eat butter just like Krishna and has a crush on Pinky.
Kanishk: Kanishk Voiced by Vinod Kulkarni
He is the principal of Mathura Anath Ashram and the incarnation of Kansa. He is an evil king who came back onto earth to take over the world. Mostly he has hired the various demons and evils from the Paataal-Lok to defeat Kris. Along with this, he knows his duties and responsibilities very well regarding his school.
Doctor J: DoctorJ Voiced by Ganesh Divakar
He is a dentist and stays with Kanishk all the time, the reincarnation of Jarasandh.  He always comes with a new idea to fight with Kris. He is a scientist too who keeps inventing various machines and devices. Oftentimes, he has wished to become a principal and kick Kanishk just because of Kanishk rude Behaviour. He is always humiliating by Kanishk.
Pinky: Voiced by Pooja Punjabi
She is an incarnation of Radha, best friend of Kris and student, a classmate of Mathura Anath Ashram. She is good at studies and had a crush on Kris also comes with various inactivities for the betterment of the school.
Babloo: Voiced by Vaibhav Thakkar
He is a reincarnation of Sudama, best friend of Kris and mostly stays with him. He is good at sports but an average student.
Madhu:
He is also known as the brain of the group. He is one of the smartest students, coming with innovative ideas. He is a friend of kris and the reincarnation of Madhukumar who is a friend of Lord Krishna.
Golu: Voiced by Koustuv Gosh
He loves to eat food and known as Fatso by many people and kids. He is a reincarnation of Mangal.
Some other Character are-  Sukhi, Taarak, Suparna, Basu, Prashanth, Balu, Lord Aquarius, Guru Mahasur