Rahat Fateh Ali Khan is a well known Sufi singer from Pakistan, who comes from the prestigious musical family of the legendary Qawwali singer, Fateh Ali Khan who was his grandfather. Rahat's uncle, Ustad Nusrat Fateh Ali Khan and father, Ustad Farruk Fateh Ali Khan, also need no introduction. No doubt, Rahat too has become a world famous singer on account of the musical legacy which he has inherited from such legends in his family.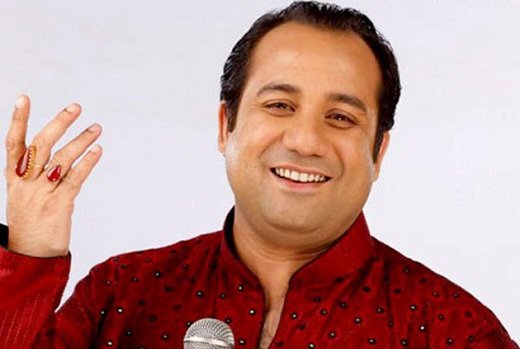 Net Worth: $ 25 million
Income Sources: Rahat Fateh Ali Khan is a singer, who sings in genres like Qawwali, Sufi and ghazals. He is a highly rated playback singer in Bollywood as well as Pakistan film industry too. He also makes money from musical concerts around the world.
Born: 9th December, 1973 (41 years old)
Height: 5'3″ Feet
Marital Status: Married to Nida Rahat
Personal Background
Rahat Fateh Ali Khan was born in Faisalabad in Punjab, Pakistan and he hails from a prestigious musical family, with its roots going deep in the classical music genre. He followed the footsteps of his father and uncle, and was trained under the mentorship of the great Ustad Nusrat Fateh Ali Khan, who polished him in Qawwali as well as classical music. Besides being one of the most famous classical singers in his country, the popularity of Rahat Fateh Ali Khan transcended boundaries and he became one of the most sought after singer and recording artists in Bollywood, in his own genre of classical music. The extent of his fame can be adjudged from the fact that he had the honor of being the first Pakistani to be invited for a concert at the 2014 Nobel Peace Prize ceremony, where he spellbound the audience with his melodious Qawwalis. Today, Rahat is not only one of the best performers in Pakistan, but has also become a recognized face in India and the world over.
Career Graph
Rahat had a head start in his career because of being formally trained by the legendary singer Nusrat Fateh Ali Khan, who took him under his mentorship when he was just 3 years old, with formal training starting at the age of seven. Rahat's first performance came at the age of nine, which left the audience awestruck, and he joined his uncle's qawwali group at the age of fifteen. During this time, he toured to UK with the group, performing qawwali as well as solo songs in the concerts. He made his playback debut in the Pakistan film industry in the nineties, followed by the Bollywood debut in the Mahesh Bhatt movie called "Paap", a 2004 release. After that, he has become the first choice in the industry in the arena of sufi and classical singing. Besides playback singing, Rahat Fateh Ali Khan also tours around the world for musical concerts. He has also worked on the soundtrack of an acclaimed Hollywood movie, "Dead Man Walking", which was released in 1996. Additionally, Rahat has been a part of numerous international soundtracks and film music. He has appeared as a judge in the Indian reality TV shows such as "Chhote Ustaad 2" and "Junoon- Kuch Kar Dikhaane Ka". Rightly, Rahat Fateh Ali Khan can be called an artist of international appeal.