Prakash Raj is a leading actor, film producer and director in the South Indian film industry, who has now become a recognized face in Bollywood too. He is also a well known television presenter.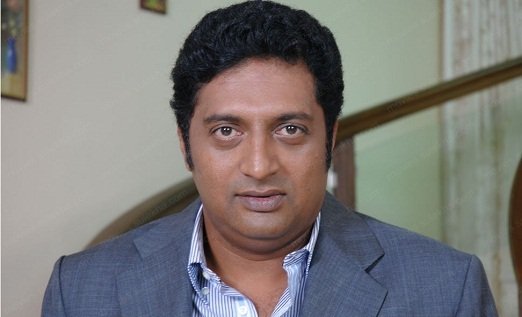 Net Worth: Rs 150 crore
Income Sources: Prakash Raj has amassed a great deal of wealth as a film actor, in Kannada, Tamil and Hindi film industry. He also owns a production house called Duet Movies. He is also a film director and television presenter.
Born: 26th March,, 1965 (50 years old)
Real Name: Prakash Rai
Marital Status: Prakash was married to actress Lalitha Kumai in 1994, but the couple got divorced in 2009. They had three children, daughters Meghana and Pooja and son, Sidhu. The son was born in 1999 but died in 2004. He got married again in 2010, this time to choreographer, Pony Verma.
Height: 5 feet 8 inches
Personal Background
Prakash Raj was born as Prakash Rai in a lower middle class family in Bangalore. His elder brother, Prasad Raj, is an actor too. Prakash did his schooling from St Joseph's Boys School in Bangalore, followed by college education in St Joseph's College of Commerce in Bangalore. He adopted the screen name of Prakash Raj on the advice of the leading Tamil film director, K Balachander. Though his mother tongue is Kannada, Prakash can speak of host of other languages fluently, including Hindi, Tamil, Telugu, Marathi and Malayalam. He is acclaimed for his great versatility and can perform the role of an antagonist as easily as character roles.
Career Graph
Prakash Raj had a very humble beginning in his film career, earning only Rs 300 per month by performing in stage shows. In fact, he has given as many as 2000 street theater performances before making a head start in film industry. he started working in Kannada Doordarshan serials, after which he was offered supporting roles in Kannada film industry. Soon, Prakash became very popular because of his histrionics and dialogue delivery and was taken under the mentorship of the leading Tamil director K Balachander, who steered his career on a path of great success, he made his Tamil debut in a film called "Duet", and soon was juggling between the Kannada and Tamil industries, besides also starring in three Malayalam films. The Mani Ratnam movie "Iruvar" fetched him the National Film Award for Best Supporting Actor. He also received the National Film Jury Award for his Telugu movie "Antahpuram", which was released in 1998. Next came some outstanding performances in hit Hindi films like "Wanted", "Singham", "Dabangg 2" and "Policegiri". In addition to being a successful actor, Prakash Raj has won accolades as a film director too, scoring a bull's eye with his directorial debut itself. He directed a number of hits in the Kannada, Tamil and Telugu industries too. Later, he jumped into film production too, starting his own production house and making numerous high grossing films as a producer. Prakash Raj has proved that talent, dedication and hard work can take a person a long way.