The strip is straightforward to install and take into use to recognize the blood glucose level. No setup, buttons, and coding are required to insert the strip. As a result, it's very convenient to instantly take the best use of prescriptions. The understanding of the strip is also easy because of the color sure technology.
It gives a response in the form of color and tells the patient instantly about the result, whether it is high, low, or in range. The five years of testing are accurate enough to give the international standard results. The accurate testing can be done at home in a straightforward method. Plus, the method is virtually pain-free because of the lancing device.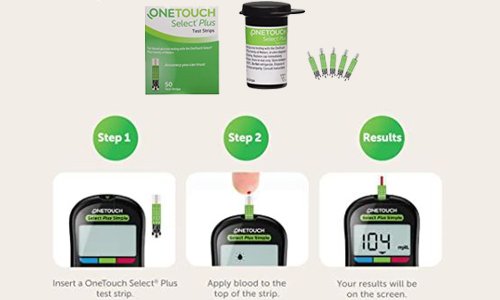 Key uses of OneTouch Select Plus Strips
Blood sugar testing
Key benefits
The one-touch select plus strip is light in weight, i.e., 0.25 g. It is travel-friendly.
It is having automatic shut off. After two minutes, the device will shut off.
The sample of the blood required by the strip is only 1.0 microlitres.
The understanding of the strip is relatively easy that's as useful for every person.
The virtually pain-free way strip is better for people to reach the target goals easily.
Directions for use
The OneTouch select plus strips can be used effortlessly and it is compatible with OneTouch Select Plus Simple Glucometer. Consider the steps below to use appropriately.
Clean your hands thoroughly and try them first before inserting the strip into the glucometer.
Provide the sample required by the strip by breaking the fingertip. It is a virtually painless way.
The glucose in the blood is instantly visible on the screen.
These are the effortless steps in which the testing can be done.
Safety Information
Consult Dr – Medical decisions are essential to ask from the doctor before taking it into use.
Store – Make sure that you are storing the test strips in a cool and dry place. The temperature needs to be between 4–30°C.
Expiry date – The test strip can be taken in use until the expiry date mentioned on the pack. Even you have opened the pack already.
Physical damage – Avoid any physical damage to the test trip if you want the accurate result of the glucose level in the blood.
Don't squeeze finger – For the minimal drop of a blood sample to test, do not squeeze your finger and apply pressure.