New Zealand becoming preferred study abroad destination, 63% Rise in First Time Visas for Indian Students
New Zealand, no doubt has a picturesque landscape but beyond this scenic beauty lies an excellent education system. Globally accredited institutions, abundant research opportunities with industry-oriented curriculums are making New Zealand topmost preference among Indians students aspiring to study abroad.
Ranked world's second most peaceful country, New Zealand is focused to make its study environment and curriculum student-friendly, which had triggered a rise in the number of international students. Along with China, Japan, and Korea, India also comes in the top four countries from where students prefer to go to study in New Zealand. In August 2019, first-time student VISA from India to New Zealand had seen a rise of 63%.
Indians have quite a visible presence in New Zealand with 4% of the population being Indian and Hindi is the fourth most spoken language.
The New Zealand-India Academic Conclave 2019 reported an increase of 51% in the number of Indian students choosing to study in New Zealand Universities.
In May 2019, Education New Zealand (ENZ) launched an online platform for international students, which help them in getting information about healthcare, accommodation, culture, lifestyle, etc in New Zealand.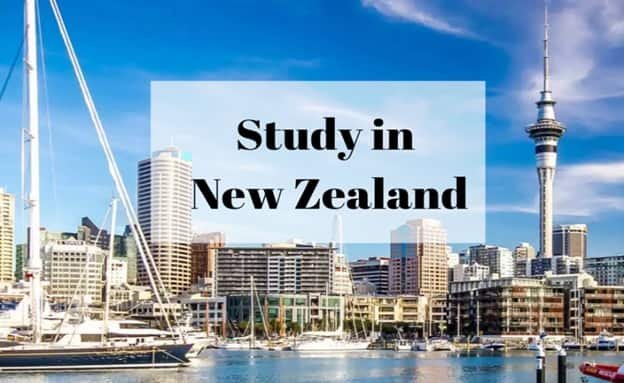 1. Globally Recognized Institutions
There are 600 private and 8 state-funded universities in New Zealand which offer undergraduate, postgraduate and Ph.D. programs to students. It is the only nation where are all 8 state-funded universities make to top 3% of QS top university rankings in the world. Also, the Institutes of Technology & Polytechnics (ITPs) offer foundation courses. There are 23 polytechnics in New Zealand.
The following universities secured the top positions in the 2018 ranking.
University of Auckland
University of Otago
University of Canterbury
Victoria University of Wellington
University of Waikato
Massey University
Lincoln University
Auckland University of Technology
Reason for such quality of education is constant supervision by the authorities. The Qualifications Authority of the country ensures that institutions are registered to intake international students and comply with qualification standards as well. Moreover, New Zealand's Vice-Chancellors committee (NZVCC) does an internal quality check at the institution and program level.
2. Excellent Pedagogy with Diverse Course
 One of the main reasons that the pacific island country is the preferred study abroad destination among Indians is that much on the lines of the UK education system, the education system in New Zealand is research-oriented. The innovative spirit has made the country a hub of new technologies with extensive development in various academic fields. This is reinstated with the amount of Nobel Prizes that the country has in its kitty. Some of the popular courses offered in New Zealand are:
| | | |
| --- | --- | --- |
| SR. No | Name of the Course | Approximate Fee Structure (NZD) |
| 1. | Graduate Diploma in Information Technology, Level – 7 | $18,900 – 26,440 |
| 2. | Graduate Diploma in Information & Communication Technology, Level – 7 | $15,422 – 22,033 |
| 3. | Graduate Diploma in Animation, Level – 7 | $18,083 – 24,236 |
| 4. | Post Graduate Diploma in Computer Graphic Design, Level -8 | $18,083 – 24,236 |
| 5. | National Diploma in Science, Level 5 or 6 | $16,120 – 22,033 |
| 6. | Diploma in Technology (Science), Level – 6 | $16,120 – 22,033 |
| 7. | Graduate Diploma in Lab Technology, Level – 7 | $18,690 – 24,236 |
Eligibility Criteria and Learnings of above-mentioned courses:
Graduate Diploma in Information Technology
Learnings: Information Technology Management, Database Administration, System Analysis and Design, E-business management, etc.
Eligibility Criteria: A degree from New Zealand Institute or a degree approved by Bachelor of Information Technology Committee or the ability to perform and demonstrate a practical in front of the committe IELTS Score 6.0 with a minimum of 5.5 written band
Intake: November/April/February/July
Graduate Diploma in Information & Communication Technology
Learnings: Software Development, JAVA mobile and web, IT project management, Advance Database, etc.
Eligibility Criteria: A bachelor's degree or higher in ICT filed.
Intake: February/July
Graduate Diploma in Animation
Learnings: Animation, 3D Modelling, Video and Sound Design, Maya 1, Maya 2, etc.
Eligibility Criteria: A bachelor's degree and IELTS Score 6.0
Intake: July
Post Graduate Diploma in Computer Graphic Design
Learnings: Designing and Technology Research, Computer Graphic Designing, etc.
Eligibility Criteria: Candidates must fulfill the eligibility criteria of the academic board with an overall IELTS score of 6.5
Intake: February
National Diploma in Science
Learnings: The fields touched in this course are Biochemistry, Molecular Biology, Microbiology, etc.
Eligibility Criteria: The duration of the course is 2 years and students who have completed 12th standard in science can get an opportunity to work with scientists.
Intake: February/July
Graduate Diploma in Lab Technology
Learnings: In this course, students will learn about the methods or process to carry out the tests on different human body fluids. After completing the course, students can work as a lab technician in Pathology Labs.
Eligibility Criteria: A bachelor's degree science and if a candidate has completed his degree more than 5 years ago then a relevant experience is also required with an IELTS score of 6.5, not lower than 6.0 in reading & writing, 7.0 in listening & speaking
Intake: February
3. Student Friendly VISA Application Process
Since 2017, from India the number of student VISA went up from 800 to 1600 and that too the VISA to New Zealand had seen a rise of 63% in August 2019.
So if you're planning to study in New Zealand for more than three months, you need to apply for a student visa (for less than three months, a visitor visa is fine).
New Zealand student visa requirements include:
Application/Proof from institution or university where you have applied for the course.
Evidence of sufficient funds/income proof, which clears that you can cover the living expenses and a flight back to your home country.
Passport and two recent passport-sized photos if you use a paper application form, or one photo if you apply online.
Health insurance.
Under 18 students need to show a letter guaranteeing that suitable accommodation has been arranged.
A police certificate of good character.
If the duration of the course is over 12 months, medical certificates are needed which may include screening for tuberculosis.
Previous passports to show your previous travel history if any.
Offshore Students VISA application decision for 2017 by New Zealand for Indian Nationality:
| | | |
| --- | --- | --- |
| Number of VISA approved | Number of VISA decline | Decline Rate |
| 6425 | 3002 | 32% |
4. Affordable Fee Structure
According to research conducted by FAIRFX currency exchange, the tuition fees and cost of living for New Zealand is pocket-friendly compared to popular destinations like US, UK, Canada. Foreign Ph.D. students pay the same fees as domestics students. Common courses or subjects like arts, humanities, education are less expensive in comparison to MBBS, MD, etc. The approximate idea of the tuition fee is as follows:
| | | |
| --- | --- | --- |
| Sr. No | Study Program | Cost Annually (In NZ$) |
| 1. | Undergraduate Degree | $20,500 – 25,000 |
| 2. | Post Graduate Diploma and Degree | $19,000 – 29,000 |
| 3. | MBA | $31,000 – 50,000 |
| 4. | PhD | $6,500 – 9,000 |
Apart from the major expense that is Tuition Fees, there are other expenses to consider like accommodation, food, travel, health insurance, etc.
Accommodation NZ$ 270 per week approximately
Medical Insurance ranges between NZ$ 200 -700
Transportation cost NZ$ 120 – 250
5. An abundance of Scholarships
Studying abroad is not an easy affair hence a student should also know the ways that can help him in attaining financial support and scholarships are the best way to get that support. ENZ offers scholarships worth a total of Rs. 8.2 Million.
A new round of the New Zealand Excellence Awards has been recently opened for registrations, which will offer 32 scholarships to Indian aspirants for pursuing various bachelor's and master's courses in New Zealand. 30 PG scholarships worth NZ$5,000 each and two UG ones worth NZ$10,000 each will be awarded to eligible candidates. These scholarships offered are worth a total of Rs 8.2 million.
Since 2016, more than 100 students who want to pursue a master's degree in New Zealand had been benefited from Excellence Awards. This has encouraged ENZ to declare the scholarship scheme for undergraduate courses also and in April 2019, 18 undergraduate scholarships were offered to Indian students.
While applying for any other scholarship program you should check the eligibility criteria.
Indian Citizen
An unconditional offer of an institute for an eligible program
Must fulfill New Zealand's immigration requirements for a student visa
Some Scholarship programs offered:
New Zealand Commonwealth Scholarship
University of Auckland International Student Excellence Scholarship
International Taught Master Merit Scholarship – Lincoln University
Otago Business School Scholarships
6. Ample Job opportunities
According to University New Zealand (a representative body of New Zealand's eight universities), 97% of students get employed after graduation and a maximum number of them get profiles matching their requirements. Indian students in New Zealand mostly opt for vocational courses in private tertiary institutions and polytechnics as per Education New Zealand.
In 2018, the government of New Zealand had announced that foreign students can stay in the country for up to 3 years after completing their studies there so that they can explore job opportunities.
7. Convenient Work Permit Requirements
There are certain criteria that a student needs to follow if he/she wants to work part-time. One such criterion is that the duration of the course should be at least 2 years. You can also work full-time during vacations if you are enrolled in a full-time program of at least one academic year's duration.
Work VISA is granted to a student who has an employment offer relevant to his qualification. The duration of the work visa is 2 years. To get this, students need to provide evidence of relevant qualifications and also the proof of successful completion of course from New Zealand, this will help them in meeting the Study to Work requirements.
8. Allure and Charm of New Zealand Cities
It is a common saying that New Zealand is not a small country rather a large village. Blessed with natural beauty, a study abroad trip to this island nation is nothing short of a vacation. Universities New Zealand conducted a survey based on student's mix, ranking, and employer activity. Auckland ranked number 1 in the list of "Best Student Cities of 2018", followed by Wellington and Christchurch.
Students get to experience the best of two world-city and country life. With vibrant cross-cultural exchange irrespective of race and nationality, New Zealand is becoming host to numerous
While studying in New Zealand you can enhance your interpersonal skills as you will be interacting with people from around the globe. New Zealand is the home of more than 40,000 international students and while studying their you will get an opportunity to share your thoughts or ideas with them. Moreover, the colleges in New Zealand offer intakes round the year with part-time and full-time work opportunities. Plan your study abroad trip to New Zealand and get a chance to study with recognized top universities in the world!