Narendra Modi is the current Prime Minister of India, who has brought about a revolution in the country by playing an instrumental role in the uprooting of the long ruling Congress government and bringing BJP into power. He has brought about revolutionary changes in the country and has taken India on its way to being reckoned as a global power.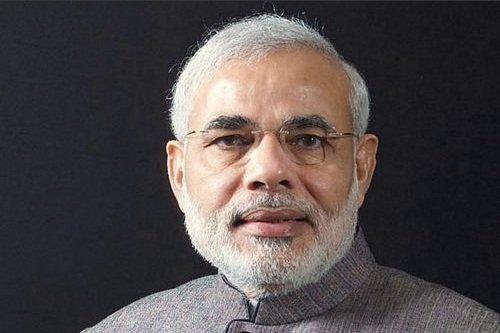 Net Worth: Rs 1.26 crore
Income Sources: As the Prime Minister of the country, Narendra Modi gets a monthly salary of about Rs 1,60,000.
Born: 17th September, 1950 (64 years old)
Nick Name: Namo
Height: 5'7″ Feet
Marital Status: Narendra Modi was engaged to Jashodaben Chimanlal at the age of just 13 years, as per his family traditions. They were married in 1968, but separated soon. It is reported that the marriage never consummated and Modi kept it a secret till the 2014 elections.
Personal Background
Narendra Damodardas Modi was born in Vadnagarm Mehsana district of Bombay State, which is present day Gujarat and he hails from the backward class Ghanchi. His father Damodardas Modi ran a tea stall at the local bus terminus and Narendra helped him run it, along with pursuing studies in a local school. Modi was an average student, but a bright orator. He began attending shakhas (training sessions) of RSS when he was just 8 years old. In due course, he was married to Jashodaben Chimanlal and the two of them were separated as Modi was interested in his religious and political pursuits. He took distance education graduate degree in Political Science from Delhi University followed by MA in Political Science from Gujarat University. Modi is in news for his crowd pulling personality and stylish fashion sense.
Career Graph
Narendra Modi climed great heights in his illustrious political career, from a swayam sewak in RSS to joining BJP in 1985 and reaching its top most circles just a few years later. He played a key role in organizing important campaigns for BJP, such as the Ayodhya Rath Yatra of L K Advani in 1990 and Ekta Yatra of M M Joshi in 1991-92, which took him to prominence in the party. He became the general secretary of the party in 1998. Modi became the Chief Minister of Gujarat in 2001 and was in controversy for his role in the anti Muslim riots after the famous Godhra Case of Gujarat. He served as the state CM till 2014, during which Gujarat witnessed phenomenal development. After this, he contested as the BJP candidate for Lok Sabha from Varanasi and Vadodara and became victorious. After the stupendous success of the party, Modi became the Prime Minister of India in May 2014, living up to his slogan of "Ab Ki Baar, Modi Sarkaar". Modi has catapulted India on the international level, by his successful visits to Australia and the US, followed by the visit of the American president Barack Obama to the country on the occasion of Republic Day, 2015.
Assets
During the Parliamentary elections of 2014, Modi declared assets worth Rs 1.26 crore. He has a house in Gandhinagar, which is valued at Rs 1 crore.