If you were to ask a bike rider which is the one bike they dream of owning, a naked sports bike would be one of the most common answers. However, for the riders just gearing up to enter the vast and dynamic world of the motorcycle, a naked sports bike will be a new concept to explore. Before we discuss the best bike in the market that you can own, let's discuss what a naked sports bike is and its characteristics. Read ahead to find out everything!
Exploring Naked Sports Bike Layer by Layer
A naked sports bike, also known as a streetfighter, is a type of motorcycle that combines the sporty performance of a sports bike with a stripped-down, minimalist design. Here are some of the key features and characteristics of a naked sports bike:
Aggressive styling: Naked sports bikes are known for their bold, aggressive styling, with sharp lines, chiseled edges, and muscular contours that give them a robust, sporty look.
Minimal bodywork: Unlike sport bikes and other motorcycles with extensive bodywork and fairings, naked sports bikes have minimal bodywork, exposing the engine and other components. This gives them a raw, edgy look and allows for better cooling of the engine and other features.
High-performance engines: Naked sports bikes typically have high-performance engines that are often borrowed from sport bikes and provide quick acceleration and high-top speeds. The engine is usually a stressed frame member, contributing to the bike's overall rigidity.
Sporty handling: Naked sports bikes are designed for sporty handling, focusing on cornering and maneuverability. They often have a stiffer suspension, more aggressive tire compounds, and a sport-oriented riding position to enhance their handling capabilities.
Upright riding position: Although naked sports bikes are designed for sporty handling, they often have a slightly more upright, comfortable riding position compared to sport bikes. This allows for better visibility and a more relaxed ride while retaining the sporty feel.
Braking and electronics: Naked sports bikes typically have advanced braking systems, such as radial-mount calipers and larger rotors, to provide excellent stopping power. They may also have electronic aids such as traction control, ABS, and ride-by-wire throttle control to enhance their performance and safety.
These are some of the key features and characteristics of a naked sports bike, making them popular among motorcycle enthusiasts who want a sporty ride with a raw, minimalist design.
Best Naked Sports Bike That is Every Rider's Favorite
Dominar 250
Built to fulfil the purpose of active touring, the Bajaj Dominar 250 is one of the best-naked sports bikes in the market. The dual channel ABS bike is equipped with superior technology that rivals all the bikes with the same engine displacement. Here are the bike's key specifications:
Engine displacement is 248.77cc
Single-cylinder and 4-stroke engine type
Has four valves and is liquid-cooled to maintain the bike's temperature
Assist & slipper clutch with multiplate
Six-speed gearbox for best performance
Beam-type perimeter frame
Telescopic front and multi-step adjustable mono-shock with nitrox rear suspension
Anti-skid braking technology for superior handling
Fuel capacity of 13 liters
Digital split control speedometer
With the top-class USD forks and edgy perimeter frame, you can maneuver the bike on your command and ride it easily.
Pulsar 250 Dual Channel ABS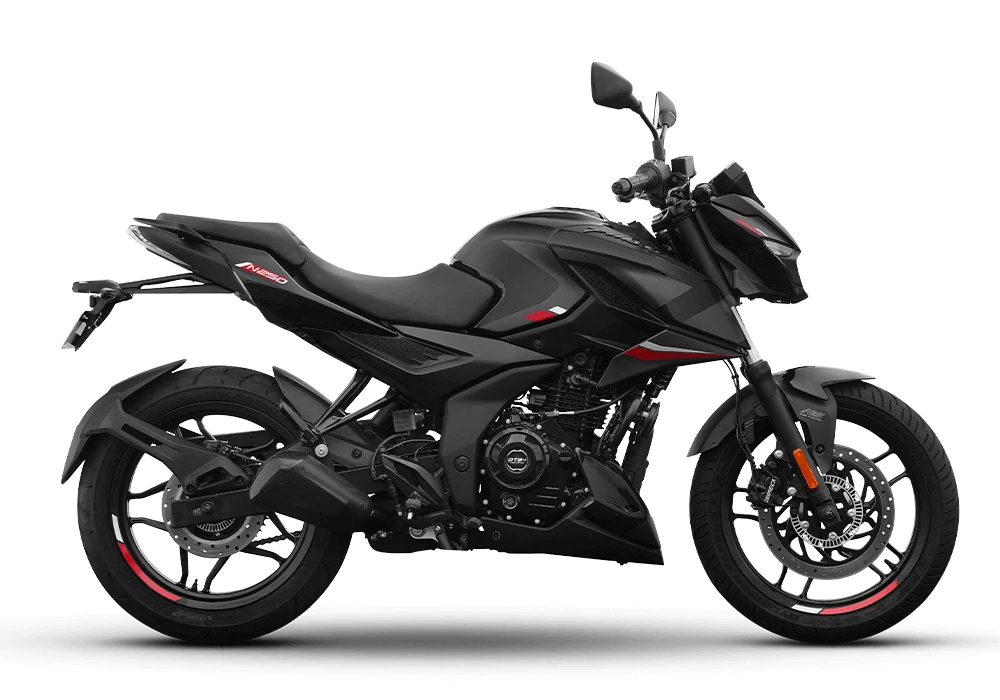 Hailing from the extremely famous, successful, and loved Pulsar series from one of India's highly revered bike manufacturers, the Pulsar 250 Dual Channel is the best new naked sports bike in the market to look out for. With this bike, all the rides will be thrilling. With the 249.07cc engine displacement, assist & slip clutch, and the availability of the dual-channel anti-skid braking, you can expect nothing less but the best. Here are the key specifications of the naked sports bike:
LED projector headlamp
Wide torque band
Available only in Brooklyn Black color
Single-cylinder, 4-stroke engine type
Oil-cooled technology
Five speed constant mesh transmission
Dual-channel ABS braking technology
Telescopic and mono-shock with nitrox suspension
Tubeless tyres
Ground clearance of 165mm
14 liters fuel tank capacity
Console features include a clock, gear indicator, range indicator and fuel efficiency meter
Bajaj Pulsar 250 Dual Channel ABS is one of the most refined naked sports bikes in the Pulsar lineup and is worth considering.
Pulsar NS160
Pulsar NS160 is one of its kind naked sports bikes that is getting famous among bike enthusiasts for an apparent reason: superior performance. The aggressive and muscular design promises speed and ultimate performance that gives thrills to the rider. The bike is also equipped with an ultra-responsive twin-disc brake with anti-lock braking technology. Here are the key specifications of the naked sports bike:
Twin-spark DTS-i engine
Fuel injection system
160.03ee engine displacement
12 liters fuel tank capacity
Tubeless tyres in the front and rear
Anti-friction bush with telescopic in the front and nitrox mono shock absorber with the canister in the rear
Ground clearance of 176mm
Kerb weight of 151 kg
Pulsar NS160 is aggressive and dominates the road whenever you take it out on the road, grabbing all the attention and letting you bask in the glory.
Ending Note
These were our top picks for the best naked sports bikes in the market that every bike enthusiast loves! All these bikes are manufactured by Bajaj Auto, which delivers quality bikes, higher ROI and the satisfaction of owning a giant machine that won't let you down! So, what are you waiting for? Pick one and book your naked sports bike from Bajaj Auto right away!