Star Maa TV has captivated Telugu audiences with the captivating performances of its outstanding women. These extraordinary ladies have embodied their roles, entrancing viewers with their charm, charisma, and unmistakable brilliance.
These actresses have made an unforgettable imprint on audiences thanks to their portrayal of strong-willed protagonists and their ability to evoke a wide variety of emotions.
Maa TV Telugu Serial Actress Name
Here is a list of most famous Maa TV Telugu serial actress in 2023
1. Meghana Lokesh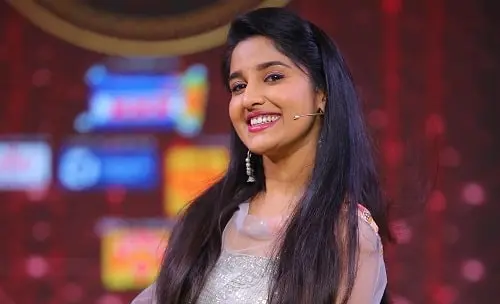 Her role in the show "Sasirekha Parinayam" was instrumental in making Meghana Lokesh a household name. Kalyana Vaibhogam, in which she starred, catapulted her to fame. Meghana's charisma and ability to convey emotion via her acting have earned to become her fan's favorite.
2. Navya Swamy
Popularity was brought to Navya Swamy by her portrayal as "Meenakshi" in the show "Naa Peru Meenakshi." It's worth noting that she's also been in shows like "Kante Koothurne Kanali" & "Aame Katha." Fans of Navya's acting are devoted to her because of her poise and versatility.
She remains very active on social media. She is born in the year 1990 on 17 March in Mysore. She has also worked for an OTT film. This web-film, billed as a "genuine family drama," will include Navya in the role of a village beauty.
3. Premi Viswanath
Actress Premi Viswanath has built a name for herself on Telugu television. She has made a significant impression with her portrayals of a wide range of characters. Her acting abilities were on display in "Karthika Deepam," one of her most successful works, which earned her a legion of devoted fans.
4. Keerthi Bhat
Keerthi is a well-known Indian actress who has been on television in both Kannada and Telugu. In 2017, she debuted in Ice Mahal, her first film role. Bhat has starred in several popular shows on Star Maa, including Manasichi Choodu and Karthika Deepam as Bhanu, and she will play Madhuranagarilo, a new series set to premiere in 2023, as Dr. Hima Karthik.
5. Pallavi Ramisetty
She is a well-known model and actress in India, particularly in Telugu television shows. Starring largely in daily ETV serials, she made her debut on the Rangula Kala show. Telugu television drama Paape Maa Jeevanjyothi, starring Pallavi Ramishetty, premiered on Star Maa in 2021.
Jyothi, Raghavaiah's daughter and Surya's wife, and Kutti, Sreethan's mother and Malli's foster mother, are the women whose lives are chronicled in the show.
She has a huge fan following base, as it can be seen from her social media accounts, on which she remains active.
6. Preeti Nigam
Preeti is a talented actress who has captivated audiences with her work in Telugu television shows. Her versatility as an actress has garnered her many fans. She is most known for her work in the serials "Sravana Sameeralu," "Uyyala Jampala," and "Sundarakanda," in which she received widespread acclaim for her range as an actress.
7. Tejaswini Gowda
Tejaswini Gowda is an accomplished actress who has received praise for her work. Tejaswini's natural skill and determination have made her an extremely potential actor in Telugu serials, and her ability to represent a wide range of emotions in shows like "Koilamma" and "Care of Anasuya" has left a lasting effect on viewers.
8. Haritha
Haritha is a talented actress who has made a name for herself in the competitive world of Telugu television. She's given great performances in shows like "Kumkuma Puvvu," where her expressive eyes & natural acting chops have set her apart. Haritha has established a loyal following thanks to her perseverance and adaptability.
9. Debjani Modak
Debjani is a well-known Indian actress who has appeared in series dubbed in Tamil, Telugu, & Kannada, among other languages. Rasaathi, Sandhiya, and Dr. Vedhaswini were just a few of the roles she played in the popular TV series. Star Maa's Ennenno Janmala Bandham featured Modak as a supporting character.
Rasathi, a Sun TV serial, was the first to feature her in front of Tamil television audiences. Pavani Reddy took over the position of Rasaathi later on. The results of her photo shoot were widely shared online.
10. Archana Ananth
She is a famous television actress who majorly works in south TV industry. In the year 1988, on January 3, she was born in Bangalore. She has worked in C / o Anasuya as well as Karthika Deepam in TV channel Star Maa.
Artwork by Archana Ananth has appeared in Telugu-language films and television shows during her career in Tollywood. She is a pure vegetarian and married to Anantha Velu. The couple has one child.
Conclusion
The above-mentioned Maa TV Telugu serial actress has not reached height of fame in just one day; it is their long hours and years of hard work and determination, which has helped them in getting immense success and fame in Telugu TV industry.