Sandeep Sickhand is at the helm of Zee TV's newest show, "Lag Jaa Gale," and the show's cast promises to be interesting.
Lag Jaa Gale airs on Zee TV on Monday to Sunday at 6:30 p.m.
In Lag Jaa Gale, Tanisha Mehta plays the female lead opposite Namik Paul, who plays the male role.
The trailer for Lag Jaa Gale has been released, and the show itself was scheduled for a 7 February 2023 debut.
This show is rumoured to be a reimagining of the Gattimela series. In the year 2020, Gattimela had more viewers than any other Kannada soap opera.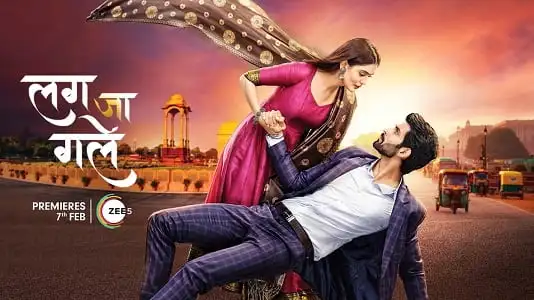 Zee TV Lag JA Gale comes from SOL Productions PVT Ltd.
Everything you need to know about the Zee TV show Lag Jaa Gale, including its plot, forthcoming events, spoilers, updates, TRP ratings, & more, is right here.
WIKI
Lag Ja Gale is a show that takes place in Delhi and follows the lives of two protagonists: Shiv Dhooper, a successful young Punjabi hotelier played by Namik Paul, and Ishani Kulkarni, a young woman from Maharashtra played by Tanisha Mehta, who does odd jobs to support her family.
Story
Shiv and Ishaani are the protagonists of Lag Jaa Gale, a drama about a forced marriage with tragic consequences.
Since Shiv is a businessman, he takes his time getting to meetings and other appointments, but when he has to get somewhere quickly, he drives quickly.
Nevertheless, Ishaani's resolute demeanour and unyielding spirit are reminiscent of Shiv's.
But when Shiv races up in his automobile and Ishaani zips along in her auto-rickshaw, they run into one another on the road. Ishaani will mock Shiv by saying that he plans to murder his future bride out of fear.
To counter this, Shiv insists that he has no interest in marriage and that Ishani isn't even intimidating.
When Shiv falls down on the road, no one else helps him but Ishaani. Why do they despise each other, and how did fate bring them together?
You can tune into Zee TV Lag JA Gale and see what the story has in store for you.
Timings
Zee TV airs Lag Ja Gale at their regular times of 6:30PM, Monday through Sunday.
Cast
Zee TV's new series, Lag Ja Gale, starring Namik Paul & Tanisha Mehta and produced by Sandeep Sikcand, marks the return of the couple to the small screen.
Namik Paul is well known for his appearances in Kavach Mahashivratri, Ek Deewana Tha, Ek Duje Ke Vaaste, and has appeared in the hit Star Plus series Kasautii Zindagi Kay as Viraj.
Tanisha Mehta has modeled for numerous well-known designers and appeared in a lot of commercials.
Namik Paul, he is playing a male lead role as Shiv
Tanisha Mehta she is playing a female lead role as Ishaani
Aditya Deshmukh as a complex character called Bobby
Neelam Pathania playing the role of Shiv's mother
Aryan arora, Dipali Kamat and Tanvi Shewale are the recurring cast in this show.