Karan Johar is one of the best film makers in the Hindi film industry today, who has been known as the king of Romance because of the outstanding films made by him in this genre. He has also achieved recognition in other fields such as acting, television show hosting, screenwriting and costume designing.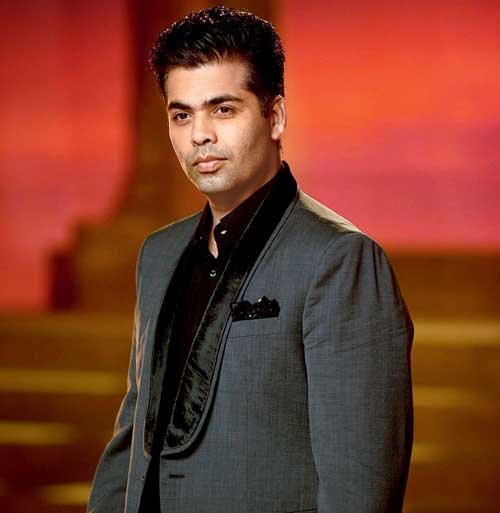 Net Worth: $ 200 million
Income Sources: Karan Johar heads the prestigious film production house, Dharma Productions, which he has inherited from his late father, the legendary Yash Johar. The banner has brought out some of the biggest hits in the industry under the leadership of Karan. He has also played some small roles in a few movies, besides hosting several award events and the popular television show "Koffee with Karan". He also runs his own fashion line of designer clothing, which is quite well acclaimed amongst discerning fashion lovers. It is rumored that he makes a whopping sum of Rs 40 crore per year.
Born: 25th May, 1972 (42 years old)
Nick Name: K Jo
Marital Status: Single
Height/Weight: 5 feet 8 ½ inches, 75 kg
Personal Background
Karan Johar was born in Mumbai in a very prestigious family, with his father Yash Johar being one of the greatest film makers of his time. He did his schooling from Greenlawns School in Mumbai and took a Masters Degree in French from H R College of Commerce and Economics, Mumbai. As a youngster, he was inspired by great film makers like Raj Kapoor and Yash Chopra and wanted to follow their footsteps. He is known as a true friend in the industry, who would go out of the way to help his friends. His best buddies include Shahrukh Khan, who is an indispensible part of most of his movies, Preity Zinta and Kareena Kapoor. Karan is an avid fashion enthusiast and is regarded as one of the best dressed people in the country. He also loves designing clothes and has even launched his own line in 2010, which has received a positive response. He has shown a great wit and charm to make his television show "Koffee with Karan", one of the biggest hits on TV. Karan initially believed in numerology and began the film titles with "K", which he stopped doing later after he saw the movie "Lage Raho Munnabhai", which spoke against the practice of this science.
Career Graph
Karan Johar made his debut in Bollywood with acting in the legendary 1995 film called "Dilwale Dulhaniya Le Jaayenge", in which he featured in a small comic role of a friend of Shahrukh Khan. However, he realized that acting was not his cup of tea and moved to film direction, with the love triangle film 'Kuch Kuch Jote Hai", starring Sharukh Khan, Kajol and Rani Mukherjee. The film was a raving success, fetching him Filmfare Award for Best Director and Filmfare Best Screenplay Award. He also made "Kabhie Alvida Na Kehna" and "Kabhie Khushi Kabhie Gham", which turned out to be a great national and international hit.
House and Cars
Karan Johar lives in a luxurious flat on Carter Road in Mumbai, which has been tastefully designed to suit his style and attitude. He is equally passionate about cars and owns an amazing fleet, including the likes of BMW and Mercedes Benz.