John Cena is American in nationality, who happens to be a professional wrestler. In fact, he's chosen to be the face of WWE (World Wrestling Entertainment). Since year 2005, he is the franchise player of the said organization. From that year and even up to now, he becomes extremely famous in the wrestling industry. Aside from being a wrestler, Cena is also an actor and a rapper.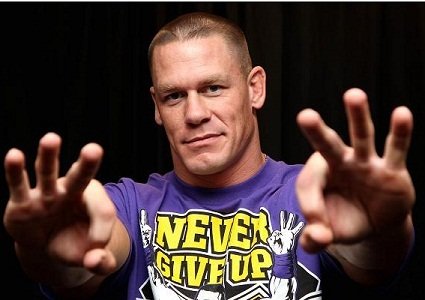 Net Worth: $85 million (Estimated)
Income Sources: John Cena has mainly acquired most of his income as a professional wrestler. Believe it or not, his contract based salary reaches as much as $3.2 million. With that, there is no question why he is extremely famous when it comes to wrestling. He also gained lots of money from his acting career, both in the big screen and television screen. His high earnings don't just stop there. He's also a favorite commercial endorser of a number of brands like Gold's Gym, Gillette, and Subway. The estimated total endorsement earnings he has is around $1.2 million.
Full Name: John Felix Anthony Cena
Born: 23rd April, 1977
Marital Status: In 2009, he was married to Elizabeth Huberdeau. However, they got divorced in 2012. Currently, John Cena is dating with a gorgeous female wrestler Stephanie Nicole Garcia-Colace, known for her ring name Nikki Bella.
Height/Weight: He stands 6 feet and 1 inch, and weighs 114 kilograms.
Personal Background
Raised in the town of West Newbury in the US state of Massachusetts, John Cena is the son of John Cena, Sr. and Carol Lupien. He has 4 brother siblings, and he is second of the oldest one. They are Sean, Steve, Matt, and Dan. Tony Lupien, who happened to be a famous American baseball player, was his grandfather in the maternal side. His mother has an ancestry of English and French-Canadian, while his father has an Italian descent. In terms of education, John Cena has graduated high school in Cushing Academy. After high school, he took up Bachelor of Science in Exercise Physiology in Springfield College. During college days, he was a member of the college football team, where he played center. He wore a football jersey with the number 54, which is a number that he is still using in WWE.
Career Graph
Under UPW (Ultimate Pro Wrestling), John Cena decided to enter in the professional wrestling world way back in the year 1999. It was in the same year when he grabbed the UPW Heavyweight Championship title. When his UPW contract expired, he then signed a new contract in the year 2001 under World Wrestling Federation, which is currently World Wrestling Entertainment. He was then formally brought to a ring fight in the following year. From that year up to 2016, he bagged a total of 24 championship titles under WWE. For 12 times, he got the WWE World Heavyweight Championship title. He even grabbed the World Heavyweight Championship title for 3 times. This is the main reason why he's acknowledged by WWE.com to be the only one 15-time WWE World Heavyweight Champion. Today, John Cena is amongst the list of richest professional wrestlers in the world.
Save