Jackie Shroff is a leading Indian actor, who made a phenomenal debut in the industry and became a star in his first movie itself. He is considered as a style icon in Bollywood.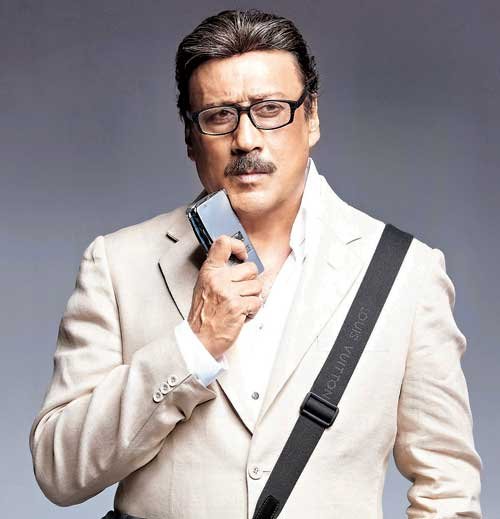 Net Worth: $ 26 million
Income Sources: Jackie Shroff has made money by modeling and film acting, in addition to hid income from his production house. He has also sold his stake in Sony TV channel to make a great deal of money.
Born: 1st February, 1960 (56 years old)
Full Name: Jaikishan Kakubhai Shroff
Marital Status: Married to Ayesha Shroff since 1987. They have two children, Tiger and Krishna.
Height/Weight: 6 feet, 81 kg
Personal Background
Jackie Shroff was born in Mumbai and hails from a Gujarati family, with a Gujarati father and Turkish mother. He comes from a modest background and worked in a travel agency, till he was spotted by a modeling agency agent one day and went on to become a successful model, featuring in a number of commercials and advertisements. Later, he went on to join an acting course, followed by his successful entry into the Hindi film industry. He married his long time girlfriend Ayesha Shroff and now she is a film producer, running a venture called Jackie Shroff Entertainment. He also owned stake in the television channel, Sony TV, which he sold in 2012, after keeping them for 17 years. His son, Tiger Shroff has recently made his Hindi film debut with "Heropanti" and has been accepted by the industry as well as the audience with open arms.
Career Graph
Jackie Shroff started his career as a model and made his film debut in 1983 with "Swami Dada", a film by Dev Anand, which was followed by the super hit movie "Hero" by ace director Subhash Ghai. This was the movie which gave him recognition and he got the name of Jackie with this movie. Till date, Jackie Shroff has featured in more than 150 movies, including those in Hindi and nine other languages, including Tamil, Oriya, Punjabi, Bengali, Kannada, Malayalam, Tamil, Telugu and Marathi. He has been appreciated for his excellent performances in movies like "Ram Lakhan", "Parinda", "Khalnayak", "Kaash" and many more. Despite coming of age, the actor has not lost his touch and continues to be successful, with acclaimed work in his latest movie, "Happy New Year", one of the biggest hits of 2014. Jackie played the role of the antagonist in this movie to perfection. He has been honored with a number of awards and nominations for his outstanding performances till now.
House and Cars
Jackie Shroff has risen to phenomenal heights, staring from a modest one room house in Walkeshwar to owning a plush apartment in the posh locality of Bandra. He also owns a pent house in South Mumbai, which reflects his luxurious lifestyle. He is also known for his love for vintage cars and owns a 1939 model of SS Jaguar 100, which is the only one of its kind in the country.
Save