You can access the land records across Maharashtra with just one click at Mahabhulekh portal of Maharashtra. Maharashtra government has scanned more than 34 crore records as part of land record digitization and these will be available online soon. According to the official, the purpose behind it is to enable home buyers and investors to check the name of owners, land records, pending dues (if any), area, etc. to make the process of sale and purchase of land/property stress-free and smooth.
It was announced by Governor C Vidyasagar Rao during his address to legislators of both Houses on the first budget session day in Maharashtra assembly.
In the first phase, cadastral maps of six districts – Aurangabad, Raigad, Amravati, Pune, Nagpur and Nashik – are digitized (showing the value, extent, and ownership of land). As part of Digital India Land Records Modernization Programme sponsored by the central government, record rooms in this project will be modernized.
According to the officials, the project was scheduled to be finished last year, but the process of verification and scanning of documents delayed because of large number of errors in the system.
In his speech, the governor also discussed various infrastructure developments to be conducted by the state government in various cities of the state. According to him, metro rail projects are being conducted in Pune, Mumbai and Nagpur, which would cost whopping Rs. 1 Lakh Crore.
To control road traffic, state government is planning to improve water transport and government will soon develop first marina at Belapur, Panvel creek. Rao said, "There will be 30 boats accommodated in berthing in the first phase of development." He also discussed the ease of business initiatives from the BJP government and other policies adopted by it to turn the state into $1 trillion economy.
Meanwhile, here are the steps to check land and property records online in Maharashtra
How to check Land Records online in Maharashtra?
First of all visit maharashtra.gov.in, the official Maharashtra land record site also known as e-mahabhumi.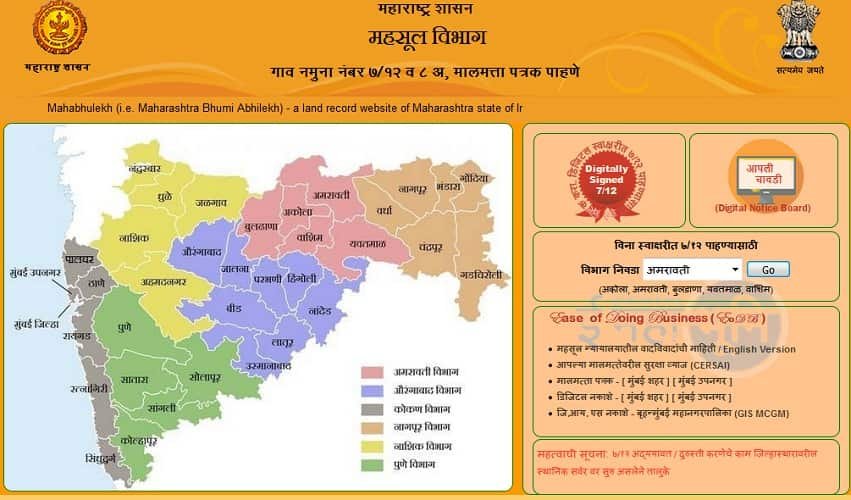 Now you need to select a district. Once you select a district, it will redirect you to pace where you can select Village and Taluka (tehsil) from dropdown list.
Search 7/12 record of land by entering number of survey or name.
Click "search" and it will display the 7/12 records of land.
Print out the record for reference. It cannot be used for legal purpose.
Checking records of property online in Maharashtra
First of all, visit official site of Maharashtra property record.
Select the year, enter village name, and district to know property details.
Enter Survey No./Milkat No/CTS No./Plot No/Gat No. or any property number
Click "Search" and it will display the property record.