Over the last many years, homes have migrated from cable TV to dish TV. Dish TV offers a lot of added advantages over cable TV. You don't have to pay for the channels you don't wish to pay, or you don't have to wait for the Cabel service manager to come and collect the recurring charges. All these services can be available online, and you are in complete control of the same.
There are also times when you may change your mobile number. The only problem with changing the mobile number is that today, most of the accounts are registered with your mobile. In such a case, you have to change your mobile number on the associated accounts. This can be time-consuming and frustrating, but we are here to help you.
We have shared the steps to change your mobile number on the Desh TV account. Go ahead and check out the steps below.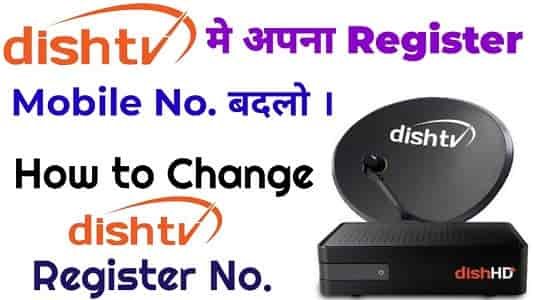 Steps to Change Dish TV Registered Mobile Number via Web
To change the mobile number, visit

https://www.dishtv.in/

, and on the page, click on Subscriber Corner.
Enter your mobile number and password. If you still have the old number, you can even log in using OTP.
Using the option in the top right corner, navigate into your account and click on Edit Profile Details.
You can update the new number on this screen. A pop-up will be displayed asking you if you would still like to keep your old number as an alternative number. Select the answer as per your requirements.
In the last step, you can finalize the form by submitting it, and the work is done. Your Dish TV mobile number has been updated.
You can also update the mobile number using the SMS Service. To update the mobile number using SMS, please type DISHTV New_Mobile Number 11_Digit_VC_Number and send it to 57575. This will change your mobile number. Please note that you need to send this SMS from your old mobile number.
If you have lost access to your old number, you would need to call Dish TV customer care, and you would need their help to update the mobile number. You may have to submit a KYC form again under some special conditions.
Final Verdict
This is how you can change your mobile number on the Dish TV Account. Please note that this process is only for changing the mobile number of the Dish TV service provider. If you have any other service provider like Tata, Airtel or anyone else, the process may slightly vary. If you face any issues while changing the mobile number on Dish TV, please get in touch with customer care. You can reach out to them at 95017-95017. Alternatively, you can also tune in to the channel at 999 and get support. Customer care is online 24×7. We hope this information has helped you change your registered mobile number on the Dish TV Account. Lastly, always keep your mobile numbers up to date to get important notifications.