A diesel generator can be defined as one that is used to generate electric energy by using a diesel engine along with an electric generator. You can use a diesel generator as an emergency power supply in case of power cuts or in places where there is no connection with the power grid. However, an inverter offers an adequate power backup solution that ensures low maintenance and high reliability while using an excellent alternative to diesel generators.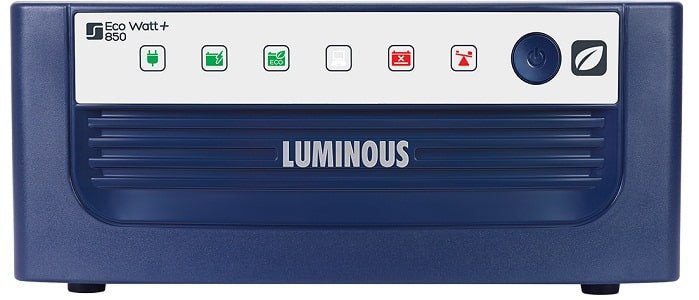 (Image Source- Luminous)
Listed below are the reasons why there is a need to replace diesel generators with the best inverter in India:
Diesel units can be extremely noisy, so they are often placed away from work areas.
Setting up a diesel generator can cost more on the outset in comparison to other generator types.
One of the major drawbacks of using a diesel generator is that it produces carbon dioxide, nitrogen oxide, and other harmful pollutants and releases it into the atmosphere. Those who are concerned about the environment might find an inverter a better alternative since it does not release any harmful pollutants.
A generator has to operate as per full load conditions thereby, resulting in substantial load expenses. At the same time, an inverter can run on partial load. Operating a generator on partial load can reduce the efficiency of generators, which results in higher consumption of fuel and reduced life of the generator. However, the best inverter in India operates with the same level of efficiency at all load settings and offers higher backup time at partial loads.
Mentioned belowis how the best inverter in India can replace diesel generators:
Total Load You Want to Run
Technological advancements have improved inverters to a great extent. Inverters are now not only capable of handling fans, lighting, and small appliances like TV but even larger appliances like room coolers, refrigerators, water purifiers, electric iron, and even an air-conditioner. You simply have to calculate the total load you wish to run on the inverter and then make the purchase according to your requirements. Popular brands like Luminous are market leaders in the best inverters in India. They offer a wide variety of inverters, from integrated inverters to high-capacity inverters. You can shop for inverters ranging from 300VA to 12500VA.
The Type of Technology Used
Today, inverters are available in both sine wave and square wave technology.Sine wave is an improved technology that is responsible for supplying grid-like power to your home, while a square wave inverter is one that is pocket-friendly and more suitable for areas where voltage fluctuation is more. A sine wave inverter is recommended if users need to operate sophisticated appliances like TV, refrigerator, etc. Luminous offers an extensive range of both square wave inverters in Eco Watt, Shakti charge series, and sine wave inverters in Eco Volt, Zelio, iCruze, and Optimus range.
Features
Inverters generally come with a performance warranty of 5 years, and in many situations, last for over 7-8 years, and can be considered as a one-time investment.
Check the below-mentioned features before buying them:
Inverters with an LCD display show the backup time remaining in case of a power cut and battery charging time when the grid supply is normal. It allows the user to plan activities efficiently. Luminous iCruze, Optimus, and Zelio come with an LCD display.
In areas where there are frequent power cuts, it becomes important for the inverter to charge the battery faster to provide the maximum backup. Luminous Shakti charge, Optimus, and Rapid come with fast charging facility.
As technology is improving, it is time that you wave goodbye to your pollution-causing diesel generators and replace them with the best inverter in India. Big and reputed brands like Luminous offer a range of smart inverters that are carefully designed for your house.
Plan your life smartly with Luminous!