10 Hottest Wives of Indian Cricketers
In India, Cricket is not just a sport but it is a religion. The cricketers are well respected and they are admired for their skills. A lot of people have cricketers as their role model because of their performance on their field. Apart from being an excellent player on the field, they are also a great human being who never fails to make a style statement off the field. They work in various advertisements and these crickets also have some personal ventures like Zaheer Khan who owns a restaurant. No matter who these men are but the fact is that the men are always incomplete without their partner and most of the cricketers are accompanied by their girlfriends or by their wife. These are the ladies who also play a vital role in the success of our cricketers and these ladies also re-define the glamor because well, they get their equal share of media's attention. In this article, we have listed the top 10 glamourous Wives of Indian Cricket Stars.
So Let us have a look at the list of the 10 hottest wives of Indian Cricketer. Do give it a read.
10. Sheetal Goutham Uthappa
On number 10, we have Sheetal Goutham Uthappa and she is the wife of Robin Uthappa. The couple looks really cute together and it is known that Sheetal had been a tennis player. The couple got married in a Christian ceremony and the couple dated for a long time before getting married. The date of engagement for the couple is same as that of the date of engagement of Yuvraj and Hazel. The couple is presently happily married and they are really active on social media.
9. Ayesha Mukherjee
Next on our list is Ayesha Mukherjee. She is the wife of famous Shikhar Dhawan and as a matter of fact, Shikhar started performing even well after he got married to Ayesha. One of the unique fact about the couple is that Ayesha is 12 years elder to Shikhar Dhawan but she still looks younger than any other model in our list. She has also given birth to three children and out of those three children, two were from her previous marriage with Australian Businessman. The couple got engaged in 2009 and they got married in 2012 after a courtship period of 3 years.
8. Prithi Ashwin
Prithi Ashwin is known to be the wife of Ashwin Ravichandran. It is known that the couple knows each other since early childhood and that is one of the reasons why they fell in love. The couple later decided to get married in November 2011 and the couple is made for each other. They are spotted in public on many occasion and in one of the interview, Prithi revealed that she is really happy with Ashwin and getting married to him was all that she could dream of.
7. Natasha Jain Gambhir
Natasha Jain is the wife of the Indian opener, Gautam Gambhir. It is known that the couple had been in a long relationship before getting married in October 2011. Natasha is known to be an extrovert whereas Gautam is known to be an introvert. It is also known that Natasha was born and brought up in Delhi and there had been a controversy about the marriage of the couple as people speculated that it was an arrange marriage
6. Geeta Basra
Geeta Basra is the wife of Indian bowler, Harbhajan Singh. Harbhajan never came out clear about his relationship status until the couple got married. The date of marriage for the couple was 29 October 2015 and she is really pretty. Her dressing sense is quite elegant and she broke the heart of a lot of youth when she decided to marry Harbhajan Singh. Talking about the career of Geeta, she started her career is a model and then she later got a chance to work in some of the Bollywood movies. The marriage of the couple was held on a large scale and a lot of celebrities were seen during the marriage ceremony. The marriage was later followed by a reception on 1 November 2015.
5. Sakshi Singh Dhoni
Sakshi Singh is the wife of Captain Cool and on contrary; she is nowhere near cool as she is really hot. She is cute and bubbly and that is one of the reasons why the king of stumping got stumped. She was born and brought up in Guwahati in Assam and she later moved to Dehradun and Ranchi. The couple also has a daughter and her name is Ziva Dhoni. It is known that her father worked with Dhoni's father in Mecon and the couple fell in love with each other in 2007. The couple got married after a courtship period of three years.
4. Hazel Keech
Hazel needs no introduction as she is a known Bollywood actress. She recently decided to tie a knot with Yuvraj Singh and the couple got married. She is of British-Mauritian ethnicity and she worked in movies like Billa and Bodyguard. She had also been featured in several advertisements. She later got a chance to be a contestant on Bigg Boss 7. The engagement date of the couple was 12 November 2015 and the marriage ceremony was held on 30 November 2015. She changed her name after the marriage and her new name is Gurbasant Kaur.
3. Ritika Sajdej Sharma
Next on our list is Ritika Sharma and she is the wife of Rohit Sharma. As per the information available, she worked as the manager of Rohit for six years and it was during this time when the couple fell in love. In December 2015, the couple decided to get married. One of the best parts about her is that she is present during all the matches that Rohit plays and she is always found cheering him during the match.
2. Dipika Pallikal
Dipika is the wife of Dinesh Karthik and she is a well-known name in sports as she gained a lot of fame as a squash player. It is known that the couple got engaged in November 2013 and they had a courtship period of two years before getting married in August 2015. The couple never fails to make a style statement and Dipika looks great in Indian as well as western dresses. The marriage ceremony of the couple was held in Christian Tradition as well as Hindu Tradition and at present, apart from playing squash, she is the brand ambassador of sports 265.in.
1. Sushmita Roy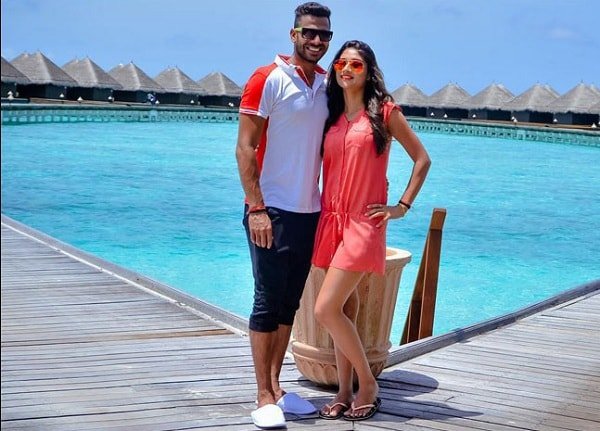 On top of the list, we have Sushmita Roy. She is the wife of Manoj Tiwary and the couple dated each other for 7 years before they got married on 18 July 2013. It is known that they met each other through a mutual friend and it was a love at first site for Sushmita and Manoj. It is known that she was born and brought up in Kolkata and she met Manoj n Kolkata itself. She is surely one of the most glamorous ladies on our list.
This was the list of top 10 Hottest Wives of Indian Cricketers. We will soon be back with another such article.