These days, we all witness these jaw dropping yet amusing fight spectacles showing on all those sports channels that broadcast the popular World Wrestling Entertainment shows. The icing on the cake is the lethal combination of beauty and brawn in these fighting games.
Following is a brief compilation of 20 beautiful WWE divas of 2017. Take a look and imagine two youthful dames engaged in a violent tussle with each other! No need to get dazed!
Starting with,
20. Charlotte Flair
Four times winner of WWE Raw Women's Championship, this blonde beauty is the daughter of erstwhile wrestler Ric Flair. Born as Ashley Elizabeth Fliehr, some of her signature moves are striking spear, backpack stunner, moon Sault and big boot. The 31-year old these days is known for her tattoos, one reading 'a little patience' inspired by the lyrics of Guns N' Roses' song Patience.
19. Cameron
Cameron dons a hat with multiple professions such as singer, wrestler, dancer and actress. This 29-year old professional wrestler holds an expansive wrestling career in which she took part in various competitions like Florida Championship Wrestling, Singles Competition, and Tough Enough. On being asked about her source of inspiration, she promptly utters names of Melina, Alicia Fox and Maryse. The American wrestler is also the winner of Slammy Award for Best Dance Moves of the Year 2013.
18. Summer Rae
Commonly referred to as the First Lady of NXT, Summer Rae is an American wrestler who performs on WWE Raw, a wrestling show broadcast on television. Many of you would be surprised to know that she has also displayed her acting skills in The Marine 4: Moving Target, a conventional movie. Besides wrestling, Summer has also been active in football from 2008 to 2011 when she played with Chicago Bliss of Lingerie Football League in Ontario.
17. Naomi
Born as Trinity Fatu, Naomi entered the wrestling realm in 2009, and currently belongs to the Anoa'i group, which is a Samoan-American wrestling lineage. Spinning heel and bootylicious, running bulldog are regarded as some of her signature moves. Naomi is also two-time winner of the WWE SmackDown Women's Championship. Earlier nominated by Shorty Awards, Naomi is married to Jonathan Fatu, one of the team members of Samoan American Professional Wrestling Team The Usos.
16. Sasha Banks
Debuting in wrestling profession in 2010, Sasha went on to add feathers to her cap by achieving success in several championships consistently. This 'Legit Boss' is known to have managed Rich Swann, Tamina, Naomi and Bayley. Coming from a cousin line of Snoop Dogg, Sasha was entitled as the Future Diva of the Year in 2015.
15. Stephanie McMahon
How many of you had this prior knowledge of Stephanie being the wife of the stellar wrestler Triple H? I guess not many. The one-time WWE Women's Champion, the net worth of Stephanie is estimated to be about 62.7 million dollars, as of 2017. 'The Billionaire Princess' indeed! She surely deserves the 15th rank in our list of beautiful WWE divas.
14. Natalya Neidhart
Passion carries a childlike inspiration from within. It drives you to give your fullest in every situation. Perhaps that's why Natalya Neidhart while playing the 2016 house show match in Las Vegas knocked down her two front teeth. Neidhart, better known by her ring name Natalya, is the first female participant from her generation, from the ancestry line of Hart family. Adept in martial arts and wrestling, Natalya's signature moves comprise abdominal stretch, sharpshooter, wheelbarrow among others.
13. Rosa Mendes
Best known as a Canadian model, Rosa Mendes was brought up in Vancouver. Often regarded as the 'tomboy' in her school, Mendes dropped out of her business studies to pursue a career in modelling. After being signed by WWE Diva Search, the model made her debut into wrestling in the year 2000. 'Proficient in kickboxing and Jiu-Jitsu, this gorgeous wrestler is recognized by 'The Stunning Latina' and 'The Femme Fatale'. In 2010, she won the Slammy Award for Best Use of Exercise Equipment.
12. Layla
Originally appearing in the Smack Down brand, the 39 year old British wrestler broke into wrestling in 2006. From her very first official WWE appearance, her struggle began when her fellow WWE women made fun on her backstage. She kept on going. The one-time WWE Women's Championship and Divas Championship, Layla has managed professional wrestlers like Aj Lee, The Miz, Kaitlyn and William Regal.
11. Emma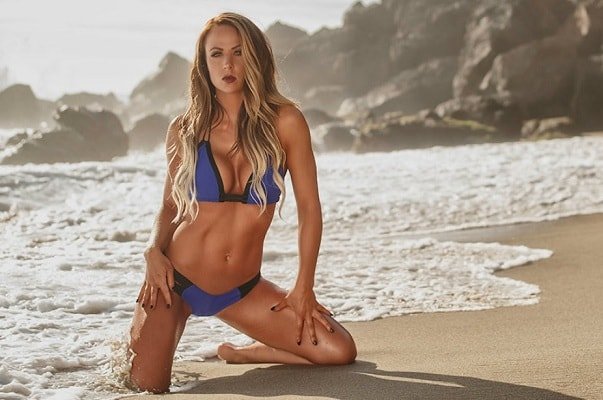 Born as Tenille Averil Dashwood, this 28-year old Australian wrestler presently wrestles for WWE RAW. In her wrestling career, she had taken on varied ring names. Emma Lock and Dil-Emma are considered her signature moves. Her inspiration mostly comes from Steve Cold Steve Austin, Trish Stratus and Lita.
10. Alexa Bliss
Alexis Kaufman, best known as Alexa Bliss, is the first woman wrestler to be victorious in both the Smack Down Women's Championship and Raw. Given her signature moves of choke hold and insult to injury, she has been rightly nicknamed as 'Five Feet of Fury'.
9. Renee Young
Although Young isn't a professional wrestler, but she had been hired by WWE as their anchor and reporter. Presently, Young anchors a television programme known as Unfiltered, in which she holds an interview with the WWE heavyweights.
8. Maryse
In 2003, Maryse Mizanin, the Canadian wrestler took the crown of Miss Hawaiian Tropic Canada. Alongside the wrestling career, she is also a model and actress, and has been the cover girl of 2007 Girls of Canada Calendar.
7. Lana
One of the most charming and beautiful WWE Diva featuring a hazel hued eye lenses, Lana was born and brought up in Florida, United States. This blonde beauty has performed in a series of movies and television episodes. In 2009, her singles "Would You Like That" was also well-received.
6. Alicia Fox
This petite wrestler is a one-time winner of the OVW Women's Championship and WWE Divas Championship. Familiar as The Foxy Floridian, Alicia's signature moves comprise the Big Boot and Tilt-a-Whirl Back breaker.
5. Eva Marie
From struggling with her underage alcohol abuse to getting treatment for her ruptured breast implants, Marie's journey showcases a lot of ups and downs. But these are the things that make the portfolio of every successful woman. Today she's not just a WWE wrestler but a fitness model and an actress too. From enjoying the cover girl tag to winning the Powertech Model and Fitness Competition, Eva Marie does have that oomph factor.
4. Paige
The longest prevailing wrestler of NXT Women's Championship, Paige debuted as a wrestler in 2014. Best known as 'The Diva of Tomorrow', multiple stomps and hair-pull toss are her signature moves.
3. Aj Lee
Actress, author, wrestler; Aj Lee is an all rounder. This 'crazy chick' has got a desirable figure that can make anyone go weak in their knees. Lee is a three-time winner of the WWE Divas Championship. Her memoir Crazy is my Superpower got featured in the New York Time Bestseller List.
2. Stacy Keibler
She is not just a beautiful WWE Diva but a Super diva in real sense. A former cheerleader, Keibler was also voted the 65th sexiest woman alive by FHM. Her career in wrestling broke through when she entered a contest held by WCW (World Championship Wrestling). Guess what, she's a hit actress too. Some of her popular commercials and films include Dancing with the Stars, The Comebacks and the most recent one being 2013's Project Runway.
1. The Bella Twins
Nikki and Brie Bella, the twin sisters are professional wrestlers and the erstwhile prize-winners of the WWE Divas Champions. The Bella Twins have managed John Cena, Alicia Fox, The Miz and Eva Marie among others.
Paving their ways through rings and slots, fighting their struggles till the end and rising up as the world wrestling champions; aren't these WWE divas a deadly combo of beauty and muscularity!