A farmer is the backbone of the country, well; the backbone is still an understatement. Can you Imagine life without farmers? In fact, it is difficult to conceive life without food, right? As long as you are living on this planet, you need to eat food to survive. Most importantly, farming does not get confined to only food.
From healthcare products to fashion and industries, every sector needs some or other kinds of farming to function or survive for that matter.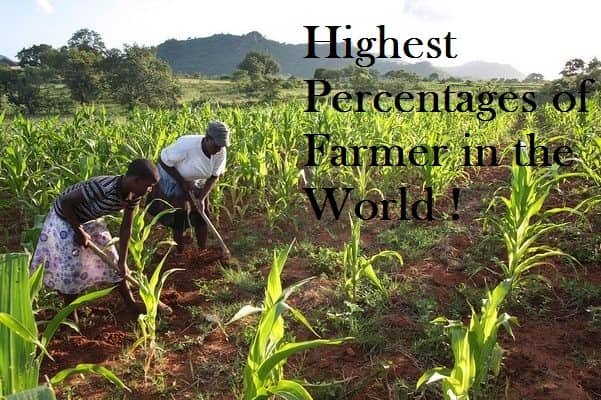 What is the Sad Part About Farmers?
Although we are supposed to give you the list of the farming countries which has a maximum percentage of farmers, however, we feel like touching the sensitive part of farming as far as farmers are concerned. Besides the developed countries, farmers all over the world go through serious misfortune and other financial problems which are heart-wrenching.
In India, every year thousands of farmers commit suicide due to financial reasons, and some commit suicide for silly reasons as floods and natural calamities. The question is; why farmers have been long ignored in a world that cannot survive without their support. We, think, this calls for another article as it requires in-depth analysis.
Why Farming?
Farming as we said earlier is essential for life to sustain on the earth. However, we will touch some other aspects of farming to discover the technological application and other key factors that affect farming. In the developed countries farming has witnessed a paradigm shift, with the advent of technology; farmers are now better equipped to produce more crops than ever.
In the countries where unemployment is a measure issue, people turn to farming as their occupation to earn a lively hood. Some grow corps, some choose to grow fruits and other chooses to grow industrial corps.
According to a study conducted by Food and Agriculture Organization of United Nations; the world's population is growing at breakneck speed. Apparently, the needs of increasing the food products have grown substantially. Obviously, to meet the demand of this staggering population, we need to expedite and strengthen the farming culture in the world. Evidently, we need to increase the food production by 70% to meet the estimated food supply by 2050.
Countries such as China and the USA use agriculture as their primary means of business inside the country as well as to improve in international trading. Due to the commercialization of farming the numbers of farmers are also growing every year. However, in recent time, China and USA are witnessing a downturn.
Major farming practices in The World
Farming can be categorized into three major categories such as;
Crops Farming
Livestock
Land and water managing
Agriculture is no more a mundane physical labor in the field; neither has it had remain confined to shoving manure or milking. It has turned into a full-fledged industry, with well-organized farming consultancies across the globe; farming has become a highly profitable business as far as commercialization is concerned. These consultancies' are efficient in providing advises on various aspects of farming such as fertilizers to be used, irrigation techniques, corps to be produced and some also conduct perform research to find the suitable crops for particular regions and weather conditions.
There are ample of jobs in this sector such as feed nutritionists, traders, financial advisors, etc. with the advent of cutting-edge technology, this sector offers immense growth opportunity for the people who want to choose to farm as their occupation.
Which is the country with Highest Percentage of Farmers?
Bhutan leads the list of highest numbers of farmers in the world. The country has around 94200 farmers with 93% workforce followed by Nepal and Bhutan has got significantly the highest number of people choosing the farming as their occupation.
The list of Countries with highest percentage of farmers
| | | | |
| --- | --- | --- | --- |
| Rank | Country Name | % of Workforce | Farmers |
| 10 |  Uganda |  80 |  9,125,570 |
| 9 |  Guinea Bissau |  81 |  451,450 |
| 8 |  Mali |  83 |  4,600,560 |
| 7 |  Ethiopia |  87 |  22,895,300 |
| 6 |  Rwanda |  87 |  3,740,900 |
| 5 |  Niger |  89 |  4,400,530 |
| 4 |  Burundi |  90 |  3,032,180 |
| 3 |  Burkina Faso |  91 |  5,070,340 |
| 2 |  Nepal |  92 |  10,110,850 |
| 1 |  Bhutan |  93 |  940,800 |
 Few interesting facts about sustainable farming which you might want to know
40% of the global population depends on agriculture, which makes it the largest sector providing maximum employment in the world in comparison to any other sectors/
Sustainable agriculture has come into existence to reject the idea of farming as an industrial process. Three major factors are considered as sustainable and they are environmental safety, economic advancement, and socio-economical equity.
The ecological and social degradation happening due to the industrialization of farming include erosion, rapid deforestation, polluted soil and water resources, bad effect on biodiversity, etc.
The Recent farming Technological Advantages
Recently, new technologies have taken over the traditional farming; the scientific community is spending a lot of time research and development to come up with new technologies that could add value to the farming community. Apparently, healthy farming communities can create a healthy world. Below mentioned are new technologies which can prove to be immensely beneficial for framing culture. Let's have a look at them.
Air & soil sensors: The addition of automated farm air and oil sensor will change the way farming is generally perceived. Using these technologies, farmers will be able to understand the soil and environment conditions scientifically, which will enhance the productivity.
Crop sensors: Crop sensors will help the farmers identify the correct amount of fertilizers need for the particular farming, now, farmers do not have to decide beforehand how much fertilizer they need to use.
The bottom-line is; to survive in the world farming is important and rapid population growth and industrialization has called for a more serious approach in order to create a world which is abundant. In recent time, in spite of technological advantages, still, the world is facing poverty and food shortage.
Governments need to take definitive measures to increase the efficiency of farming and most importantly, the attention should go to enhancing the quality of framers lives, eventually, educated faring community equipped with technology can make this world a better place to live.
Let's meet the demands of the world and create a sustainable world which is rich in every aspect. Eventually, the truth is you can be only rich in a rich world. It is our responsibility that empowers the farming community. Apparently, our growth is dependent on their growth. All the world needs is; a compassionate heart, a beautiful mind, and cooperation. As long as the world lacks these qualities, we will face the dearth of food and other important necessities which is imperative for life.