Gurinder Kaur Kainth is more popularly known as Miss Pooja and she is a popular Bhangra Artist from India. Until now, Miss Pooja has recorded many duets with over 100 singers and this helped her in gaining a lot of fame.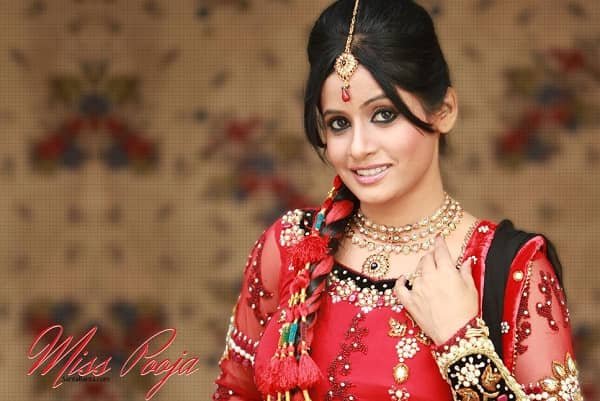 Net Worth
The net worth of Gurinder Kaur Kainth is not known.
Income Source
The main source of income for Miss Pooja is the fee she receives for her singing and acting.
Real Name
The real name of this popular singer is Gurinder Kaur Kainth but she is also known by the name of Miss Pooja.
Date of Birth: 4 December 1980
Age: 38 Years
Height/Weight
Miss Pooja has a short height as she is only 5 feet and 1 inch tall. In addition to this, she weighs just about 50 Kgs.
Marital Status
Gurinder Kaur Kainth is presently married and the name of her husband is Romi Tahli.
Personal Background
Talking about the personal background of Miss Pooja, it is known that she was born in Rajpura in Punjab and most of her childhood was spent in her hometown. She completed her schooling from Patiala and she later enrolled at Punjabi University in Patiala. As per the information available, she has a bachelors as well as a Master's degree in Music. Talking about her family, the name of her father is Inderpal Kainth and the name of her mother is Saroj Devi. In addition to this, she also has two siblings. The name of Miss Pooja's brother is Manpreet Kainth and the name of Miss Pooja's sister is Maninder Kaur Kainth. At present, Miss Pooja is married to Romi Tahli and the couple got married in the year 2010. Romi Tahli is a popular Producer and she can surely leverage on that as well. It is also known that she had been fond of music since an early age and she started taking classes at an age of 5.
Career
Miss Pooja started her career as a teacher and after teaching for two years, she left the job to pursue her passion. She released her first song in 2006 and the name of the song was Jaan Toh Piyari. The same year, she also released her first album Romantic Jatt. Since then, Miss Pooja worked in many popular songs and she has also worked with over 100 singers. She sang a duet with all the singers and this has helped her in gaining a title of Queen of Duets. However, her career had not been restricted to the music industry as she also worked in some of the movies. The first movie she worked in was Panjabian: Love Rules Hearts and the movies was released in 2010. Since then she worked in many popular movies like Ishq Garaari and Best of Luck. She also sang songs for many Bollywood movies like Housefull 3 and Cocktail.
Properties and Cars
The details about Gurinder Kaur Kainth's cars and properties are not listed on the web.