Freida Pinto is an Indian actress and model, who has made it big in Hollywood and taken India cinema, on a global level, by becoming a well known international celebrity.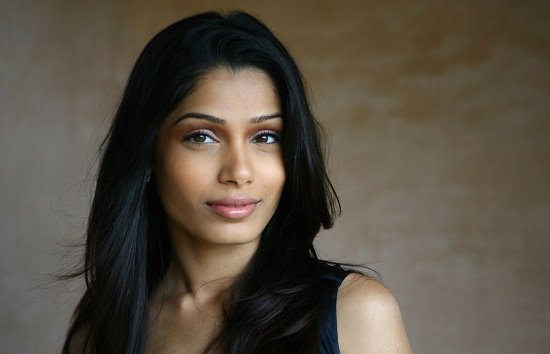 Net Worth: $ 8 million
Income Source: Freida Pinto has earned huge amount of money from acting in Hollywood films, besides making it big from her modeling assignments and featuring in TV commercials of some leading brands, cashing in on her international fame and glamorous image. Visa, Wrigleys chewing gum and Vodafone are some of the brands she has modeled for.
Born: 18th October, 1984 (30 years old)
Full Name: Freida Selena Pinto
Height/Weight: 5 feet 6 inches, 54 kg
Marital Status: Single. Earlier, she was dating Dev Patel, her co star from "Slumdog Millionaire", but the couple broke up in 2014 after a relationship of 6 long years, during which they even lived together.
Personal Background
Freida Pinto was born and raised in Mumbai, where she studied in St Xaviers College and then started a modeling career. She hails from a Mangalorean Catholic family, with a very simple background. After completing her degree, Freida developed interest in acting and joined Barry John Acting Studio in Mumbai, to pursue an acting course, under the mentorship of the leading theater director, Barry John. Besides her acting and modeling career, Freida is involved with the philanthropic mission called Agassi Foundation, which has been set up by former tennis players, Andre Agassi and Steffi Graf, to help deprived children get good education. She is also considered as one of the most beautiful and well dresses women in the world.
Career Graph
Freida Pinto wanted to act from her childhood days and her dream came true when she was offered a role in "Slumdog Millionaire" by Danny Boyle and she could not have asked for a better debut. The movie took her to global stardom and she was established as an actress in Hollywood with her very first movie. She was honored with a Breakthrough Performance Award at the Palm Springs International Film Festival and Screen Actors Guild Award for Outstanding Performance by a Cast in a Motion Picture, for this movie. She has worked in several movies in her career, including "You Will Meet a Tall Dark Stranger", "Immortals", "Trishna" and "Rise of the Planet of the Apes". The main reason for her demand in Hollywood is her versatile acting, incredible beauty and dusky complexion. She is now a highly sought after actress in Hollywood and is commanding good prices for her work. Recently, she has been paid a whopping sum of $ 500000 for her latest venture "Miral". She has epitomized Indian beauty in Hollywood and her entry in the industry is nothing short of a fairy tale.
Her Hollywood Home
Freida Pinto has not only made it big in Hollywood, but has also made her home there. She is enjoying huge success and a lavish lifestyle. She resides in a house at Santa Monica in Los Angeles, which is worth $ 1.5 million.