In this rainy season of monsoon we Vasansi Jaipur brands bring an amazing outfit collection for the ladies, for every age group, especially the Anarkali suits, Salwar Kameez for which millions of customers have trust on us. With the contemporary touch and consistent with the latest trends of long pleats covered around legs, will make you feel like a flying bird in the sky.
We have a large variety of designs for Carefree Anarkali suits Online along with the dupatta, Anarkali suits with jackets and long Anarkali jacket suits, carved in organic fabric, and Processed Skin Friendly Dye and colors will suit your sensitive skin.
Get the Anarkali look with very stylish and designer Anarkali suits we have along with the new collection of fancy jewelry that you must try out at Vasansi Jaipur stores or may visit online.
Boost your confidence in every move you make and steal the limelight during occasions and ceremonies, we Vasansi Jaipur are always with you, your trust always inspires us.
1. Purple Vasansi Silk Printed Anarkali Gown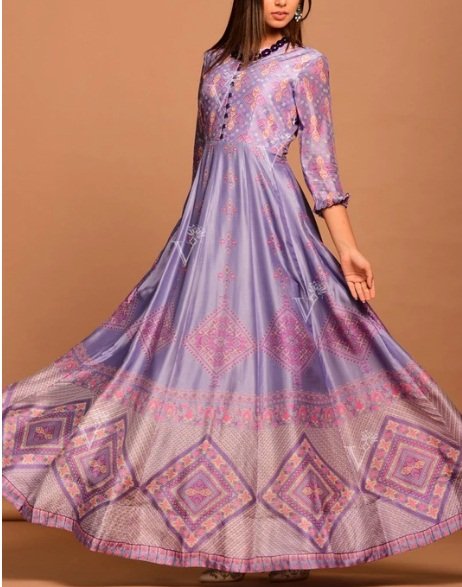 The Anarkali Suits in Royal Purple printed design are here for you, carved in both silk and cotton fabric, especially for your family occasions like Sangeet Ceremonies, which any age of women or girls must check out, at least for once. Available Anarkali Suits in long and Anarkali suits in plus size will offer you the opportunity to shine in the purple silk of Vasansi Jaipur brands.
Make everyone admire you for the quality of Anarkali suits you select from the stores of Vasansi Jaipur. We have a wide variety of unique accessories collection consistent with each design like long Anarkali jacket suits, dupatta.
Stocks are ready now and available both at nearby Vasansi Jaipur stores and online eCommerce sites at the unbelievable and rare price of just 5750/- and don't forget the amazing offers and gift vouchers may surprise you, as your every visit makes us inspired to emphasize the depth of the art we have.
2. Peach Vasansi Silk Printed Anarkali Gown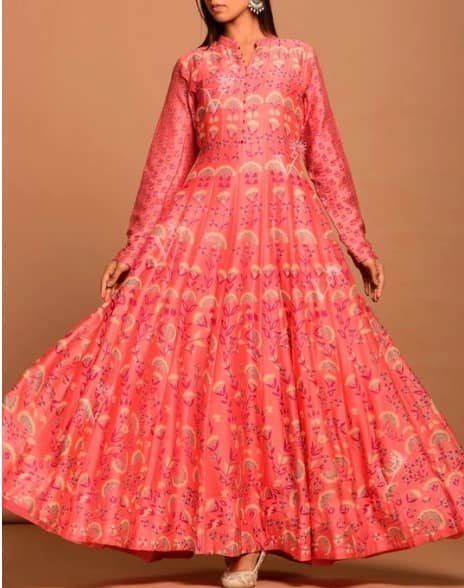 This is the most charming and popular trend mostly among young girls. With the heavily printed designs, this Anarkali suit expresses the quality of your choice, which is our responsibility to look after it.
Having the neck highlighted with the French knot tied below your necklace, these Anarkali suits are available in silk as well as in Organic Fabric are Lightweightand crafted for your comfort.
Ladies of any age group must adorn their wardrobes with the Anarkali suits and Salwar kameez in a peach color touch along with a flying dupatta.
Available in full sleeves, Peach Anarkali suits and salwar kameez enhance your elegance as the benefit of the trust you made with Vasansi Jaipur.
With the matching ornaments such as bracelets, necklaces, and earrings, each flower that has embedded in your Anarkali dress will blossom with the feeling of rejoicing.
For the long and plus-size customers, it is a huge opportunity that Vasansi Jaipur group provides you at such a reasonable cost of 5750/-
3. Aqua Vasansi Silk Printed Anarkali Gown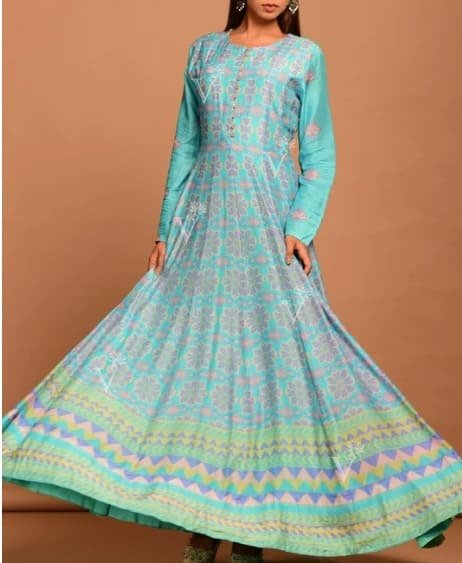 Here we have an Ethnic Anarkali dresses and gowns collection in aqua printed silk, which gives you an elegant look to express the imagination of your choice with Vasansi Jaipur brands.
Embedded silk threads with sequin finish make you sparkle and admire the quality of Vasansi Jaipur collection.
The party wear collection in aqua watery touch makes you even more special than before, dressed up with the  matchingjewelry set also enhance your beauty
Make your outdoors exciting and joyful with the Vasansi Jaipur collection of a large variety of traditional Anarkali dresses such as Anarkali gowns, Anarkali suits, salwar kameez, along with the matching dupatta in the aqua color.
Any lady of any age group is having this golden opportunity of wearing Anarkali dresses as we have a fresh stock of such collection just ready for you.
Available in all sizes such as long plus, short heights, and even in Uk plus size.
Must visit our store to grab the latest collection of Anarkali dresses or visit online just at an affordable price of 5750/-
4. Green Vasansi Silk Anarkali Gown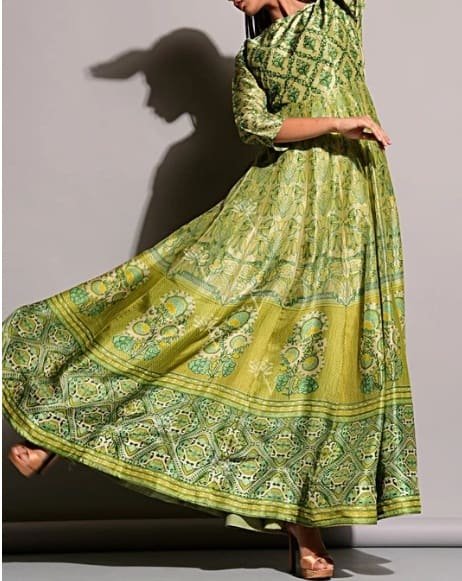 Try the uniqueness of green designer and stylish Vasansi Jaipur Anarkali suits and salwar kameez, and gowns in silk and fabric cotton to add beauty with your every style.
Heavily printed with the stylish and stunning finish on the borders, for which you will definitely laud our artisans who made it with their passion and patience.
Available in full sleeves, will be stunning at the 'Mehendi Ceremony' and even fit for your regular kitty parties since it guarantees you the comfort of quality and price you pay.
Every age group of women, it is heavily recommended to try at least once, we promise you that we won't let you down.
The trending Anarkali suits with Banarasi dupatta in Green silk will boost your confidence at heights which you deserve by selecting Vasansi Jaipur collection.
Long Anarkali jacket suits are also available in the green touch will be the best accessory which you must try with it.
Available in long, plus size, short height, and Uk plus size, we have a wide variety of dresses in this color and exciting price range of 3650/- ready at offline and online Vasansi Jaipur stores.
5. Sage Blue Vasansi Silk Anarkali Gown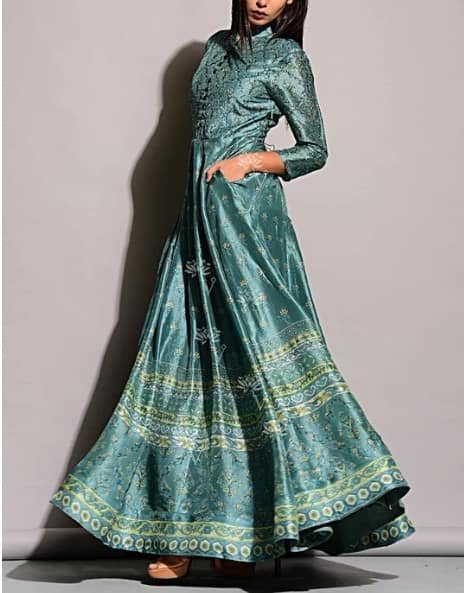 Check the depth and definition of the stylish dark blue, printed with the Lotus petals in white, makes your design rare.
Make your every move like up and down sea tides this premium party wear and stylish collection of this royal color.
Make your wedding season much more exciting and delight the mood of your beloved ones in the Anarkali suits and salwar kameez and Anarkali gowns with Vasansi Jaipur.
Wonder your friends with this exciting collection of Anarkali dresses for every age woman from 16 to 42 and also make them aware of the unique collection at Vasansi Jaipur.
Coupled with the exclusively matching jewelry like earrings and necklace which enhances your beauty many times.
Available in long, short heights and in plus sizes crafted with Organic Fabric materials which will take care of your body skin.
With the huge demands of this royal color among young girls and ladies, stocks may be out soon. Therefore it is suggested to have quick visit on Vasansi Jaipur online or offline stores at such astonishing price of 5750/-
Conclusion 
Don't waste this monsoon wedding season in compromising with outdated and uptrending stocks. Try the very fresh and latest collection of stylish traditional Anarkali suits, salwar kameez, dupatta, and lot more to explore at Vasansi Jaipur stocks at the wonderful cost you pay for it.
We guarantee you the quality of dresses and its accessories, for which you will definitely visit again and again and inspire us to serve you the best we can have. You should tell your friends and neighbors and make them praise you to have such a quality choice.