Diwali or Deepavali, the festival of lights, is something which has earned global fame for India. Though it is basically a Hindu festival, Diwaali is celebrated by people of all religions with equal joy and fervor. Not only this, Indians living in other countries around the globe also proudly celebrate this amazing festival.
Here are 10 most interesting and unknown facts about Diwaali:
#1. Diwaali is known for its grand celebrations all over India. People all over the country start making preparations for the festival long before the festival day. They clean their homes, buy new clothing and gifts and prepare sweets several days before the big day. Diwaali is also celebrated in countries like Sri Lanka, Nepal, Malaysia, Fiji, Mauritius and Singapore.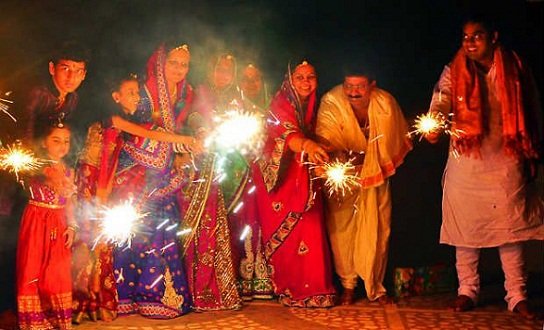 #2. Diwali is a five day celebration, which start with Dhanteras on the first day. On this day, people clean their homes and shops and make auspicious purchases, like that of jewelry, land, cars and utensils.
#3. Narak Chauturdasi or Choti Diwaali comes next. It is marked by making rangolis and lighting lamps in the houses.
#4. The main Diwaali festival is celebrated by exchanging gifts and sweets and people wear new clothes on this day. The businessmen and shop owners start their financial books on this day. The day after Diwaliis the Gujarati New Year and Ekam is the first day of the New Year.
#5. Diwaali is associated with diyas and its name is derived from these magical lamps, which light up the lives of people and remove darkness from them. Symbolically, Diwaali stands for the victory of good over evil and light over darkness. A special Puja is performed in the evening, during which Lord Ganesha and Goddess Lakshmi are worshipped in every home and commercial establishment.
#6. The day after Diwali is known as Pawda and it signifies the love between husband and wife, which makes it a very important day for couples. On this day, some states of the country have special feasts for the newlyweds.
#7. Bhai Duj is a special festival celebrated two days after the festival of Diwaali. On this day, sisters worship their brother, offer them sweets and pray for their long life. Brothers promise to protect their sisters and give them gifts and blessings in return.
#8. The festival of Diwaali is associated with the ritual of exchange of gifts and sweets with friends, family and loved ones. The purpose behind this ritual is to strengthen the bond of love and fraternity between people and ensure that they live together in peace and harmony.
#9. Another interesting and unknown fact about Diwaali is that it is celebrated by Sikhs too, and they call it Bandi Chor Diwas. Lavish lighting and decoration is seen at the Golden Temple of Amritsar on this occasion, which marks the day when Guru Har Gobind Ji was freed from the shackles of the Hindu kings.
#10. Burning crackers is another ritual related with Diwaali, but people have now become conscious and seek to celebrate the festival in eco friendly manner.
The aim behind the festival of Diwaali is to foster universal love and brotherhood. People should understand its true spirit and celebrate the positive aspects of the festival.