As a new parent, having a baby stroller would be one of the things on your priority list as it is a necessary part of parenting in this new world. Since the invention of baby strollers, many kinds of strollers are now available in the market offering a variety of features. The features are added up with time to cater to the needs of the parents and providing more comfort and convenience.
You have to choose your stroller according to your requirements depending on the age and size of the kid. Some strollers come with the feature of expanding with the sizes of your baby but some strollers are confined to a particular age group. The reclination of the seat has also to be taken into consideration. The newborn babies have delicate bones and fragile blood vessels and they cannot rest in an upright seat.
The older babies of age more than six months can seek strollers with upright seat positions as they have now learned to sit straight taking the support of their head. The security and safety of your little ones should be the most important element while choosing the correct stroller.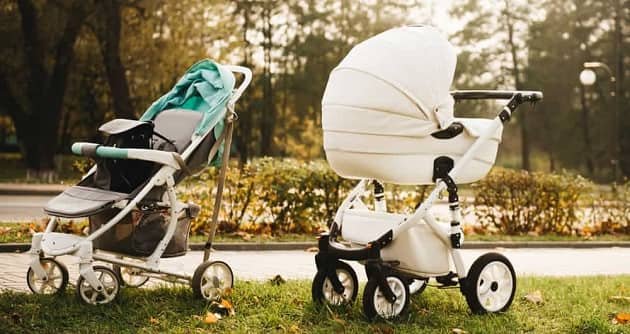 You need to check all the safety features like the seat belt and harness, wheel brakes, hinges, sunshades, etc. Parents also need to check the folding and opening of the strollers and observe if any spots can harm their toddlers.
Types Of Baby Strollers
Here is a list of types of baby strollers available in the market along with their description that can provide you with a clear idea before you move out for shopping for your babies:
1. Travel system type stroller
As described by the name itself, these kinds of strollers are designed for traveling purposes especially. it is a combination of a stroller and car seat basically of full or compact size. it consists of a car seat for the infants to make it convenient for traveling which easily fits in the frame. This baby base can be easily attached to a car seat and makes you adventure-ready.
These kinds of strollers are suitable for babies up to the age of 6 months. In the early months of your little ones, these strollers make it easy for you to visit outdoors along with keeping your baby protected.
The most popular feature of these strollers is that they can be used even after your baby grows older. The infant car seat can be used as long as the baby is small and then the stroller can come into the picture for the grown baby. It also comes with features of an adjustable backrest to place your baby in a comfortable position.
These strollers are generally lightweight and compact making the transitions easier making your trips more versatile and convenient.
Many brands have introduced a pre-made combination of car seats and strollers but some of them also provide you with the option of picking up your infant car seat, stroller, and car seat adapter and form your combo.
2. The umbrella-type stroller
The umbrella-type stroller resembles an umbrella as it has curved handles and can be carried easily in your hands. Some of them also come with shoulder straps which makes them more convenient to carry along.
The umbrella-type strollers are very light in weight and are popular among parents who are into regular traveling for word or fun. These types of strollers enable easy parenting as it is easy to carry in flights or cruises. It can easily be folded down to small and can be easily packed in your bags to protect it from any sort of damages.
This saves you from running into people.
These strollers are also popular as it comes with affordable price rates. Some brands have also provided features of enabling these strollers with car seat compatibility.
Very few models provide you with a complete reclining seat. You will mostly come across partially reclined seats along with storage space and an umbrella to protect the babies from the scorching heat.
However, these strollers are not suggested to babies younger than 12 months of age. The partial reclination of the seat cannot provide them the comfort required.
3. The jogging type stroller
As you can guess by the name, these kinds of strollers are designed especially for parents who are fitness freaks and love jogging.
These strollers cater to the needs of such parents who were restricted from running or jogging after becoming parents.
The jogging-type strollers feature three wheels that are filled with air to make a smooth and protected ride and are also easy to control. in addition to wheels, they also come with hand brakes and also a foot-operated brake for parking purposes. These brakes are used to control the speed of the stroller.
These strollers come with a special suspension system to avoid bumping around the sidewalk.
There is also a wrist strap which is added as a security feature to it.
These strollers are not advisable to infants less than twelve months of age as the babies need to have a good head and neck while the parent runs.
These strollers provide a great advantage to the parents for off-road walks and running. It is bit heavier than other type of strollers in the market. It can also cause transporting issues as they are both heavy and bulky.
4. The double type stroller
The double type of stroller is best for the parents who are blessed with twins or have one baby and one toddler.
This is the best available option in the market and is equally affordable. The spaces for two babies also offer various options in different budgets. The seats can be side by side or in the same line or one above another. Some of these also come with transitional features like it can be transformed from a single stroller to double and from double stroller to single which depends upon your requirements.
They also provide extra storage capacities to store the necessary things for the babies.
The companies also provide you with an option of customizing your stroller by adding up some extra accessories like an infant car seat, carrycot, bassinet, etc. The parents need to be very careful before choosing the correct one out of the many options available.
5. Full-size strollers
Full-size strollers are also termed compact strollers and are commonly preferred by parents. These types of strollers are highly recommended for household purposes and daily activities. It is the standard and everyday use type of stroller that provides features related to daily activities.
It is featured with bells or whistles, large storage spaces to store snack/juices/milk bottles, footrests, a wide handle for better grip to control, sunshades to protect from sunlight, etc. In addition to all these, it also has canopies protecting your little one from the bitter cold, rain, or high temperatures.
It also comes with a fully reclining seat to make it more convenient for growing babies from infants to toddlers. You all can combine it with a car seat and adapter to accommodate it while traveling. It can be provided with either three-wheel or four-wheel system to provide easy control. These are the most popular as they are durable, comfortable, convenient, and affordable.