13 Different Styles of Denim Jeans for Girls
Jeans today are a mandatory part of every girl's wardrobe all across the world. This piece of cloth has evolved over the years in style and variety. Today you have varied choices at your disposal and you can choose the type of jean that best suit you as per your comfort and body structure.
The following are a few different styles available in the market today:
1. High Rise Jeans Styles
This is the type of jeans that you will like to wear when you are looking forward to tucking your top in. in this type of jeans, the waistline which is considered natural is covered. This type of jeans also helps you get a look that is much leaner and slimmer. To get the desired lean look, you should wear a dark colored top that has been tucked in, along with a dark-colored denim jeans. You can wear this with a skinny belt and flaunt your waistline if you would want to. You shall be able to carry off both a modern as well as a traditional look with these pair of jeans.
2. Stretch Jeans
Another style of jeans that looks great on a woman and girls is the stretch jeans. The style can be worn by both thin as well as heavy women alike because the material is such that it stretches on your thigh as well as the bottom area. When you wear it, you get an opportunity to hide the fat bulging from different body parts of the body such as your stomach, hips, as well as your thighs.
3. Ultra-Low- Rise Jeans
Want to look extremely sexy in Jeans? Well, then this is the right choice for you. The low-rise denim makes you look hot and sexy. It rests quite a few inches low to your belly button and when worn with a crop top, it makes you look very sexy. This is the perfect jeans you would want to wear if you have that perfect and toned body and want to flaunt the same. Wear it when you are partying or are on a night out. Avoid it in during official meetings and interviews. It does not go well for a formal event.
4. Wash Jeans
This particular type of jean is slowly gaining popularity amongst all the females. Depending on the type of wash, the color of the denim or the jeans is decided as the wash helps to lighten down the color of the denim itself. When it comes to variety, there are several types of wash that are available. This includes stone wash, acid wash, vintage wash, amongst several others. The wash jeans allow you to make a very good style statement for yourself.
5. Wide Leg Jeans
This is a type of jeans which can easily be considered a retro fashion. However, it does go well if you want a modern look and are going with a well-fitted top.They have a very wide opening beginning from the thighs all the way down. You can wear it with any type of top or shirt which fits you well. The wide leg jeans usually suit those girls who are tall and are slim. Having said that, you can still wear it if you are short. But when you do it, make sure you wear proper heels with them.
6. Capri Jeans
Capri jeans have been in fashion for a long time now. This type of jeans does not cover your full leg. It is known to cover the area just beneath the knees and makes you look fashionable and stylish. You can wear this type when you are both tall or short. It looks great on you, particularly if you have well-shaped and toned legs. Having said that, you need to be careful about the part of the leg on which the jeans ends. If it falls on that part of the thigh which is considered to be the widest, it might make you look wide and fat.
7. Cropped Jeans
This is the three-fourth jeans that we colloquially refer to. Since the jeans cover three fourth of the leg area, it makes you look taller as well as thinner. This can make you look both simple and fashionable at the same time. In order to add to the style statement, you can wear a pair of heels. When you wear them, you should not flare the jeans at the bottom of it as this can make you look boring. The flare at the bottom of the jeans can be done only when you want to wear the pair at home.
8. Cuffed Jeans
The cuffed jeans for women and girls almost have the same length as that of the Capris and the cropped jeans, as mentioned in the above section. However, these types of jeans are generally folded in the area where there is the leg opening. It is not a great option for you if you are someone who has thick ankles and if you do have the same, you need to be careful with the folding of the jeans in the leg area. You can look very stylish in the cuffed jeans if you wear high heels along while wearing it.
9. Skinny Leg Jeans
If you know you have slim legs and want to highlight the same, skinny jeans is what you should think of wearing. It is totally fitting on your legs and exposes every bit of it. So, you want to have slim legs when you think of wearing this type of jeans. But if you feel that you have bulging hips, you should avoid wearing it.When you wear them, choose a high waist jean as it makes you look very chic. Skinny jeans are extremely fashionable these days and almost everyone wears them with high heels to add that extra bit of fashion to their entire ensemble.
10. Flare Jeans
With a flare like opening starting from the knee all the way to the bottom of the jeans, the flared jeans are soon becoming a rage amongst all the young and upcoming fashionistas. It fits the thigh completely. Wear it with a sweater and you have the look like those in the seventies and eighties.If you have broad shoulders and your hip is narrow, you should go for the flare jeans.
11. Straight Cut Jeans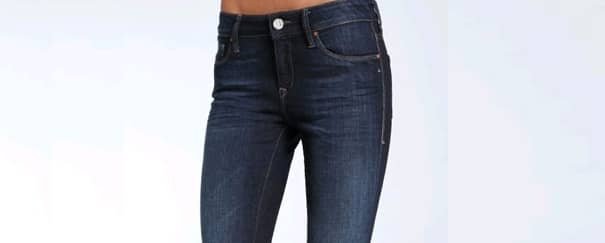 This is a type of jeans you can wear when you are just starting off to wear the denim and you want to be comfortable wearing the same. It may not be the perfect choice when you are looking forward to making a fashion statement. The legs and the thighs are kept straight. This can also be a type to wear when you have a curvy body and are trying to hide all the flaws and fat in your body.
12. Boot Cut Jeans
This is one type of jeans that exclusively fit females with almost all the different body structures, be it curvaceous, or lean, or wide. In most of the cases, the boot cut jeans make you look not only taller but also leaner and thinner. There is a wide opening towards the end of the leg. For most parts of the legs and thighs, it is loose too. You can wear it with a pair of heels to make it look fashionable and stylish. Although the trend reminds you of the fashion that was prevalent in the eighties and seventies, you still find a few people wearing them.
13. Boyfriend Jeans
This is the most unusual type of jeans that you will have heard of. This type of jeans is something that fits you quite loose and it almost seems like that you have borrowed the jeans from men in your house or your boyfriend.It fits you around the hips but as you go down the thighs and legs, it becomes slightly lose You can try wearing it if you have full thighs and legs.
Thus, the above are the various types of jeans that can be worn by the girls out there. Never forget, however, that no matter what you wear, the most important thing is to carry the dress comfortably!!