Dharm Yoddha Garud, the Righteous Warrior: Guard is an Indian mythological TV serial, airing on Sony SAB and streaming digitally on SonyLIV. The show is only run in the Indian Hindi language. It shows the story of Garuda and started airing on 14 March 2022. The producer and director of this serial include Abhimanyu Singh & Rupali Kadiyan, and Mukesh Kumar Singh & Nishi Chandra respectively. Under the production of Contiloe Entertainment, Dharm Yoddha Garud has become a favourite show of many viewers. Here is detailed information about Dharm Yoddha Garud, its storyline, wiki, cast names, concept, and timing.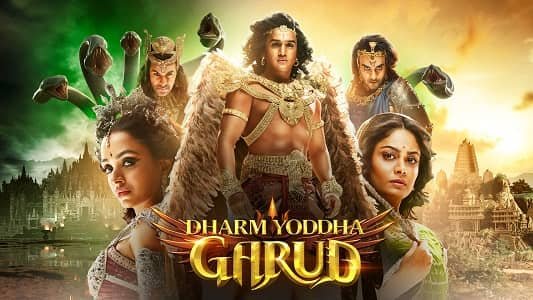 Wiki
The plot revolves around the life of Warrior Garud. He fights against injustice, and the devils, and creates the story of the restoration of peace. The lead roles in this show include Faisal Khan, Toral Rasputra, Angad Hasija, Vishal Karwal, and Parul Chauhan.
Story
The story starts with Garud coming to meet his mother named Vinta. They love each other a lot and share a very good bond. His maternal aunt, Queen Kadru and the Snake brothers ill-treat Vinta, which is why Garud hates them. He is always curious to know how his mother, Vinta became his maternal aunt's slave. Because of the snakes especially Garud and Kaaliya, vinta gets scared to save her and shows his superpower to the Kadru and Snakes.
Garud's mother teaches her son many important life lessons and how to stay calm. He asks his mother how to reach Vaikunth. He tries to find out what happened and the reason behind Kadru's enslavement. Garud fights with the Asura Sena (Satan) who had come to kill Aditi Maa. To know more about the full story, you can watch the old episodes on the OTT platform or the repeat episodes that air occasionally on Sony SAB.
Timing
The Sony SAB popular show Garud is aired on 5th July 2022. It is telecasted only in the Hindi language and the approximate run time of this serial is 20 to 25 minutes. Disney+Hotstar is one of those OTT platforms where you can watch old episodes of Dharm Yoddha Garuda.
Cast
Here is a complete list of Sony SAB show's Garud:
FaisalKhan as Garud Dev
Toral Rasputra as Queen Vinta ( Garud Mother)
Vishal Karwal as Lord Vishnu
Ankit Raj as Kaaliya
Angad Hasija as Takshak
Parul Chauhan as Queen Kadru
Piyali Munsi as Queen Aditi
Hrishikesh Pandey as Rishi Kashyap ( Garud Father)
Soni Singh as Queen Diti
Abhishek Soni as Varun
Aditya Ranvijay as Asur Raj Mahabali
Riishav Trivedi as Vassuki
Sumit Arora as Takhtu
Amit Bhanushali as Shesh Naag
Hemant Bharrati as Vajrang
Shivam Verma as Sharkota