Dance Jodi Dance is a dance reality TV show in the Tamil language. This Indian show started airing on Zee Tamil, an Indian TV channel. Since its telecast on 17 September 2016, the show has carved a special place among the Tamil audience.
Although the new season of Dance Jodi Dance is available on the OTT platform named Zee5. In case you have missed the latest episodes, you can watch them online in your comfort zone.
The show has a unique concept: talented and trained dancers are selected via an audition process and then combined with celebrities to represent their dancing skills and got the title.
This is amongst the TV reality show that offers both name and fame to the contestant, no matter who will win the title. Every year, thousands of candidates who are willing to pursue dance as a career participate in it. Some of them will be selected and make it to the next stage, and some will eventually make it to the finale, leaving behind the other contestants.
Participating in the show will pave the way to becoming a famous dancer in the industry. Good news is that the show's new season will premiere this year. So, go to the official website of Zee5 and check the registration process.
Now, let's check the previous winners along with the celebrity partners, judges, and hosts.
List of Dance Jodi Dance Winners Till Date
Seasons
Winner List
Judges
Runners-up list
Hosts
Dance Jodi Dance Season 1
Meesha and Jeevan
Sneha, Gautami, Sudha Chandran
First runner-up: Yuthan and Nancy

Second runner-up: Raaghav and Reshma

Third runner-up: Priyanka and Arun

Deepak Dinkar
Dance Jodi Dance Season 2
Ruth & Rinish Raj
Sneha, Priyamani, Gautami

First runner-up: Krishnamoorthy & Raveena

Second runner-up: Deva & Deeshika

Third runner up: Kaali & Meghna Vincent

Deepak Dinkar
Dance Jodi Dance Season 3
Not Announced due to Lockdown
Namitha, Pooja, Priya Raman, Sneha
Not Announced due to Lockdown
Deepak Dinkar, Pearle Maaney , Anjana Rangan
Dance Jodi Dance Season 4
Vaishnavi & Avinash
Sneha, Baba Bhaskar, Sangeetha
First runner-up:

Dominic & Preetha

Second runner-up: Kenny & Niharika

Rj Vijay
1. Meesha and Jeevan: Season 1 Winner
On September 17, 2016, Season 1 of Dance Jodi Dance aired on Zee Tamil. This season was hosted by Deepak Dinkar, an Indian anchor and actor. The judge's panel of this season was Gautami, Sneha (actress), and Sudha Chandran, an accomplished Bharatanatyam.
Leaving behind the rest contestants, Jeevan and Misha Ghoshal announced the winner of Season 1 of Dance Jodi Dance. While Nancy and Yuthan Balaji bagged first position, Reshma and Raagav declared the 2nd runner-up.
With the successful completion of 40 episodes, the finale was finally organized on 27 January 2017 at Nehru Stadium, Chennai. Famous dancer Raghav Lawerence has declared the final results of Season 1. The winner got cash prizes and other awards along with lifting the trophy.  A total of 12 contestants got selected and paired with Tamil celebrities; most of them were TV actors.
2. Ruth and Rinish Raj: Season 2 Winner
Season 2 of the Dance Jodi Dance reality show was broadcasted on 2 December 2017 and ended on 26 May 2018. Zee Tamil was again the same TV channel that distributed the show. Again Sneha judged the show along with two other Gautami and Sneha. Even the host was the same (Deepak Dinkar).
As a winner of Season 2, Rinish and Ruth lifted the trophy. In addition to this, they received a Rs 5 lakhs cash prize. While the second runner-up, Krishnamoorthy & Raveena, received Rs 3 lakhs 30 thousand cash prize. The third runner-up Deva & Deeshika, received Rs 2 lakhs 25 thousand.
The finale of Season 3 was organized at EVP Film City in Chennai. Archana Chandoke and Deepak Dinkar hosted the show this season. Like the previous season, a total of 12 celebrities and handpicked dancers paired together so that contestants could showcase their skills.
3. Not Announced due to Covid-19 Pandemic: Season 3 Winner
The previous two seasons of Dance Jodi Dance got immense popularity nationwide, especially from Tamil audiences. The makers were expected to make this season a hit. Unfortunately, they had to stop the shoot due to the COVID-19 pandemic. Season 3 premiered every Saturday and Sunday from 16 November 2019 and aired till 29 March 2020 with 41 episodes.
Before the pandemic, the show's judges were Namitha, Pooja, Priya Raman, and Sneha. With a new twist, the makers decided to pair up contestants with famous TV personalities. The lead actress and actors were paired with their non-actor/actress partners.
Pearle Maaney, Deepak Dinkar, and Anjana Ragan hosted the show. Due to being stopped in the mid of period, the makers decided to air the 3rd season with different contestants with a new tagline, "Dance Jodi Dance Reloaded."
The season features different forms of dance, ranging from Hip Hop to Indian Classical Dance. Skilled and trained dancers from different parts of the world participated in the audition conducted in Coimbatore, Trichy, Madurai, and Chennai.
4. Vaishnavi & Avinash: Season 4 Winner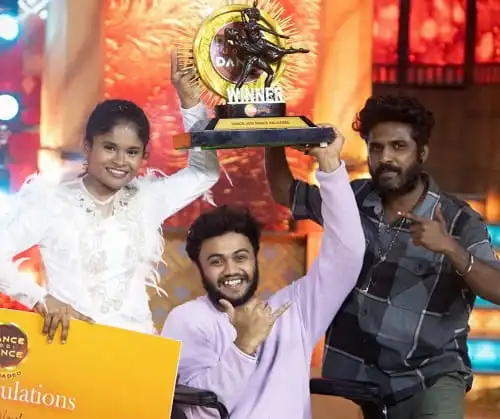 With a new appearance name, Dance Jodi Dance Reloaded was aired on 30 July 2022. While the host of Season 4 was RJ Vijay, the show was judged by Choreographer Baba Bhaskar and actresses Sangeetha and Sneha.
Vaishnavi, with their celebrity partner Vaishnavi, won the title of Season 4 of Dance Jodi Dance Reloaded. They awarded Rs 5 lakhs along with a winning trophy. While Preetha and Dominic got the first runner-up position, thus they won a Rs 3 lakhs cash prize. The third winner, Kenny and Niharika received Rs 2 lakh.
Final Words
Dance Jodi Dance is a famous platform that gives opportunities to Tamil people who want to become a dancer. The new concept and the winning amount can easily attract the learned and trained dancers to set up a career. All the seasons of Dance Jodi Dance got a positive response from the audience, so the makers have decided to take it longer. Due to this, the show makers have launched four seasons so far.