You would have certainly tried beer for at least once in your life but have you ever tried Fruit Beer? Do not be surprised as we are not talking about any non-alcoholic beverage. Yes, Fruit Beer is a thing and it is basically a beer which has fruits for the flavor. The alcoholic version of the fruit beer is not very popular in India but it is gaining popularity with time. In addition to this, the beer has a very exotic flavor and it is available in many different flavors.
If you are wondering that how the fruit beer is brewed then let us tell you that in the fruit beer, the fruit syrup is usually added after the fermentation process and thus the drink is able to retain the rich flavor of the fruit. There is also another type of beer in which the fruit juice is added before the fermentation process and both these types of fruit beer are equally good.
If you have never tried fruit beer yet then this article is for you as we have listed the top 10 fruit beer brands in India. You can certainly try one of these and you will fall in love with the fruit beer as well. So here is the list.
List of Top Fruit Beer Brands In India
10. Lindemans Pecheresse Peach
First on our list is Lindemans Pecheresse Peach Beer and this is certainly an exotic beer. The brewery uses a decades-old formula to brew this beer and the base ingredients remain to be wheat and barley malts along with the hop. The peach juice is added to the beer in the later stages which gives a fruity flavor to the beer and the beer serves as a perfect partner with a dessert. If you are a fan of peach flavor then you must try this beer soon.
9. Banana Bread Beer
Does a Banana Bread Beer sound weird to you? Well, it is actually not as this beer has gained a lot of popularity in Indian market because of the fine blend of spices, malt, and banana flavor. The beer serves as an exhilarating experience for the people who love flavors and the first sip of the beer will send your senses in the mode of trance. The beer has 5.2% of alcohol content and the beer is carefully brewed with bananas and a variety of spices which gives the flavor to the beer.
8. New Glarus Strawberry Rhubarb
On number 8, we have a strawberry beer and the most attractive part about this beer is the bottle. As soon as you unscrew the bottle, your senses will be enchanted with a luxurious and exotic aroma of strawberries. The beer has a perfect mix of strawberry juices and exotic spices which gives a rich berrylicious flavor to this beer. If we talk about any strawberry flavor beer then this is one of the highest selling beer in Indian markets and it is certainly worth a try.
7. Kasteel Rouge Cherry
If you would like to taste the traditional fruit beer then you must give a try to Kasteel rouge cherry beer as this beer is made traditionally with the goodness of cherries. The drink serves as a perfect accompaniment on the sunny days as the aroma of the fruit adds on to the flavor of the beer. The brewer also adds the flavors of chocolates and pepper in the beer and you will be able to feel in all in every drink of this beer. In addition to this, Kasteel Rouge is quite a strong beer so if you like having a strong beer then you must try this one as well.
6. Electric Peel
Are you a fan of citrus flavor? If yes then this beer is made for you as the beer has a very richly infused grapefruit flavor in it. Each and every sip of the beer would send a shock to your senses as the malt of this grapefruit feel beer is full of flavors. The beer is owned by magic hat brewing company and the company has a great reputation when it comes to the fruit beer and other such beverages. The packing of this beer is also very attractive which adds on to the fun of drinking this fruit beer.
5. Kirsch Gose
Next on our list is Kirsch Gose and this is also a cherry beer in our list. The beer has a strong flavor of cherries and the beer also has a pink color with a white rim foam. The beer has slightly sour flavor and it feels a little salty to drink but this is what this beer is all about. The fizz of the beer is certainly an add-on to this drink.
4. Samuel Smith Apricot
Samuel Smith is more of a craft beer and it has a flavor of peach. The recipe of the beer uses barleys and wheat malt which is fermented and flavored with help of hop and peach. Their beer goes through multiple fermentation processes and the beer is also matured for a long-lasting flavor in the drink. It is a totally organic beer and the taste of the beer is slightly sweet.
3. Wisconsin Belgian Red
On number 3, we have Wisconsin Belgian and this is also a cherry flavored beer. The unique part about this beer is the fact that the beer is aged in oak tanks which certainly adds on to the flavor of this beer. As per the information available, the beer is aged for almost a year and each bottle contains the juice of over one pound cherry. The color of this beer is also pink and the beer is highly carbonated.
2. Grapefruit Sculpin
Next on our list is Grapefruit Sculpin by Ballast point and this beer has a flavor of grapefruit infused in it. The beer also has a flavor of spices as it is brewed with spices and honey. Talking about the alcohol content of the beer, it has 7% alcohol content and it doesn't feel bitter even after the presence of the alcohol in it.
1. Fruli Strawberry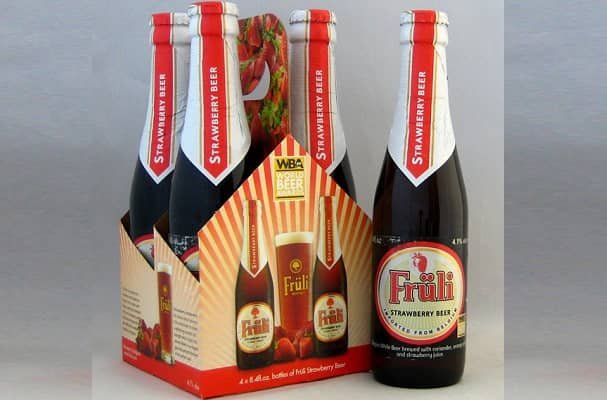 On number 1, we have a strawberry beer and the specialty of this beer lies in the fact that the beer manufacturer uses fresh strawberries to give flavor to this beer. The beer has a slightly sweet taste and it is certainly a refreshing drink. If you are heading towards beach then you need to take a dozen of these bottles with you and you will certainly enjoy that every evening of your life.
These are the top 10 fruit beer brands in India and they are easily available at premium wine shops across the country. You can try one of these and gain acquaintance of the flavor of the fruit beer.
How To Choose The Best Fruit Beer In India
Choosing the best fruit beer can be a fun and delicious experience. Here are some tips to help you choose the best fruit beer for your taste preferences:
1. Consider the fruit flavor: Fruit beers come in a variety of fruit flavors, such as raspberry, peach, cherry, or blueberry. Choose a fruit flavor that you enjoy or one that pairs well with the food you'll be eating.
2. Look at the beer style: Fruit flavors can be added to different beer styles, such as wheat beer, IPA, or sour beer. Each beer style has its own flavor profile, so choose a style that complements the fruit flavor.
3. Check the alcohol content: Fruit beers can range in alcohol content from light and refreshing to high and boozy. Consider the occasion and your tolerance for alcohol when choosing a fruit beer.
4. Read reviews: Look for reviews from beer experts and enthusiasts to get an idea of the flavor profile and quality of the fruit beer. You can also ask for recommendations from a bartender or beer seller.
5. Try before you buy: Many bars and breweries offer samples or flights of beer, which can help you discover new fruit beers and determine your preferences.
6. Consider the brewery: Some breweries are known for their fruit beers or use locally sourced fruit in their beers. Look for breweries that specialize in fruit beers or that have a reputation for quality and innovation.
Ultimately, the best fruit beer is one that you enjoy drinking. Experiment with different fruit flavors and beer styles to discover your favorites.
Fruit Beer Frequently Asked Questions
Here are some frequently asked questions about fruit beer:
Q1. What is fruit beer?
Fruit beer is a type of beer that is brewed with the addition of fruit, either during the brewing process or after fermentation. The fruit can be used to add flavor, aroma, and color to the beer.
Q2. What types of fruit are used in fruit beer?
Fruit beers can be made with a variety of fruits, such as raspberries, cherries, peaches, blueberries, strawberries, and more. Some breweries use local fruits or seasonal fruits to create unique and flavorful fruit beers.
Q3. What styles of beer can be made into fruit beer?
Fruit can be added to a variety of beer styles, such as wheat beer, IPA, sour beer, and more. Each beer style has its own unique flavor profile, so the type of beer chosen for fruit beer will affect the overall flavor of the beer.
Q4. Do fruit beers contain actual fruit?
Yes, fruit beers typically contain actual fruit, either in whole form or as a fruit extract. Some breweries use natural or organic fruit, while others may use artificial fruit flavorings.
Q5. Are fruit beers sweet?
Fruit beers can be sweet, tart, or a combination of both. The sweetness of the beer will depend on the type and amount of fruit used, as well as the beer style.
Q6. What foods pair well with fruit beer?
Fruit beers can pair well with a variety of foods, depending on the fruit flavor and beer style. Lighter fruit beers, such as raspberry or peach wheat beers, pair well with salads, seafood, and light pasta dishes. Heavier fruit beers, such as cherry or blueberry stouts, pair well with grilled meats, hearty stews, and chocolate desserts.
Q7. What is the alcohol content of fruit beer?
The alcohol content of fruit beer can vary widely, depending on the beer style and the amount of fruit added. Generally, fruit beers have an alcohol content of between 3% and 10% ABV.