Soup is a therapeutic food item which is generally cooked by boiling vegetables, meat and spices in a large quantity of water or vegetable stock. Usually, this food is well thought-out as the nutritious and healthy. It contains all the essential nutrients of the vegetables in the form of fibers, mineral proteins and potassium since they are boiled over for a long time. It is usually preferred during rainy and winter seasons when people want to have something that would make them warm and cozy.

If it is an appetizer that you are craving for or want to have a mid-night snack, soups are preferred by all people. When you want a light, flavorsome and instant meal in a rush, a bowl of soup is just what can help you. People from across the word favor soups as their go-to meal, as they have a list of benefits and each of them has a distinctive taste. And while we prefer making for our own self, there is a huge range of novel and appealing flavor combinations out in the market.
Apart from being nutritious the other benefits of having soups are
They are available at reasonable prices and therefore everyone can afford them.
Soups have the tendency to make you feel better if you are sick.
Soups are delicious and are good for health.
One of the main advantage is that makes you lose weight by making you feel full.
Here we are listing top ten best soup brands in India that you can totally indulge in.
10. Bambino Soup
In the past, this company was recognized by their product Vermicelli. Bambino was launched in 1982, is an Indian brand which has made its mark by providing good quality food like soups, vermicelli etc. The various soup variations that are available are Tomato Soup, Sweet Corn Vegetable Soup, Mushroom Soup, Hot n Sour Vegetable Soup and Mixed Vegetable Soup. These flavors are the authentic Indian flavors which people really prefer. The Drumstick Soup is the herbal soups available in this brand. Market Price: Rs.50 for a pack of 60g.
9. Keya Soup
Keya is a new brand in the and also an ISO licensed and Organic Certified company which is known to manufacture pure, appetizing and wholesome instant soups. The variety includes Mixed Vegetable Soup, Hot and Sour Chicken Soup, Creamy Tomato Soup, Creamy Mushroom Soup, Sweet Corn Chicken, Creamy Spinach, Creamy Chicken Soup, Sweet Corn Vegetable, Tom Yum Vegetable, and Tom Yum Seafood. It offers premium ingredients which are organic & preservative free in the Indian market. Market Price: Rs.55 for a pack of 48g.
8. Baxters Soup
Baxters is a Scottish company, set up in 1868. They are known for food processing and canned variety of soups. They manufacture delicious and healthy soup like Chicken and Vegetable Soup, Potato and Leek Soup, Cream of Chicken Soup, Lentil and Bacon Soup, Fresh Onion Soup, Royal Game Soup, Chicken Broth, Highlanders Broth, Pea and Ham Soup, Minestrone Soup, Scotch broth, Oxtail Soup, Cock-a-leekie Soup and the most favored Cream of Tomato Soup. Market Price: Rs. 225 for a pack of 400g.
7. Batchelors Soup
Batchelors is a UK based brand that offers surprising and scrumptious healthy and tasty soup flavors. You can choose from extraordinarily delectable soups such as Tomato Vegetables with Croutons, Rich Tomato & Basil, Asparagus and Croutons, Mushrooms & Croutons, Chicken and Vegetables with Croutons, Creamy Cauliflower and Broccoli, Golden Vegetables, Chicken and Leek, Chicken Noodle, and the simpler ones too like Chicken, Tomato, Slim-A-Soup Minestrone, Minestrone and Croutons and Chicken and Leek. Market Price: Rs. 160 for a pack of 104g.
6. Continental Soup
It is a well-known Australian brand that puts forward a choice of flavors with Cup a Soup option. Their range of exotic soup comprises of Crtn Creamy Mushroom, Chicken Noodles, Cream of Chicken, Spanich Tomato, Italian Minestrone, Garden Veg, Tomato Soup, Hearty Spanish tomato Cream of Mushroom and Spring Veg. Market Price: Rs. 285 for a pack of 70g.
5. Campbell's Soup
The global American food company Campbell's is a manufacturer of related food products and canned soups that are excellent, authentic, reliable, and appetizing. It was set up in 1869 in Camden, New Jersey, US. The brand is known for a broad collection of not only quality soups but meals as well. Its well admired soups are offered in diverse scrumptious tastes such as Creamy Chicken Noodles Soup, Chilli Mac-Beans, Spicy BBQ Seasoned Chicken with Beans Soup, Calm and Corn Chowder with Bacon Soup, and Macronni Pasta and Meat Soup. These soups are known for their thickness which makes you feel full and are good for health as well. Market Price: Rs. 109 for a pack of 31g.
4. Heinz Soup
Heinz is an American food company, which manufactures healthy and mouth-watering soups. The company was established in 1869 in Pittsburgh, Pennsylvania. It is an internationally known and reliable brand which produces nutritional, high quality and tasty food products. The variety of soups available is Classic Vegetable Soup, Cream of Mushroom, Cream of Chicken, Lentil Soup and Tomato soup. Of all the varieties Tomato Soup is the most admired and sought after soup among the others. Market Price: Rs. 270 for a pack of 400g.
3. Maggi Soup
Maggi is a well-known international brand, which is known for instant noodles and soups etc. The parent company of this brand is Switzerland based Nestle. Their soups provide unusual and healthy flavors and put forward a great range of Healthy soups like Manchow, Tangy Tomato Veg, Cream of Mushrooms Soup, Sweet Corn Vegetable Soups and Creamy Chicken Soup. Market Price: 45/ for a pack of 53g.
2. Ching's Secret Soup
Ching's Secret is a renowned Indian brand, which was set up in 1996 in Mumbai, India. They offer a great collection of classic Indian as well as Chinese flavored soups such as Sweet Corn Veg Soup, Manchow Soup, Tomato Soup, Mix Veg Soup, Beijing Hot Soup, Sweet and Sour Soup etc. Market Price: Rs. 25 for a pack of 30g. Ranvir Singh is the famous actor who endorses the Ching's secret Soups.
1. Knorr Soup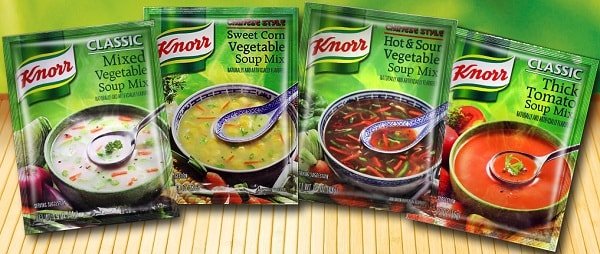 It is the number one of the top selling soup brand in the country. Knorr is a German food and beverage group, which is owned by the Hindustan Unilever since the year 2000. An assortment of unique soups is available in Knorr brand like cup-a-soup varieties, Knorr Soupy Noodles, Tomato, Mexican Tomato Corn, Mixed Veg Soup, Thai Veg etc. You would experience authentic flavors of India and these soups are available in high range as well as the mediocre range. Market Price: Rs. 10 for a pack of 15g.
Conclusion
Have fever-free winters with the soups that are full of essential minerals and nutrients. A bowl of soup helps sustain the liquid intake of the body during dry winter season by keeping you strong and hydrated. Undoubtedly, soups are a hearty meal as it provides numerous health benefits that are mostly considered necessary. In olden times, grandmothers used to cook soup for the entire family using all sorts of spices and nutritious things but now since the modern generation has come, soups have also become Instant food. You just need to add water and boil. The market is flooded with lots of manufacturers of soups which provide appetizing, delicious and healthy broth with an assortment of flavors.