Looking back the years, the time when technology was deemed as something out of the reach of humanity does seem a distant past these days. With the advancement in technology, there came an era of smartphones. With further developments in the same niche, we witnessed the arrival of smart wearable devices around us.
Smart wearable devices are pretty nifty pieces and offer great options. Although smart wear bales include multiple options like smart bands, smartwatch and more, we'd be concentrating on the smartwatch for today.
Smart watches offer a great option to access the contents and functionalities of the smartphone of ours. It's kind of a small extension that allows you to use your phone without even taking it out of your pocket. Add to the that it delegation as a watch, and it seems a win-win situation.
The Indian market is flooded with plenty of options under smartwatches and we here would be picking up the best as part of our entry. We'd look at the best picks and list them along in a ranking based on our parameters along with their pros and cons for you.
So join in as we present to you 'Top 10 Best Smartwatches with Price in India 2017'.
10. Titan Juxt
Part of the offering from Titan, this one kick starts our list. The smart watch comes with the fine balance of performance and specs paired with affordable price tag. The watch does prove to be a fine choice for people seeking a smartwatch in times as of today. We reviewed the spec and will offer you an insight on the specs of it. Read along.
Specs
It features a circular design with a fine strap.
The watch has OLED screen with an analog
The watch can support devices over Android 4.4 and iOS.
The device has multiple functionalities like a calorie counter and activity sensors.
It has water resistant features and can work around with drizzles and sweats.
Furthermore, you can use it to access text messages, notifications, calls and more.
Pros
Decent feature
Good battery performance
Cons
Pales up in comparison to other pieces in the list.
Price-Rs 19595
9. Sony Smartwatch 3
There's something different about the products offered by Sony. They come with one of the best specs and feature lines and are duly complimented with fine hardware specs. This one from them is on the same line and has a great balance of performance. Here's what we make up of it-
Specs
It comes with 1.2 GHz Quad Core processor and has 512 MB RAM. It is further supported by 4GB of internal memory.
The watch comes with the IP68 water resistant feature.
It has 1.6-inch display included within.
It has ambient light sensors, accelerometer, compass, gyroscope and more inbuilt within.
The battery for the same is 420 mAh that shall last a couple of days on normal usage.
Pros
Decent performance
Decent features
Cons
Does fade in comparison to its peers.
Price – Rs 18900
8. Asus Zenwatch 3
Asus comes in at eight in our list with this smartwatch offering from them. Asus, a top manufacturer of smartphones and gadgets around the world are one of those venturing successfully into the smartwatch world. This one proves itself as one of the fine ones around and we thought of profiling them out for you-
Specs
The watch has a 1.39-inch display and comes with AMOLED base.
It features Corning Gorilla glass and has scratch resistant properties.
It comes with Qualcomm Snapdragon Wear 2100 processor well supported by 4GB of internal memory and 512 MB of RAM.
The watch also comes with fast charging and offers 60% charge in just 15 mins. The battery can last over 2 days on normal usage.
Pros
Good performance
Great design
Pretty good battery
Cons
Doesn't have inbuilt-heart sensor
Lack of built-in GPS
Price- Rs 18999
7. Tag Heuer Connected Smartwatch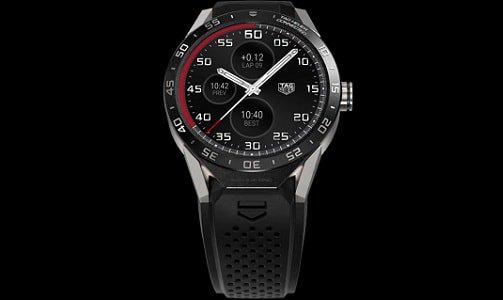 Tag Heuer stands as one of the best luxury watch brands in the world. With the smartwatch world seeing a great boom, Tag Heuer ventured into the segment with their own smartwatch. This one features top-line specs and something that we can fully trust  Here's us with a spec sheet of this one-
Specs
It has scratch resistant sapphire crystal touchscreen with a dimension of 1.5—inch. The screen resolution for the same is 360 x 360 pixels with a 240 ppi display.
The strap for the same is grade 2 titanium folding clasp and has safety push buttons.
It comes in seven different color options.
The processor of the watch is 1.6 GHz and it sports 1GB of RAM along with 4GB of internal memory.
It features Bluetooth 4.1 and WLAN 2.4 GHz.
It is fully compatible with both Android and iOS versions.
It comes with a battery of 410 mAh and lasts over 25 hrs. of usage.
Pros
Beautiful Design
Great performance
Good battery life
Cons
Priced too high for the liking.
Price- Rs 141960
6. PebbleTime Steel
One of the best budget options around in terms of the smartwatch, this one comes with the fine balance of design and display. The watch also works on well and stays awake for quite a few days. Here's a snippet of the specs on offer-