A country's future depends upon the young generation. So, it is very necessary that the parents send their children to the topmost schools so that they can get the best educational facilities and become responsible citizens.
Here is the list of top ten schools of Kolkata which provides quality education to their students without charging unnecessary amount of fees.
10. Apeejay Education society
This school aims at providing success with lots of efforts. The main aim of the school is to make student stand on the top physical, mental and spiritual growth of the child. The school aims at providing a large variety in the curriculum and extra-curriculum projects.
Computer labs with latest hardware and software systems
Computerised large libraries
Audio-visual rooms with LCD projectors
Inter house competitions
Science labs and parks with modern equipments
Teacher training programmes
Contact information
115
Park Street
Kolkata 700016
Phone: +91 33 22291779
Email: ritachatterjee@apeejaygroup.com
Official website: www.apeejay.edu/
9. The Assembly of God Church School
This school is recognised by the Central Board of Secondary Education. It was established in 1963 by late Dr. Mark Buntain. The school focuses on providing holistic education to the students by ensuring overall development of the students.
Well-designed spacious buildings
Science and maths laboratories equipped with modern equipments
Campus-wide networks
Problem solving and thinking skills encouragement
Leadership enhancement among the students
Developing confidence among weak students
Contact Information
Buntain Education Centre
125/1
Park Street
Kolkata, 700017
Telephone: (33) 2229-2723 / -8288 /-8289
Email: mail@agschool.in
Web: www.agschool.in
8. Delhi Public School Ruby Park
This school is providing education to the students for past thirteen years. The school aimed at providing holistic education to the students with overall development. The students are getting world class education at this school with different modern and creative techniques followed by the teachers.
Spacious and ventilated classrooms
Extra-curricular activities
Modernised laboratories
Well-structured library
Interaction clubs where social projects take place
Leadership training
Inter-house competitions
Regular parent and teachers meeting to discuss students' growth.
Encouragement of creativity by various activities
Contact Information
Junior School
138 Ruby Park, Kasba Rathtala
Kolkata-700078, West Bengal
Phone number- 9831322277, 33-24415302
High School
254 shanti Pally, RB Connector,
Kolkata-700107, West Bengal
Phone number: 9831322288/99
Email Id: info@dpskolkata.com
Official website: www.dpskolkata.com
7. Army Public School
This school was established in the year 1994 to fulfil the educational needs of the children of army personnel. The school is affiliated with Central Board of Secondary Education (CBSE). Special focus is on the development of students' overall personality. Their aim is to provide best quality of education with affordable fee structure.
Well-equipped laboratories
Transportation facilities
Team of experienced teachers
Creative activities
Contact Information
Ballygunge Maidan Camp,
Ballygunge circular road,
Kolkata 700019
Phone number– 3324866629/6759
Fax number: +91-33-2486-5968
Email Id: apskolkata94@gmail.com
Official website: www.apskolkata.in
6. Calcutta International School
This school was established in 1953 by Miss Barth. This school is a co-educational school which ensures the overall personality development of the students by encouraging a questioning spirit in them. The teachers focus on providing a quality and depth across all the subjects. Scholarships are provided to the brilliant students so that they can get inspired for doing hard word more sincerely.
Enhancement of communication skills, thinking skills and leadership skills.
Wide campus with CCTV cameras
Audio visual rooms with LCD projectors
Computer labs with modern technological systems
Science and mathematics laboratories
Well-designed architecture
Contact Information
7& 7/1 SatyendraNathMajumderSarani,
Calcutta 700 026,
West Bengal
Phone number: +91 33 82320 42019, 4004 2701
Email: info@thecambridgeschool.ac.in
Official website: http://thecambridgeschool.ac.in
5. St James' School
This school is affiliated from ICSE board. It is awarded with British Council Award for outstanding development of the International Dimension in the Curriculum, 2011. The school had won the telegraph school awards for excellence.
Well-equipped laboratories
Well-arranged libraries
Playground areas
Educational tours and trips
Team of experienced teachers
Hostel and transportation facility
Contact information
165, AcharyaJagadish Chandra Bose Raod,
Entally, Kolkata,
West Bengal 700014
Phone number: +91-33-22841546
Fax number: +91-33-22842788
Email Id: sjskolkata1864@gmail.com
Official website: http://www.stjamesschoolkolkata.com/
4. The Heritage School
The students are encouraged to explore themselves in a better way every day. This school provides education with a system of modern education and technology combined with the Indian method. This school maintains a culture of excellence with keeping the rich heritage of India in the hearts of the students. The students are taught to make balance between the physical and mental levels of the body.
Swimming pools, rock climbing walls and various other adventurous games facilities
Special attention to each student with major emphasis on curricular activities.
Contact Information
994, Chowbaga Road, Anadapur
East Kolkata Township
Kolkata 700107, West Bengal
Phone number: +91-33-24430448/52
Fax number: +91-33-24430453
Email Id: admin@the heritageschool.org, info@theheritageschool.org
Official website: www.theheritageschool.org
3. La Martiniere school for girls
This school has awesome infrastructure and provides world class education to its students.  This school was established in 1836 and it is considered as one of the best schools in Kolkata for girls. The school is affiliated with both national and international boards. This school has also another branch for boys.
Well-equipped libraries
Science laboratories
Playground
Swimming pool
Gymnasium
Art studios
Extracurricular activities like athletics, swimming, basketball, football, debates and many more.
Contact Information
11, Loudon street,
Kolkata 700017,
West Bengal
Phone Number: 03340406612
Official website: lamartiniereforgirls.co
2. Newton School
This is one of the newest schools of Kolkata as it was established in 2015. It aims to provide theoretical as well as practical knowledge of the subjects. The students are made creative and responsible in this school by the experienced teachers. This school strictly follows the CBSE curriculum.
CCTV cameras and smart classrooms
Best transportation facilities
Basketball, volleyball, football and many other playgrounds and cafeteria
Science and maths laboratories
Language and robotics labs
Playground for playing basketball, volleyball and many other games.
Contact Information
Premises# 01-0279, Plot #DD 257
Action Area 1, New town, Kolkata 700156,
West Bengal
Phone number: 033665440, 8584036704
Official website: thenewtownschool.org
General enquiries: info@ntskolkata.org
Admission: admissions@ntskolkata.org
1. Birla High School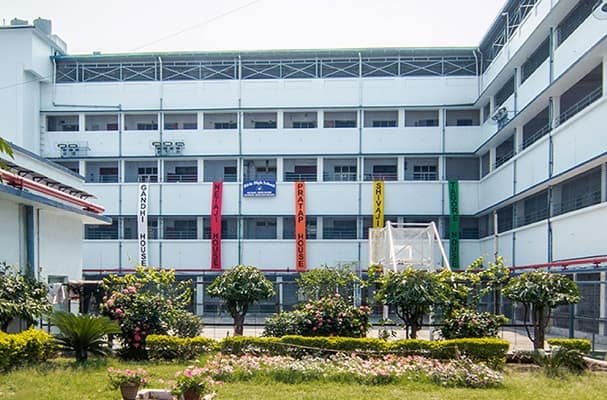 This is an all boys' school with primary to higher education facility.  This school was founded in 1941 by LaxmiNiwas Birla. The school has topped the Telegraph School Awards for excellence in 2015.
Various extra-curricular activities
Science and maths labs
Computer laboratories
Transportation facility
Hostel facility
Playgrounds for different sports
Contact Information
1, Moira St, Elgin, Kolkata 700017
West Bengal
Phone number: 033 2287 6420
Official website: https://www.birlahighschool.com/
Conclusion: This is the list of top ten schools in Kolkata. The parents can send their students to these schools as they have an affordable fee structure with great facilities.