Top 10 Best Passive Income Ideas in India
What we earn is never enough for us. There is always a desire to have more. In addition to this, a lot of people prefer to have additional passive income which can not only increase the savings but they also help them in achieving their dreams at a faster pace. We are sure that you would also want some passive income for yourself and that is the reason why you are here on this page.
There is also a myth that it takes a lot of efforts and investment to get passive income but well, the truth is that it doesn't take much of efforts to earn passive income. In this article, we have listed some of the genuine ways which can help you in earning passive income. You can choose to opt for one of these ways or you can choose to opt for multiple ways for diversifying the earnings.
So, here are the top 10 Best Passive Income Ideas in India
Top 10 Best Passive Income Ideas in India
10. Renting a Car
In India, self-driven car rentals are gaining a lot of popularity. Now, you can choose to buy a car and lease it to such companies which provide self-driven cars. The cars will be managed by the company so you would not have to worry about marketing the service or you would not have to worry about the damages and maintenance. This way, you can easily earn money without even dedicating much of your time. The only point here is that you would have to make an initial investment to purchase the car. The company can help you with the rest of the documentation.
9. Selling Stock Photos
If you are fond of photography and if you have a good camera then there is another easy way for you to earn money. You can go ahead and sell the stock photos on websites that support this feature. The earning depends on the quality of the photo and the subscriptions but this way, you can earn money even when you are sleeping. Isn't that awesome? Good photography skills come handy here and instead of sharing photos on social media, share them on such portals where people can subscribe to your photos and you will be able to make easy money.
8. Writing E-Books
If you are fond of writing and if you are already into writing content then this could be another easy way to create a source of passive income for yourself. You can go ahead and write short e-books. You can write about the current events or you can even write short stories. If you are not interested in writing e-books then you can also earn with help of the articles. This way, you will be able to earn money for what you love. The best part is that most of the websites, pay for every user that downloads the book.
7. P2P Lending
In India, P2P lending has gained a lot of popularity these days. If you are not aware of P2P lending then let us tell you that it stands for Peer to Peer Lending. There are many portals which have been developed for the Peer to Peer Lending and such portals can prove to be helpful for you. You can start by as low as Rs 5000 and you can surely increase your portfolio substantially. The portals provide insurance for the base amount that you invest and the interest rate is also quite high. Hence, you earn much higher than what you may earn in the fixed deposit schemes.
6. Affiliate Marketing
Another attractive way to get hold of passive income is affiliate marketing. Now, the thing is that you will have to dedicate some of your time here on weekly basis but you can skip this process as well. You can hire freelancers and they can work for you. They can provide you with the content and you will be able to monetize this free content to earn money. The pay-out is high and most of the firms would pay you in dollars which means that a little success can fetch you a good amount of money.
5. Online Courses and Training
If you have some special technical skillset or some skill that the students may need then you have another way to earn money. There are many educational portals coming up these days and these portals can be used by you to earn money. The question is how. Well, you need to make training courses and upload on these websites after registering yourself as a trainer. Once that is done, you can sit back and wait for the students to subscribe for the course. You will be paid as per the subscription and you can even market your course on your social media page to earn money.
4. Real Estate Investments
This must not be something new for you. In this method, you basically need to make real estate investments and there are two ways of doing it. The first way is to invest your ideal cash and buy the property that fits in your budget. You can give your property on lease or on rent and this will guarantee a fixed source of income for you. The second way to earn is to make the down payment with the money that you wish to invest and give your property for rent. The rent can then be used to pay the EMI of the property. It should be noted that apart from the rental income, there would also be the appreciation in the price of the propertywhich means more income for you in form of capital gains.
3. YouTube Videos and Vlogging
Another easy way to make money is to make YouTube videos. You can create music, funny videos, training videos and much more. The scope of earning via YouTube is very high. Once you have enough subscribers on your channels, you can simply start monetizing your videos. You will be paid by YouTube for the videos you upload and the pay is dependent on the views as YouTube will show advertisements on your videos as per their revenue model.
2. Blogging 
Blogging is another popular way of earning money. You just need to have a blog and you can start blogging with the content that you love to write. You can even choose to have a photo blog. Once that is done, you can enrol with Google Ad Sense and start making money. Google Ad sense pays as per the clicks on ads but you need to have a good number of clicks on those advertisements to make money. After a certain threshold, you can withdraw the money to your account.
1. Mutual Fund Investments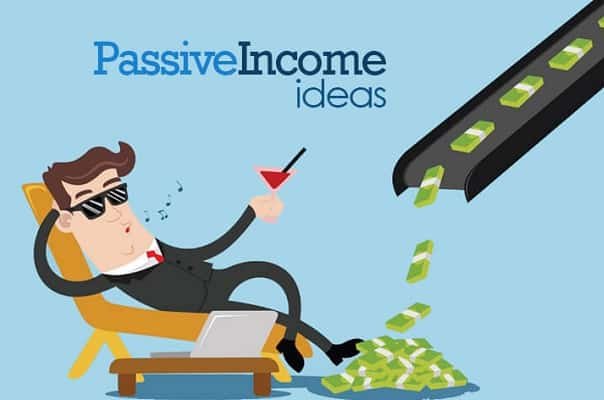 The easiest way to earn passive income is to invest money in Mutual Funds. All the financial experts will take care of your money here and you would not have to worry about financial risk. There is surely minimal financial risk but then you can invest in liquid funds or debt funds to minimize the risk further. Mutual Funds can help you in earning a higher dividend and at the same time, they can also help you in saving tax. What else could you really wish for? Go ahead and use the various portals available to invest your ideal cash in mutual funds.
These are some of the best ways to earn passive income. Some of these ways need your time while others just need a small investment from you. Now, you can choose the way you want to earn passive income depending on your expertise. All the Best for your future endeavors and do not forget to share this page with your friends so as to help them in establishing a source of passive income for themselves.