The dinnerware you use sets the tone for the entire meal and may improve or ruin the initial impression you make on guests. Investing in a nice set of crockery is a great way to boost the value of the home and give your dining areas a more refined appeal. The low cost and long lifespan of crockery make it the material of choice for most dinnerware and utensils in Indian homes.
Bone china dinnerware, earthenware, porcelain, terracotta, glass, or even stoneware are all options if you're looking to spice up your kitchen with a little experimentation and a touch of elegance. In terms of appearance and durability, each of these choices is on par with the others.
If you're careful, even the most fragile of them won't pose too much of a problem. Here are some of India's finest crockery brands, detailing each company's wares in terms of substance and longevity.
List of Top Crockery Brands In India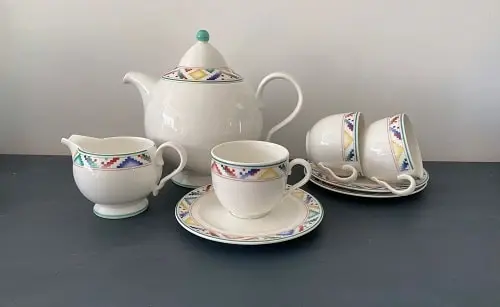 1. Corelle
When it comes to tableware and cookware, one of the most trusted names in India is Corelle. In 1970, it was established as a subsidiary of Corning Glass works Ltd. in Corning, New York. Vitrelle material, a type of triple-layered tempered glass, is used in the production of the vast majority of Corelle's wares.
Although Corning crockery was responsible for establishing the trademark, all operations are currently handled by Corelle Brands. There are many people in India who like Corelle items because they are safe to use and require nothing in the way of upkeep.
2. Borosil
Borosil has built a strong following in India as a provider of high-quality cookware and other home goods. It is also widely recognized as a major player in the American glassware industry. The company, which was founded in 1952 in collaboration with US firm Corning Glass works, is headquartered in the city of Mumbai. Borosil has established an impressive name in the industry and has a large foothold in both the Netherlands as well as the United States.
3. Milton
For Indians, Milton is a household name. Our family has been using their Tiffin, bottles of water, casserole dishes, and other products for decades. It first appeared in 1972 and has since grown to become one of the most popular brands. You may put your complete trust in Milton crockery whether you're looking for a steel flask or a set of dishes. You should test this company because it's revolutionizing the industry in terms of cost, quality of materials, craftsmanship, and overall value.
4. LaOpala
One of the most popular domestic glassware manufacturers, LaOpala has been around since 1987. The majority of LaOpala's components are animal-friendly and devoid of bone ash. Some possibilities under this label are of sufficiently good quality to lend an air of refined sophistication to your dining rooms. The company has earned ISO certification and now ships to markets all over the world.
They are made using cutting-edge European technology
The set's basic floral print will appeal to those who prefer understated aesthetics.
5. Cello
The Cello brand has been around since 1986, when it was launched by GD Rathod. The company started off as a modest factory in Bombay, but over time it grew to become one of the largest in the country. Many of us have fond memories of using Cello pens and other stationery back in our formative years. Plastic spoons, boxes, plates, bowls, and even casserole dishes can all be found in the Cello section.
Crafted without the addition of any bone ash, their crockery is ideal for daily use.
The gold floral bordering gives a sense of elegance to the set.
6. Treo
Treo, a more recent brand, has quickly become quite popular in the Indian market. It is produced by Hamilton Housewares Pvt. Ltd., which also produces the Milton brand. People all throughout the country absolutely enjoy Treo's high-quality glasses and kitchenware. The majority of this set's dishes are microwave and dishwasher safe.
A beautiful addition to any house, the SkyKey Tableware & Glasses Set is crafted from sturdy crystal glass.
In addition to its already sophisticated design, the crystallized pattern at its base just elevates it.
As an added bonus, its ergonomic form makes it easy to hold onto due to its lack of breakability.
7. Clay craft
Established in 1994, Clay Craft is an esteemed manufacturer of high-quality ceramic dinnerware. In addition to having ISO certification, the organization also offers high-quality, long-lasting designs and materials.
The company's exquisite bone china dinnerware is contemporary in style and designed to retain its contemporary aesthetic for many years. Its crockery sets may be more expensive than those of its competitors, but the quality is unmatched.
Very low-maintenance, the Georgian crockery set is composed of ceramic.
It's great for serving VIPs because the all-white surface contrasts beautifully with the gold accents.
The ornate gold border completes the regal look.
8. Jaypore
Jaypore is the place to go if you're in the market for some very luxurious dinnerware. The company has offices in both New Delhi & San Francisco, and it began operations in 2012. People all over the world adore the store's high-quality home decoration, jewelry, collectibles, & vintage presents.
You have to try out their new and exciting crockery patterns, because they are excellent. This brand's dinnerware is exquisite down to the last detail, so your money will be well spent. Jaypore sells all of their wares on their website.
They have one of the finest dinnerware sets, the Fine Bone China features an Indo-Saracenic-themed design with gold plated detailing that appears royal and incredibly refined.
Aside from the stunning bowls and plates, the crockery set also includes six side plates, a dinner plate, and two serving spoons.
9. Signorware
Signoraware is a well-known Indian manufacturer of kitchen and home appliances. Sh. Y.K. Bansal started it all in 1981, and now it's a multi-billion dollar empire that dominates numerous markets. It's an ISO-approved company that makes a point to sell only high-quality items in attractive packaging.
All of the components of the 36-piece square dinnerware set are safe for human consumption and contribute to the highest standards of sanitation.
The square shapes are very appealing and give your tables a contemporary feel.
The cutlery is safe for use in the microwave and may be stored in the fridge.
10. FabIndia
FabIndia is an iconic Indian company that produces crockery, furniture, textiles, and jewelry; it was established by John Bissell in the year 1960. When it comes to style and quality, this label is unparalleled.
Headquarters are in New Delhi, as well as the company operates over 320 retail outlets throughout India. Fabindia has been popular outside of India over the years.
The porcelain bowls are a stunning representation of minimalism in design.
Aesthetic and refined emotions emanate from its exquisite debossed leaf engravings.
A simple wash in warm water & soap will extend its useful life considerably.
The crockery will last for years if it is properly cared for.
Conclusion
This article will help you choose the best brand of crockery for your home. All of these products are top-tier in India in terms of durability, aesthetics, quality, care, and functionality. Now it's time to serve your signature dish in the finest crockery available.